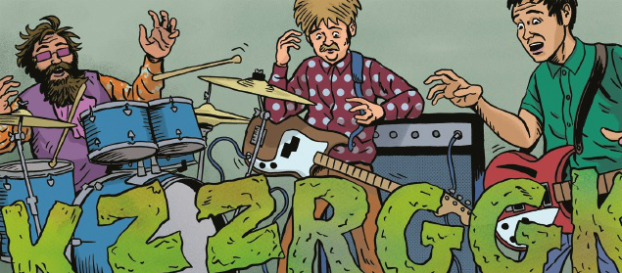 A new issue of Hitsville UK has become something of a Thought Bubble tradition over the last few years and the festival just wouldn't seem the same without the latest instalment of John Riordan and Dan Cox's pop industry parody.
It's a comic that comics creator (and former BF columnist) David Hine (Second Sight, The Bulletproof Coffin, The Man Who Laughs) once summed up in the succinctly perfect soundbite "Hitsville is a hoot!". The book features a sprawling cast of would-be musical stars and centres on the titular record label staffed by worldweary owner Gerry Corden, morally dubious producer Greg Pastis and the netherworldly accountant Stan Van Horne.
Added to this heady mix of co-stars are characters including Scooby Doo-style investigators The Carrie Nation's Revenge, Gollum-like country singer Gwillum, "Spiv Hop" performer Jack Spatz, schoolboy DJ "Haunted By Robots" and the malevolent ethereal mechanical entity who accompanies him, and many more…
You can read previous Broken Frontier coverage of the series here.
The sixth issue of the book launhes in Leeds over the TB weekend – a penultimate part that sees plot threads pulling together as ominous supernatural machinations come to the fore in the Hitsville UK offices and hidden agendas are finally revealed…
You can find out more about Hitsville UK from the site here and follow the comic on Twitter here, John Riordan here and Dan Cox here. Buy previous issues of Hitsville UK from John Riordan's online store here. You can find the Hitsville UK chaps at Table 77 in the Cookridge Street Marquee at Thought Bubble. 

For regular updates on all things small press follow Andy Oliver on Twitter here.