Our many generations of Broken Frontier 'Six Small Press Creators to Watch' never cease to amaze us with their diverse approaches to the form and their ongoing achievements. So we were delighted when 2017 'Six to Watch' artist Olivia Sullivan was shortlisted for this years Association of Illustrators World Illustration Awards. And we're even more pleased to say that you can still catch her entry at Somerset House in London in the World Illustration Awards exhibition.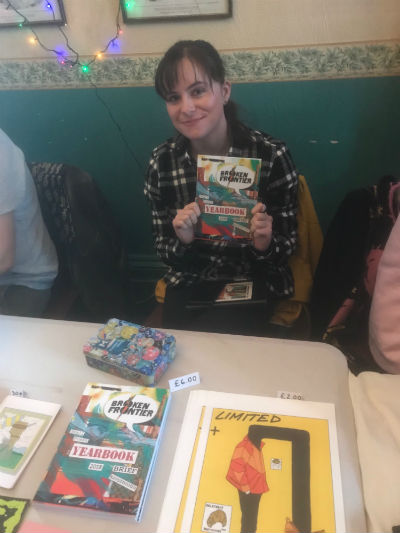 Olivia at the Catford Comic and Zine Fair
Olivia's practice first caught my attention in her earliest self-publishing days and her promise was underlined in early work in the pages of much missed anthology Dirty Rotten Comics. It was her impressive autobio small press comic I Drank Holy Water that guaranteed her place on the following year's 'Six to Watch' programme though. Since then she's carved a niche in UK indie comics with her very own brand of abstract narrative seen in SID from Good Comics, Muscle Memory and in the pages of our 2018 Broken Frontier Small Press Yearbook. You can also read an extensive interview with her here at Broken Frontier.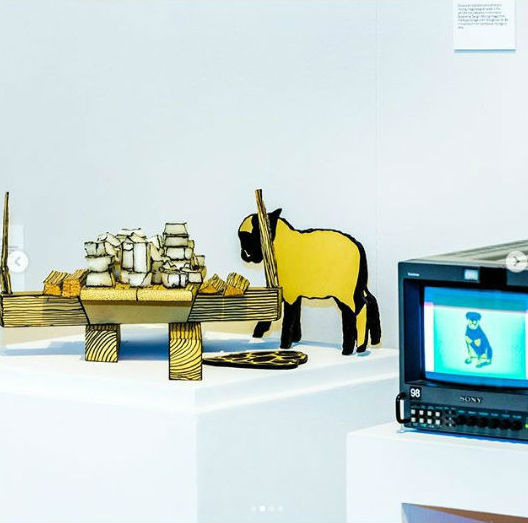 © The Association of Illustrators, 2019. Photography by Cristina Schek
Her piece in the exhibition is titled 'Old North, Isle Rocks' (above), a psychogeographical exploration of her connection to Cumbria. It comprises a "comic panel animation'" within an installation and you can read more about it in Olivia's own words at the Association of Illustrators site here.
Olivia remains one of the most exciting and important voices in contemporary UK indie comics and it's great to see her getting the level of recognition her work deserves. You can still catch the exhibition at Somerset House right up until July 28th. More details here.
For more on the work of Olivia Sullivan visit her website here and follow her on Twitter here and Instagram here.
Article by Andy Oliver