Since 2014, London-based art publishing collective OOMK (One of My Kind) have been a vitally important presence on the UK small press scene, facilitating and championing self-publishing practice via a number of different media and platforms. Made up of Sofia Niazi, Rose Nordin and Heiba Lamara the group's most prominent project is probably the twice-yearly OOMK anthology zine, the contents of which "pivot upon the imaginations, creativity and spirituality of women."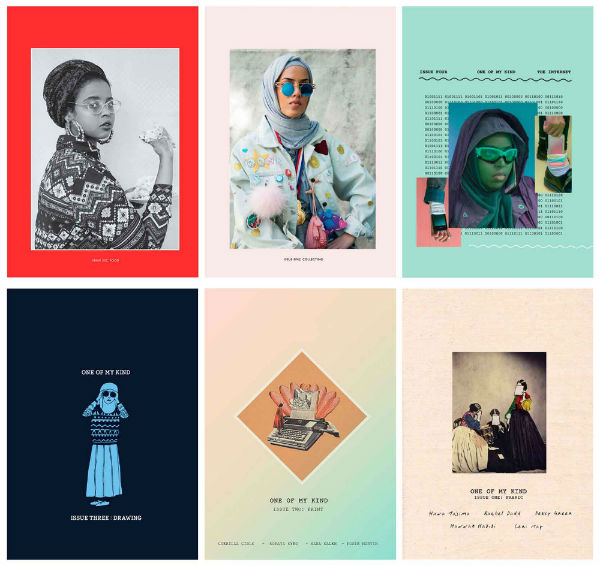 They also co-curate one of the UK circuit's self-publishing event highlights of the year – the DIY Cultures Fair. The Fair took a rest year in 2018 but in my report on it here last year at BF I described it as "exploring the crossover between the worlds of social activism, self-publishing, zine-making and comics, with the grassroots approach to all three being a vital focus of its programming." But it doesn't stop there! OOMK are involved in publishing and distributing books and printed material, curating events and commissioning art by women practitioners, and run the community printing press Rabbits Road Press.

OOMK's Heiba Lamara, Sofia Niazi and Rose Nordin
This weekend OOMK are presenting the PROCESS! festival at London's Somerset House where they're currently studio residents. This two-day event is billed as a celebration of independent media and making which will see both rising talent and more established names converging as they examine and explore their creative processes. PROCESS! includes talks, workshops and a zine fair with differing exhibitors over the two days. There are opportunities to try your hand at riso printing, to design posters for positive change, to hear discussions on interdependent publishing, evolving technologies, black publishing, activism in print, and much more.
Work featured at BF by exhibitors Gareth Brookes, Cat Sims and Chloe Elise Dennis
Zine fair exhibitors include a number of folk you will recognise from Broken Frontier coverage such as 2018 BF 'Six to Watch' creator Cat Sims, 2016 'Six to Watch' artist Brigid Elva, Darren Cullen/Spelling Mistakes Cost Lives, Simon Moreton, Stanley Miller & His Dad, the Baguette Trousers collective (Chloe Elise Dennis, Sinae Carrotate Park and Luke Finch) and Gareth Brookes. And having just looked after the Communal Table at South London Comic and Zine Fair it's exciting to see there's one at PROCESS! as well!
For anyone involved in small press publishing this promises to be an essential event, not just from the perspective of the practice on show but also for the wider exploration of the allied possibilities of self-publishing, self-expression and small press activism. We've only scratched the surface of the weekend here but you can find out much more about PROCESS! on the Somerset House site here (including booking details).
Find out more about OOMK through their website here and follow them on Twitter here.