Shane Melisse is one of our Broken Frontier 2021 'Six to Watch' artists and a creator who I've been covering for a number of years here at BF. Over the last couple of years I have been hugely impressed with the evolution of his practice, his versatility in terms of subject matter, and his truly stunning use of colour. I caught up with Shane to chat about the diverse genres he works in (from horror to autobio to comedy), the lessons he's learnt on his small press journey, and how the pandemic has affected his practice…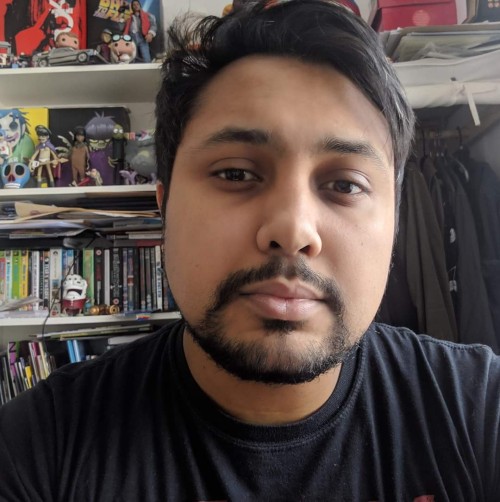 ANDY OLIVER: It's always important to ask our 'Six to Watch' creators to introduce themselves to the Broken Frontier audience in their own words. So to start can you tell us about your wider artistic background and your early journey into comics?
SHANE MELISSE: Hi I'm Shane Melisse and I'm from London. I studied product design in Central Saint Martins back in 2009. After graduating, I realised that it wasn't the career for me. So I started making comics and drawing more, knowing that this was where my passion lies. I first got into the small press scene about 7 years ago now, joining a collective called Backwards Burd. Since then, I've made a large variety of comics and illustrations as I develop as an artist.
AO: The one thing I always feel when it comes to a Shane Melisse comic is that they're never, ever predictable. Whether it be horror, parody, autobio or genre homage you never know quite what you're going to get next. Is that sense of experimenting with styles and subject matter a conscious decision to continue to hone your craft and storytelling skills?
MELISSE: I literally just create what I feel like, especially in the past when I was just starting out. Instead of worrying what my niche is I just kept creating what I liked and was inspired by at the time. Until I'll eventually discover what my niche might be.
AO: You've dabbled with autobio with your witty short comic Shanefaced: True Made Up Stories (above). Why did choose such an irreverent approach to autobio? Is there a freedom in adopting a more humorous. self-deprecating tone to personal work and a caricatured incarnation of yourself?
MELISSE: Yeah, I wasn't sure how to present myself since I don't take myself too seriously, at least I try not to. Drawing myself in a more goofy childish manner felt right. That comic originally started cause I was doing Sober October and started doodling a little diary comic about it. I liked the format, so I continued to make a few more.
AO: One of your more widely known comics is undoubtedly the spoof one-shot They're Coming Down the Stairs (above) which takes the children's song 'Bananas in Pyjamas' as its starting point. It may be comedy horror but there's something deeply unsettling about the comic's antagonists! What were you trying to capture in those character designs?
MELISSE: I wanted to make the Bananas spooky but kind of cool looking too. I don't know if I achieved making them look cool, but they're definitely spooky. It's a bit tricky with drawing horror, like you still want it to be visually pleasing to some extent despite it being freaky. I'm not sure if I pulled it off, but I'm happy with what I had done at the time.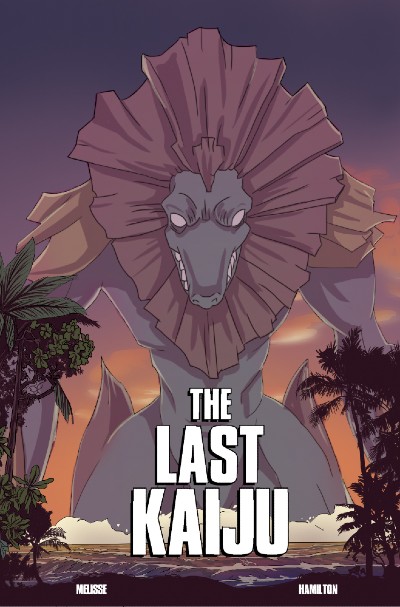 AO: The Last Kaiju (above and below) was your recent offering in collaboration with writer Tobias Hamilton. How much fun was paying homage to that genre and how did the collaboration between the two of you work in practice?
MELISSE: I had a great time working on that comic! It being single panel pages gave me a lot to work with on each page. The only concern that I had was to make sure the following page was as good or better than the previous one. I was surprised to be asked to work on that comic since none of my previous work hinted any Kaiju work. But that's what made it more appealing because even I didn't know what I would create at the end. Tobias was awesome to work with and we got along well. He had a lot of trust in what I would produce.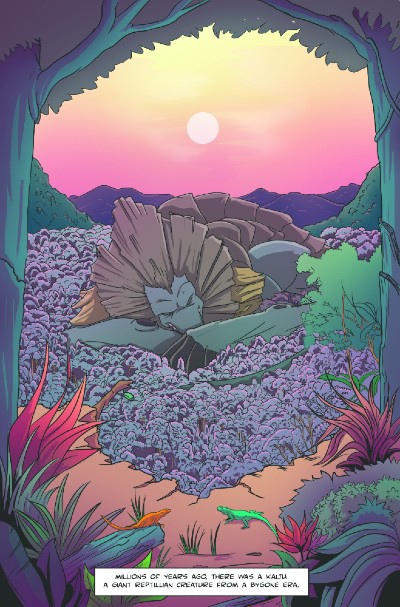 AO: Last year you entered the webcomic arena with Living with the Living (below). What was the premise of that strip and have you plans to return to it in the future? What were the particular considerations of online delivery?
MELISSE: Living with the Living is a supernatural comedy about two sisters Max and Kelly who passed away in their family home. Their parents had moved out and a young couple moved into the house later. Max and Kelly struggled to adjust with living with the new couple and failed to get rid of them through supernatural tricks. It's pretty much like living with bad flat mates who can't see you and you end up seeing all the weird things they get up to when they think no one is around. I stopped working on it for the time being as at the time I hit a bit of a creative wall. But I have been working with a co-writer and I do have more material for it. There are intentions to bring it back, but when I'm not sure yet.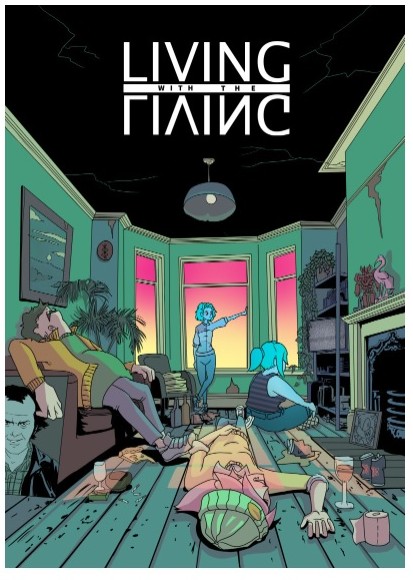 AO: Your use of colour in your work to create a sense of place or mood is quite stunning, particularly recently in They're Coming Down the Stairs and The Last Kaiju. Could you elaborate on your artistic process and the mediums you work in to bring your stories to the page?
MELISSE: Thanks. Yes, I do try to use the sense of emotion that I want to give off as a starting point. I pick one colour that I think fits and make that the background colour. Then I build up from there, sometimes using contrasting colours to suggest light and dark. Sometimes the colour palette comes quickly to me and other times I realise it's the wrong mood and I take longer figuring it out.
AO: Over on Instagram your current project is your Road Knight illustrations. What was the origin of that series?
MELISSE: Road Knight (below) is an idea I've had for a while. Perhaps for a year or so, but it only really came to light during lockdown when I started playing a lot of Dark Souls and listening to MF DOOM. I did a fan art piece of MF Doom as a Dark Souls boss. I then realised I just like drawing knights which I guess was hinted by my The Knight comic 4 years ago (above). Road Knight is a project that I feel I'll be able to be most consistent with which is why I have recently created a new Instagram page for it (@ro4d_kni5ht), separate to my @shanefaced account.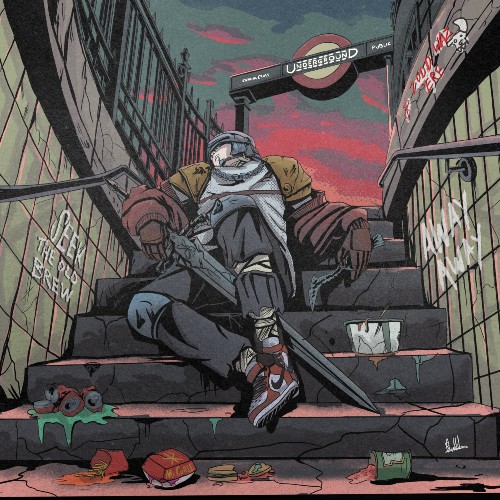 AO: This has been a tough year for us all. How has the pandemic hit you creatively and how have you adapted to the challenges of the last few months?
MELISSE: At the beginning of the pandemic, I was lucky to start working on The Last Kaiju comic. The pandemic forced me to try and be more active on social media with comic cons no longer being around. But I do struggle with keeping up with social media and I sometimes find it too distracting to a point where I'm not drawing at all. So I've been having more regular breaks from Instagram and Twitter which doesn't help with my algorithm. But gives me space to focus and work on my art.
AO: As an artist who has been involved in the UK small press scene for a few years what would be your advice to those entering the self-publishing world for the first time? What have been the important lessons you've learnt over the years?
MELISSE: Just start making comics even if it's bad. Don't set expectations for the early stuff to be perfect, but you'll learn a lot from it. My early comics weren't great but I was proud that I actually finished a comic so I knew I had that in me. At that point, it was just doing it again and again with improvements each time. Also try to network with as many comic creators as possible. Some of my closest friends are through this network. They will keep you motivated and help you grow as a creator. Most importantly, being part of the comic community will maintain your interest and enjoyment of creating.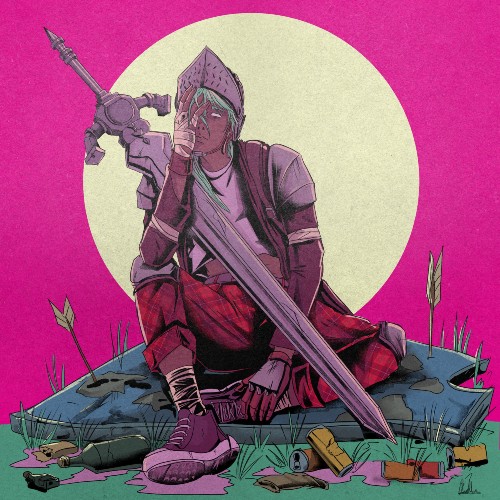 AO: And, finally, what's next for Shane Melisse? What are your future comics plans?
MELISSE: I plan to do more with the Road Knight work. At the moment I'm really having fun with it. There's a few other projects I'm working on with other people which I haven't posted online. You'll be seeing some of that later in the year.
For more on Shane Melisse's work follow him on Twitter here and on Instagram here. You can visit his site here and his online store here.
Interview by Andy Oliver