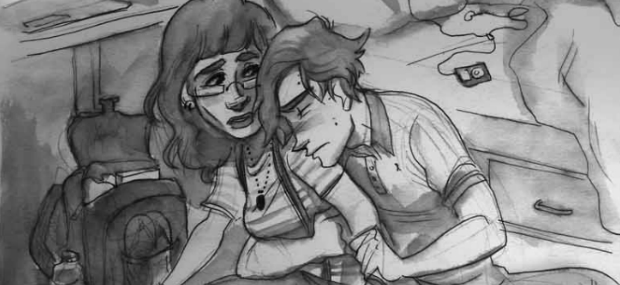 Jess Milton first came to the attention of many small press readers when her acclaimed short story 'Canary Girls' was published in the alternative First World War anthology To Arms! last year. She was also a part of the inclusive anthology Dirty Rotten Comics in 2014 with her story 'Kentish Town' marked out as my personal highlight when I reviewed the issue here in 'Small Pressganged' last year. Jess has a large catalogue of work online as well with her mammoth Jason webcomic (above) – an LGBT re-imagining of Wuthering Heights – having reached almost 200 instalments to date.
Jess Milton is also one of my 'Six UK Small Press Creators to Watch in 2015', half a dozen up-and-coming talents ready for the next level of exposure that we're following throughout this year in 'Small Pressganged'.  I talk to her today about her creative influences, her distinctive approach to the structure of the comics page, and her many comics-related collaborative projects coming up in 2015…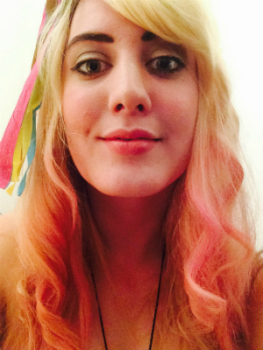 ANDY OLIVER: There's a very noticeable manga influence to some of your work. Was that style of comics your entry point to the medium?
JESS MILTON: First and foremost I was obsessed with Disney and anime, that got me into cartoons. I really freaked my mum out when I cried because I couldn't handle how much I loved Dragon Ball Z. Then my sister got a copy of Sailor Moon Volume 1 and my eyes spontaneously combusted. I've always been far more engaged with cartoons than any other way of storytelling, but when I got into manga it really exploded. I loved Fruits Basket – that probably had the biggest influence on me.
During uni comics sort of dropped off my radar until I found Emily Carroll's website… that really turned things around for me. I'd never seen anything like that before. Not long after that I stumbled into Gosh! Comics and I was like…. "Holy shit!" I was not aware of any of this stuff… Craig Thompson! Kerascoet! And then there was the zine stand and I was like… "What are these skinny books?" This was literally a YEAR ago. Somehow I had the presence of mind to buy Stroke by Dilraj Mann and I just peed my pants, it was the most incredible thing I'd ever seen. Annnnnd here I am now.
Your webcomic Jason has clocked up an impressive number of pages to date. Can you elaborate on the basic premise of the comic? And can you also tell us about your sprawling cast of characters and the direct inspiration for them?
The official tagline is: "A modern LGBTQ adaptation of Wuthering Heights." The story follows Jason; a young art student, moving to the city and failing to leave his weighty emotional baggage at home.  He meets Lon: a popular, mild mannered musician, and Elijah: an emotionally tumultuous, unpredictable grump. Jason is the Cathy to Elijah's Heathcliff and Lon's Edgar Linton.  It's a story of self-discovery, with plenty of heightened melodrama, sex, drugs and rock n' roll.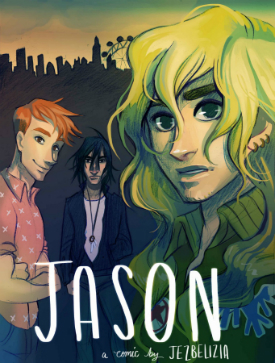 The characters were created in a very simple way really: I was in a biology lesson at school, and drew a picture of myself as a boy. This was Jason. My friend Lizzy leaned over, laughed, and asked if I would draw her. Elijah. Eventually everyone wanted to be gender-swapped. These characters wound up slotting into their Wuthering Heights counterparts, some more neatly than others. It was the most productive biology lesson I ever went to.
In short, Jason is my alter-ego. I created him when I was at boarding school, struggling with my identity and sexuality; feeling frustrated and suffocated but without any real emotional trauma to pin it on.
It was the perfect way of living out the fantasies I was having, i.e: being an attractive, homosexual boy tortured with a troubled past that makes him irresistible to other men. (I didn't say it wasn't an indulgent fantasy.)
You use a far sketchier art style on Jason than you do elsewhere. Was that looser approach to the page a deliberate storytelling decision?
Yes and no. When I first created the story in 2009, it wasn't intentional – that was the neatest I could do. I also didn't realise I could draw pencil underneath the pen. The first 50-ish pages that are online are the originals from 2009.  When I picked up the story again in 2014 I wanted to mimic the style.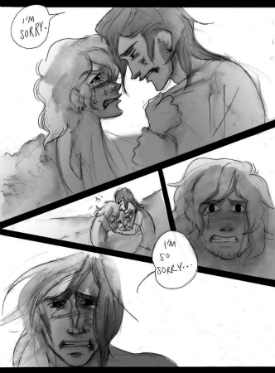 The other reason is probably because, while I had seen it as being a deep, groundbreaking comic that would change the world when I first wrote it, when I decided to rewrite the majority of it last year I had already made the decision to use it just as a writing exercise. "Can you make this overcooked chicken tender again?" Sort of thing.
I actually see it more as a storyboard than a comic, which is why the page design is pretty non-existent. In my head I still think it would make a pretty watchable Channel 4 drama…
Is there a greater freedom creatively to producing work for an online audience? An opportunity to experiment and play with page structure and layouts, perhaps, that the logistics of planning for print does not offer?
Heck yes! It is the place to vomit out whatever idea or doodle creeps into your head. I think people are afraid of the internet because once it's out there it's out there. But it's such a big place and people are discovering new things every day, I don't think it matters if you put a rubbish drawing or a dumb story on there. I've got so much embarrassing art on the internet, hiding in Deviantart accounts and on Bebo. Not even to mention all of that Fruits Basket/Phantom of the Opera crossover fan fiction I wrote that made sense to no-one.
I would love to experiment with more extreme page layouts  – I was so inspired by Emily Carroll's 'The Prince and The Sea'. That was the first example I'd seen of the boundless page being used to such eye-popping effect, really beautiful stuff. If I had a website… or could code something. Do you need to know how to code?
…But in the spirit of learning to walk before you can run, I think the good ol' portrait page is where I need to focus now. I only printed my first zine a few months ago, and since then I've found myself actually thinking about the end product of the comics I'm writing. I mean, I have a stapler now, so that's a start. And a guillotine! It can only get better from here.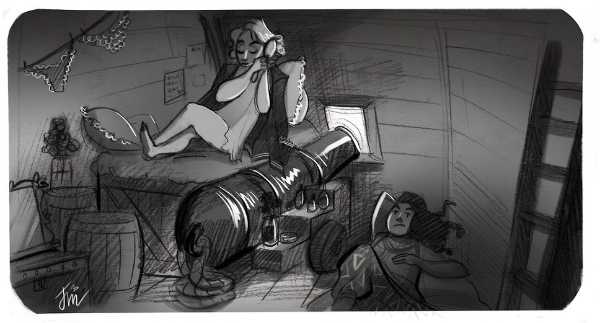 One thing that's very noticeable about your work is your willingness to embrace very different fictional genres. With that in mind, could you tell us a little about the fantasy concept behind your The Flying Ship project (above)?
The Flying Ship is a story about a group of lost souls who come together on a journey to find the things they want out of life. Some of them know what that is. Some of them don't. Some of them think they know but they have completely the wrong idea of what that is. The world is full of mystery to all the main characters: they think they're living in Buttsville Nowhere. It's only when the story gets going that they start to realise there's magic and secrets they couldn't have dreamed of.
I studied Performance Design – I'm a little obsessed with Fashion History. The Flying Ship is full of nods to historical fashion, via the fairy tale, at the ballet. The story is based on Russian fairy tales, so I have taken a lot of inspiration from the work of Diaghalev, who designed for the Ballet Russes and collaborated with Igor Stravinsky, whose music has done most of my writing for me.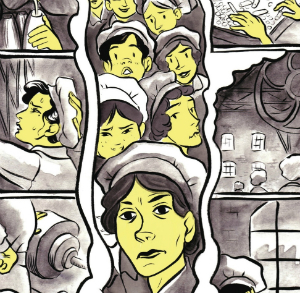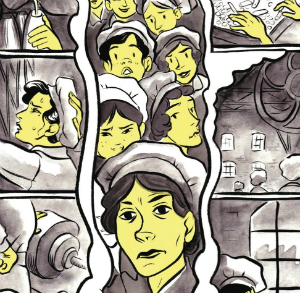 The alternative First World War anthology To Arms! was the collection that probably introduced your work to many readers. Your entry in that book – 'Canary Girls' (right) – spotlighted your inventive use of panel structure. Is that sense of experimenting with the possibilities of the comics page something you consciously enjoy toying with as a storytelling technique?
Panel structure is something I've only recently started to experiment with, and now I've realised how fundamental it is to my style of storytelling I don't plan on going back. Composition has never come very naturally to me, I'm still figuring out what the hell makes a drawing look good, so it's not surprising I'm having to make the effort with panels. I've also never thumbnailed before now. It's like, one day at a time with the noob.
Saying that, it is something I've always noticed. That was the best thing about Fruits Basket – the pages were put together in a way that made you look at them for hours trying to pick up on clues about the story from how each drawing was chopped up and pieced back together.  I love the idea of leaving clues like that, in the scenery, the colours – little hints that give away what you're really trying to say without beating the reader over the head with. Delicious.
Jess speaks about her contribution to To Arms! in the original crowdfunding video for the book above
You also contributed the standout strip 'Kentish Town' (sample below) to the third issue of Dirty Rotten Comics recently. As a newer name on the scene how important is the experience of contributing to anthologies, not just for the obvious reasons of expanded recognition but also in terms of sharing experience with other up-and-coming artists?
Absolutely. My whole approach to comics has changed completely since starting to collaborate with others. Sharing your work, meeting like-minded people, I cannot express how important it is . I feel so strongly about it because I've always been so insular and shy – I'd rather work alone instead of having to deal with other people or compromise my ideas. But you never imagine when you're in that situation that you will actually enjoy it – even more than working alone.
Other people bring the cool. They make you consider how your work can go further than being just for your own enjoyment. It's also a lot more fun, and it makes you feel as though what you're doing is real. My course leader used to say "you can't work in a vacuum." (At which I would roll my eyes and go "Bah!"). He was irritatingly right.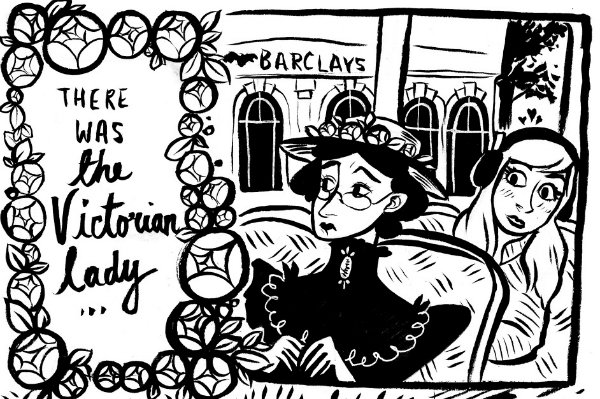 You're one of a number of creators to be published by Sarah Broadhurst and Julia Scheele's One Beat Zines in the near future. Are there any hints you can let slip about the nature of your zine for them?
I am really excited about this zine. It's a lot of firsts for me. It's the first comic I have planned specifically to be printed as a zine, it's the first time I have designed something to be less than a million pages long, and it's the first time I have attempted to do anything so technically challenging.
It's visually inspired by the illustrations of Edmund Dulac, one of my favourite illustrators of all time, and it's loosely based on the story of 'Little Red Riding Hood'. I am so psyched to finish it and share it with people. I have a couple of other things planned but this is the most challenging and exciting thing I've attempted with comics yet.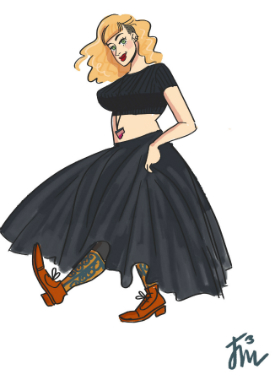 Another creative endeavour you're collaborating on with Julia Scheele is the Pencilled Skirts blog. As a group, what are you hoping people take from the site? 
I can't say that I can really speak for the group as a whole, but I'm fairly sure the one thing we all share is a love of fashion. (Except for Clarice who insists she doesn't know anything about fashion but always looks super cool so I think she's just being modest.)
The blog is very addictive for me personally for two reasons:
I get to talk about how I am a tall , big-boobed woman with three bums and would like some credit for dressing a size 16/18 body in clothes that don't look like bin liners.
I love drawing my self-portraits. I find it totally life-affirming.
Annnnd there's the self-indulgent nail in the self-obsessed coffin.
What fairs and festivals can Broken Frontier readers expect to see you at in 2015 if they want to check out your comics further?
I will be at MCM at the end of May for the whole weekend (look for the girl in the Rose-Quartz cosplay.) Then I'm going to be at Thought Bubble, debuting my Red Riding Hood zine. Annnd… those are all the colours I know. I'm taking suggestions!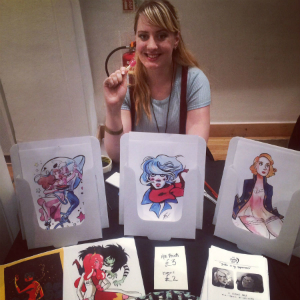 Are there any other comics-related offerings in the planning stages that we can look forward to seeing from Jess Milton in the coming months?
It's a tricky time to answer this question for me, I guess anyone who's seen my Tumblr will know I'm recovering from an injury to my arm at the moment so making new comics is temporarily off the table. I am having to physically restrain myself 'cause of all the ideas I've had for new stories though.
There's definitely something in the shape of giant women who stomp around looking for private parties and only date mountains or very tall trees. I would also really like to try doing a collection of vignettes about people in a not so distant future scenario, possibly centring around a sort of hipster morning TV show?
I have also been invited to contribute something for Comic Book Slumber Party – which I'm really excited about – but I'm keeping my mouth shut about that one!
And the final question for all my 'Six UK Small Press Creators to Watch' now. Where would you like to be with your comics practice by the end of 2015? What targets have you set for yourself this year?
That's an easy question. I want to be a better writer. I want to be producing multiple short stories that will allow me to hone my skills in writing and planning. I want to perfect my process to the point where I know what I'm capable of, what I like to write about, what I care about saying. I want to draw as much and as thoughtfully as I can.
For more on Jess Milton's work check out her site here and buy her minicomics Kentish Town, Pride in My Appearance, and The Magic Flute (story by Paula Albaneze here). You can buy copies of To Arms! here and Dirty Rotten Comics #3 here. You can also find out more about One Beat Zines here. You can follow Jess on Twitter here.
For regular updates on all things small press follow Andy Oliver on Twitter here.