SMALL PRESS DAY IS COMING!
If you're already a fan of John Cei Douglas's meditative and poignant comics then Badger Vs. Tiger! may come as a surprise. Douglas has made a name for himself with collections of powerful and deeply affecting shorts in books like Show Me the Map to Your Heart & Other Stories… and Static – slice-of-life stories and more colourful allegories that nevertheless deal with recognisable thematic explorations of relationships, depression, identity and the rites of passage.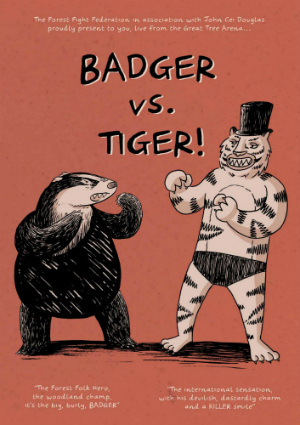 Badger Vs. Tiger! is something of a complete stylistic change of pace, then, as Douglas puts his normal contemplative narratives aside for the moment to embrace something very different – a joyous, frenetic, all-ages romp of a comic that nevertheless employs his masterful ability to convey a rich and resonant story without the need for exposition or dialogue.
This is an anthropomorphic wrestling comic courtesy of the Forest Fight Federation as much-loved local hero Badger is thrust into the limelight to face off against the flamboyant, international superstar Tiger in the confines of the Great Tree Arena. Can our musteline protagonist emerge the unlikely victor of this grim grudge match? Or will the striped feral favourite's form prevail?
In terms of narrative and theme this is, of course, as different from the artist's previous work as one could imagine and yet, in many ways, he employs very much the same storytelling tricks that have established his reputation as such a true craftsperson of silent storytelling in comics. Badger Vs. Tiger! is essentially one big fight comic that, at a first glance, may seem like a frivolous throwaway story – a little bit of juvenile animal fun that we probably shouldn't analyse too closely and should just enjoy on its splendidly engaging surface level.
And yet, given our instant empathy for Badger, there's something we can all take from these pages and their message of overcoming adversity and triumphing against the odds. It's underdog against showman and we're all naturally drawn to the former in such tales. At the same time there's something very conciliatory and good-natured about this mini-adventure as well. The plot may be slight but its themes are universal, speaking to us on far profounder levels than a 20-odd page punch-up should have any right to!
Douglas's pure visual storytelling is quite astonishing – his pacing, his clever panel-to-panel use of perspective, and his animated action sequences are exemplary. This has always been one of his greatest strengths as a creator; his ability to so potently communicate theme, meaning and emotion through imagery alone is one that should never be underestimated. Badger Vs. Tiger! is a comic for adults and kids alike can enjoy on different levels but, hopefully, one that they can also enjoy together.
For more on the work of John Cei Douglas check out his website here and follow him on Twitter here. You can also visit his online store here where Badger Vs. Tiger! is available priced £5.00.
For regular updates on all things small press follow Andy Oliver on Twitter here.
John will be one of the artists taking part in Gosh! Comics's Small Press Day events. More details here.