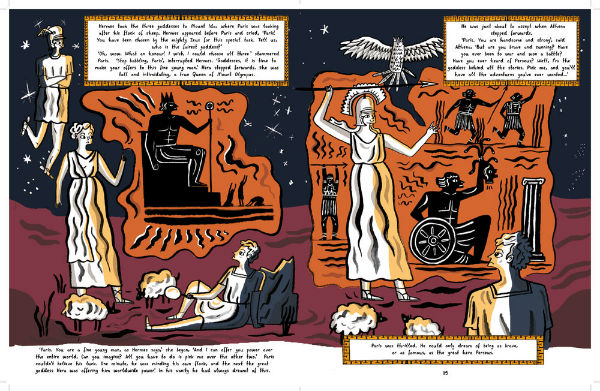 When it comes to inspiring an interest in the ancient world in younger readers, sisters Imogen and Isabel Greenberg have a proven track record in this area with books like their illustrated guides to The Ancient Egyptians and The Roman Empire. Isabel Greenberg, of course, has made retooling and re-imagining the standards of mythology her stock in trade in such critically acclaimed graphic novels as The Encyclopedia of Early Earth and The One Hundred Nights of Hero. The former earning her a 2013 Broken Frontier Award in the Breakout Talent category.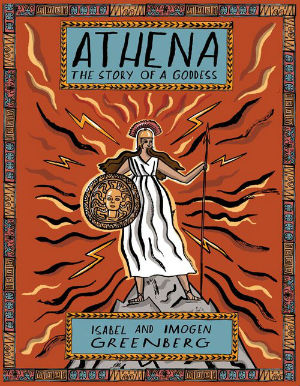 Recently launched at London's Gosh! Comics the siblings' latest collaboration, Athena: The Story of a Goddess, comes to us via publishers Bloomsbury. It pulls together the myths surrounding the Greek deity into a linear narrative in an accessible and very handsomely packaged hardcover edition for younger readers. Combining comics and illustrated prose, Athena: The Story of a Goddess retells stories both familiar and less so, including how Athena became the guardian of the city of Athens, her involvements with the heroes Perseus and Odysseus, and her sometimes fractious relationship with her fellow immortals.
The book is written by Imogen with illustrations by Isabel Greenberg and, for those already versed in her now extensive back catalogue, it will come as no surprise that Isabel's art is a perfect fit for the subject matter. Those folkloric stylings to her visuals, her expressive and always appealing cartooning, and her ability to capture both the grandeur of the gods and the very real consequences of their actions on the mortal world, will ensure the rapt attention of the book's younger target audience. Look out for some old school double-page spreads that are stunning in composition and dramatic power.
And, ultimately, that's the crucial aim here; to hook the kids that Athena is designed for by bringing its subject to life with a sense of awe and wonder while also being unafraid to employ the odd wink and a smile at its audience. To that end Imogen's recounting of the stories is suitably informal without being irreverent, employing the odd colloquial anachronism to foster a closer connection between younger reader and text.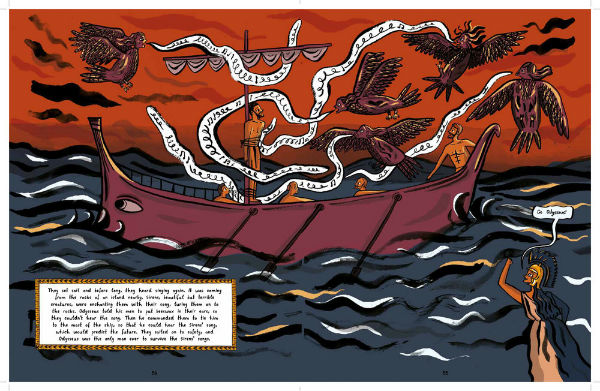 Much of Isabel's comics practice to date has been about playfully toying with the standards of folklore that cross cultures and civilisations, manipulating elements of them and re-imagining them as part of a greater fictional tapestry. Here she's part of a collaboration providing a straighter adaptation but one that, nonetheless, looks to weave those tales together – contradictions and all –  into an overarching storyline that covers everything from shorter fables to the work of Homer.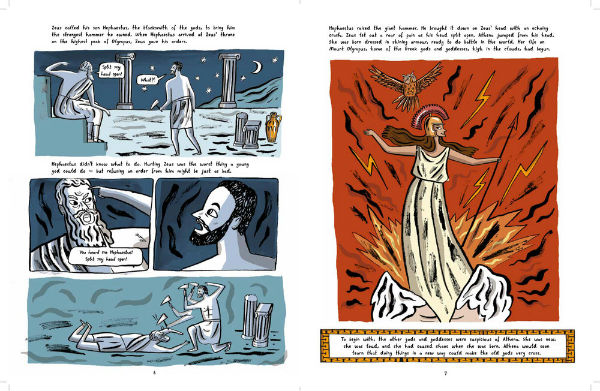 Through their exploration of Athena's adventures the Greenbergs ably capture a Greek pantheon who are majestic and terrifying and yet ironically, in all their foibles and caprices, incredibly human as well; happy to use mortals as their playthings in their neverending intrigues and power plays. Beautifully and delicately coloured with subdued yet striking hues, Athena is educational, informative and above all fun! The perfect book to introduce younger readers not just to the rich stories of Greek mythology but also to the possibilities of the comics form.
Imogen Greenberg (W), Isabel Greenberg (A) • Bloomsbury, £14.99
Review by Andy Oliver