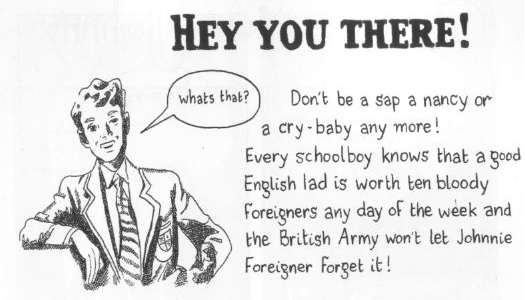 Straddling the worlds of comics and illustrated satire The Manly Boys and Comely Girls Annuals – Gareth Brookes and Steve Tillotson's double pack of parody publications – have their origins in a previously self-published incarnation from 2009. The Manly Boys Annual was their send-up of jolly boys' papers from decades past when, as the Avery Hill Publishing promotional blurb so memorably puts it, "all an English boy had to care about was playing cricket with his chums, and getting one up on Johnny Foreigner whenever possible." That Banal Pig offering has now been reprinted by the ever reliable AHP alongside an all-new collection of original material in sister publication The Comely Girls Annual.
Both entries are presented with a retro Boy's Own/Girl's Own-style visual identity but each is positively oozing with a knowing and biting wit. The Manly Boys Annual sets out its stall from the outset with a misty-eyed introduction on the joys of boyhood by Major General Sir Henry George Gordon Neville Balfour II (there's a similar foreword from Major General Sir Henry George Gordon Neville Balfour II's wife in The Comely Girls Annual) before launching into a mix of articles and features that include verse, puzzles, advice for young chaps, fake adverts and comic strips.
What's such a joy here is the manner in which Tillotson and Brookes revel in the possibilities of lampooning an archaic mindset that, to all intents and purposes, should simply be beyond parody. From the opening poem 'Oh Englishman Oh Englisher' in The Manly Boys Annual with its proud protestations of national superiority in comparison to other countries ("The Englishman is far more wise/His reasoning more sound/Behind his better tailored flies/His testicles more round") to Viz-style advice pieces on why 'Self-Touching is Bad!' or 'What the Devil Do Women Want?', there's a sense of awkward glee throughout. Uncomfortable, of course, because while we can smugly laugh at the attitudes being mocked here from a modern vantage point they're actually not that far removed from the sensibilities of the time.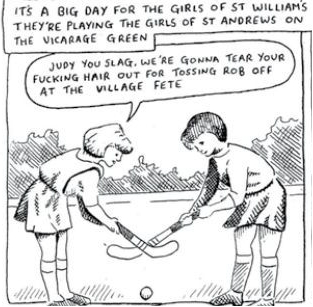 The Comely Girls Annual continues this thematic conceit with such profound illustrated commentary as 'Great Women of History and Their Recipes', the opportunities for a plain gal in 'What About Spinsterhood?', and 'Alice Against the Odds' – a comic strip where young Alice Peters (almost) realises her dream of becoming a mechanic in a "man's world" (above right). From the faux authenticity of the period art to the preachy establishment figures in 'Becoming a Young Lady – Our Experts Advise', the drollness is brutally cutting throughout. The standout entry here, though, is 'St William's Plays Up' (right), a comic strip tale of a not so "jolly hockeysticks" encounter between two groups of sporting schoolgirls that is a brilliant juxtaposition of traditional British girls comics imagery and contemporary profanity.
The targets that are being aimed at in both zines – casual racism, sexism and jingoism – are, indeed, easy ones but that in no way detracts from the skill and the wit with which they are skewered. Unashamedly crude and often unrepentantly gratuitous in delivery, nonetheless The Manly Boys and Comely Girls Annuals will have you cringing and guffawing throughout in equal but slightly self-conscious measure…
For more on Steve Tillotson's work visit the Banal Pig site here. You can find out more about Gareth Brookes's projects on his site here. The Manly Boys and Comely Girls Annuals are available from Avery Hill Publishing here priced £4.00 each or £7.00 for both.
For regular updates on all things small press follow Andy Oliver on Twitter here.