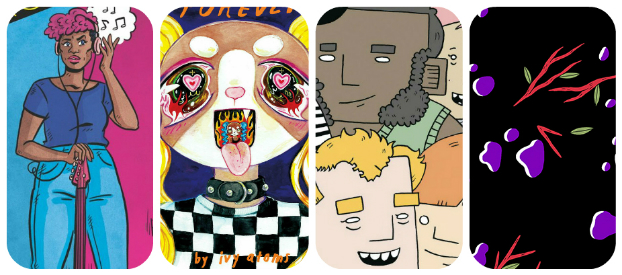 It's nearly Wednesday, and you know what that means: a fresh load of comics and graphic novels! With so many publications hitting your local comics store, comics events or digital storefront, the BF team are here to lead you through the woods with our weekly staff picks. Satisfaction guaranteed!
Comic of the Week
Where We Live: A Benefit for the Survivors in Las Vegas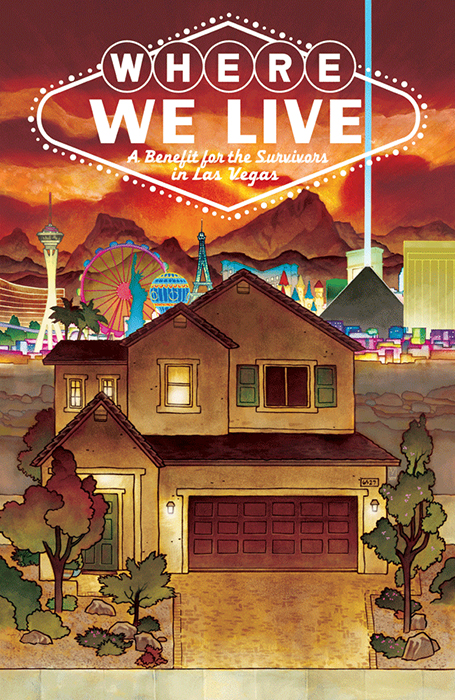 The October 1, 2017 shooting in Las Vegas was the worst mass shooting in modern America resulting in 58 deaths and over 500 injured.
Local artist, J.H. Williams III (Batwoman, Sandman: Overture) and his wife, Wendy, felt compelled to do something to bring some sense to this senseless act and raise money for the survivors and the families of the victims.
Made up of both fictional stories and actual eye-witness accounts, Where We Live includes a variety of perspectives on gun violence, gun control, mental health, coping with tragedy and perseverance. It includes creators like Mike Allred, Brian Michael Bendis, Kelly Sue DeConnick, Neil Gaiman, Kieron Gillen, Mike Mignola, Mark Millar, Gail Simone, Tess Fowler, Joelle Jones, Ariela Kristantina, Jeff Lemire and many more.
100% of the proceeds will be donated to Route 91 Strong a non-profit organization that raises awareness and funds for those affected by the Vegas shooting.
Anthology – Various creators • Image Comics, $19.99
– Tyler Chin-Tanner
Metroland #4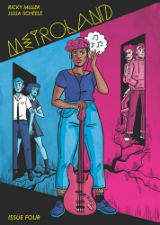 While Avery Hill Publishing has grown and evolved over the last several years, making the gradual transition from DIY culture-style zine purveyor to lauded boutique publisher, one element of their creative portfolio has remained constant. Ricky Miller has been writing Metroland stories since the very earliest AHP years in the pages of arts zine Tiny Dancing. The (now rebooted) series represents a rather nice throughline, then, from those rawer days of hand-stapled, often esoteric material to their current status as a major force in UK indie comics.
This week sees the final part of the four-issue Metroland series as the twisting story of Electric Dreams bandmates Jessica Hill and Ricky Stardust, time-travel, intrigue, mystery and music comes to its conclusion (for now). Once again, the book's atmospherically coloured and always entrancing visuals are from Julia Scheele with a bonus back-up by BF fave Owen D. Pomery. Those feeling they are too late to the party fret not! You can order all four issues in one package here! And don't forget you can also read Miller's exclusive writer's commentary complete with original script pages at BF here.
Ricky Miller (W), Julia Scheele and Owen D. Pomery (A) • Avery Hill Publishing, £5.00
– Andy Oliver
A Western World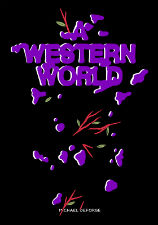 I would like to propose a theory. As there are some who suggest William Shakespeare wasn't a singular man but, in fact, the nom de plume for a team of writers who did not receive proper credit for their prodigious and prolific output, I believe the same is true of Michael DeForge. There is no way that one man alone could put out comics of this quality at this regularity, whilst also maintaining side-gigs as a designer for Adventure Time and as an accomplished Magic: The Gathering player.
Regardless of who exactly is behind them, DeForge's comics maintain a singular, surreal sensibility, whether with the more experimental side of his Lose anthology stories or Leaving Richard's Valley and its newspaper strip-style allegory for gentrification. His latest from Koyama Press, A Western World, tends towards the former with its two-tone, free-associative meditation on the human body and its precious fluids, albeit retaining the off-beat humour of the latter.
Michael DeForge (W/A) • Koyama Press, $22.95
– Tom Baker
Pinky & Pepper Forever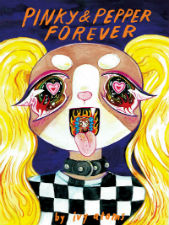 Silver Sprocket's disingenous insistence that they're an "anti-professonal… all-around raging dumpster fire" gets a little more tiresome by the week, as they put out volume after volume of thought-provoking and/or entertaining comics. In fact, they're rapidly becoming flavour of the month here at BF, where we've recently covered books as diverse as Tom Neely's Unfinished and Benji Nate's Catboy.
Hitting the shelves this week – fresh from its debut at TCAF – is Pinky & Pepper Forever, a high-energy queer anthropomorphic trip into the afterlife by Ivy Atoms, a multidisciplinary artist and self-publishing activist. When her girlfriend Pinky's performance art piece takes a fatal twist, devoted puppygirl Pepper heads into hell after her, in what's billed as a "dark comedy full of furry feelings and a little gay Catholic guilt". Driving wildly across media boundaries, Tombs bangs together work in traditional illustration, sculpture and – perhaps the greatest artistic medium of all – MS Paint.
And if you want to tickle your eyeballs with a taster of the book, look no further than our preview here!
Ivy Atoms (W/A) • Silver Sprocket, $12.00
– Tom Murphy
Gumballs
Erin Nations' crisp angular cartoons remind me of a cross between Daria and Dilbert, but not quite with either of those icon's cynicism, which is nice. This collection of autobiographical comics lend wit and warmth to contemporary and personal stories – growing up as a triplet, working in retail, transitioning from female to male.
As the title suggests these offerings are short form, colourful and varied, as outward looking as they are inward looking combining the particular and peculiar with the universal and relatable.
Erin Nations (W/A) • Top Shelf Productions/IDW Publishing, $19.99
– Jenny Robins
The Ideal Copy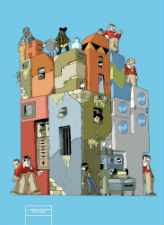 Well, I already gave the third of writer/artist Ben Sears's Double+ adventures a rave review, so consider this a reminder: you should absolutely be picking up The Ideal Copy. This time around, treasure-hunting duo Plus Man and his robot cohort Hank are pulled out of their comfort zone and into a new, minimum wage gig as caterers…right until the college reunion they're working turns out to be a front for a mob meeting, at which point they crash right back into their comfort zone.
The colours are marvellous, Sears's cartooning is superb — his characters are as distinctive as they are hyperactive, his linework positively vibrating — as is his sense of humour. The story has a fun, freewheeling pace that's almost improvisatory. I compared The Ideal Copy favourably to the likes of Lupin III, Don Rosa's Donald Duck comics and Wallace and Gromit; it's proof that all-ages comics don't have to talk down to kids (or consist solely of licensed properties…)
Ben Sears (W/A) • Koyama Press, $12.00
– Tom Baker
Dodo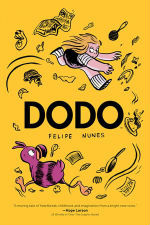 From BOOM! Studios, this new all-ages comic from Brazilian artist Felipe Nunes is a relatable tale of a lonely little girl and her purple extinct bird friend Ralph. Laila's parents have split up and she doesn't understand why her mum is suddenly so stressed, busy and less fun than she was, or why her dad doesn't visit more often, but reality is no match for a 6-year-old's imagination, and the art here is charmingly in tune with a colourful and larger than life narrative.
"Dodo is a story I made for children, like me, who grew up with divorced parents, spent hours in front of the TV, and learned to deal with loneliness," says Nunes, "We always find a way to fill in the empty spaces in our lives, even if it's with a strange companion that might not exist outside of our own minds."
Felipe Nunes (W/A) • BOOM! Studios, $9.99
– Jenny Robins
Barrier #5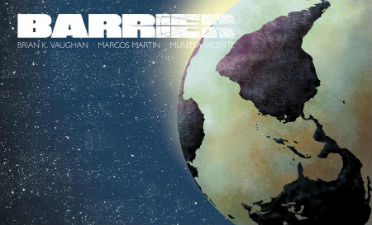 Marcos Martin and Brian K. Vaughan's sci-fi immigration allegory reaches its conclusion this week. Being able to possess Barrier as a physical object — it was originally published online through the team's Panel Syndicate site — has been a real treat. With heavy cardstock covers, an oversized format and Martin's and colourist Muntsa Vicente's splendid, clear-lined artwork presented in landscape (as opposed to portrait), it's a prestige presentation for a comic that truly deserves it.
We've come a long way from the book's ingenious inception, where Texan cattle poke Liddy and Honduran immigrant Oscar are abducted by aliens and struggle to cross the figurative language barrier to try and find a way home. Vaughan's propensity towards heartbreaking twists notwithstanding, the highlight of this final installment sees Martin and Vicente going all-out with both their outstanding character "acting" and creation of bizarre extraterrestrial landscapes.
Brian K. Vaughan (W), Marcos Martin (A) Muntsa Vicente (C) Image Comics, $3.99
– Tom Baker
We Are the Danger #1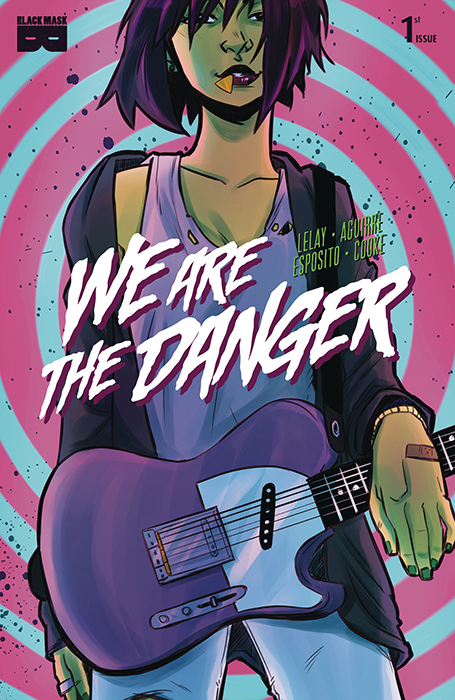 Staking a claim at becoming the Scott Pilgrim for a new generation, We Are the Danger stars a Filipino immigrant, Julie Malliari, struggling to make her way as a new student in her senior year of high school. She befriends Tabitha and the two start a band to compete for a record contract.
Their chief rival? Tabitha's previous band that had kicked her out.
We are the Danger is a tale of ostracization and finding a sense of belonging through friendship and the universal bond of music.
Fabian Lelay (W/A), Claudia Aguirre (C), Taylor Esposito (L) • Black Mask Studios, $3.99
– Tyler Chin-Tanner