In typical pulp paperback pace, Destroy All Monsters is the third Reckless book that Brubaker and Phillips have published in a year. But within the world of Reckless, quite a bit of time has passed. While the first entry opened in 1981, Destroy All Monsters starts in '88, with private-handyman-for-hire Ethan Reckless opining this was "the year I started to feel old." Noir is a nostalgic genre anyway, and Destroy All Monsters sees Ethan melancholically reflect as the world changes and is rebuilt around him.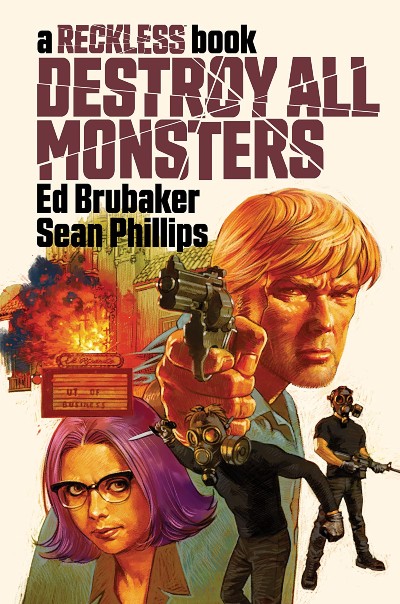 Ethan's sense of age is only exacerbated through his friendship with his younger "projectionist-slash-assistant" Anna. Anna has been a background supporting player throughout the Reckless books, but here takes a central spotlight, having grown up and become restless working with Ethan. The two had formed a sweet quasi-father-daughter surrogate relationship, but now Anna has more age-appropriate friends – including a boyfriend Ethan can't stand – and a new apartment across the impenetrable 405 freeway on the other side of LA. Ethan is vexed at her moving away, but Anna is annoyed at his complacency, telling him how "you never want anything to change… you're exactly the same as when we met." Picky and reluctant about cases anyway, Ethan gets wrapped in his own bubble, which only shrinks without Anna around.
Destroy All Monsters becomes a meditation on "change," and at whose expense it comes from. The central case – which Ethan uses to try and entice Anna back into his world – comes from a crummy land development deal that screwed over African-American housing and businesses, based up real research Brubaker did into the I-105 Freeway. Between this and the 405, Destroy All Monsters has more urban construction that you may expect, but it adds to the sense of place and authenticity which Brubaker brings to Reckless. Unlike other pulp-noirs, the series isn't built around ingenious masterminds or smoking gun discoveries, but a remote workmanlike investigator scoping out a typical corrupt businessman (albeit with some extravagant orgies thrown in).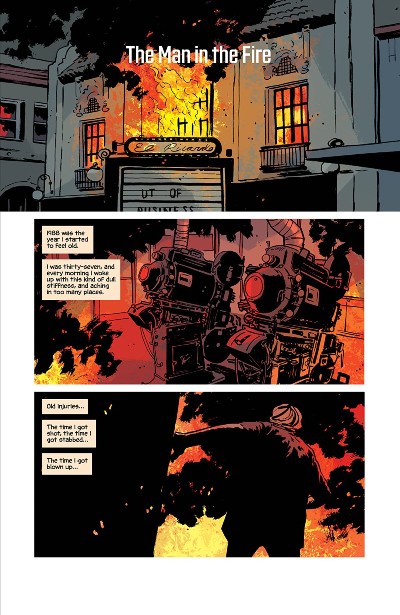 Ethan has always been a closed book, even if we can read his narration boxes. Such reflections are often sparse – Ethan gives the straightforward sentiment that "the whole thing started because Anna was pissed at me" – but this terse, direct sensibility is baked into Ethan's buried emotions. Ethan is a real character, his wounded sense of betrayal and self-imposed solitude done without melodrama. Brubaker's writing reliably lays out all these interesting wrinkles without too thoroughly underlining it, allowing readers to take Destroy All Monsters as a regular, well-paced "crime comic," while also adding neat depths of characterisation.
However, it brings me no pleasure to say this is not Sean Phillips' finest work. Often Destroy All Monsters is distracting with how off his figures seem, being under-detailed or stilted or simply disproportional in ways the artist rarely is. Anna frequently suffers from a blank, crosseyed gaze which makes the work feel rushed and amateurish. These issues occur more with character close-ups, as Phillips' depiction of landscapes and environments remains consistent, including exquisite noir shadows and flecks of detail which add to the book's grit and atmosphere. Jacob Phillips also brings excellent colouring of the sun-lit LA and its seedier night-time, particularly when it's lit up by the pink-and-blue of cop cars or the demonic red light of an orgy.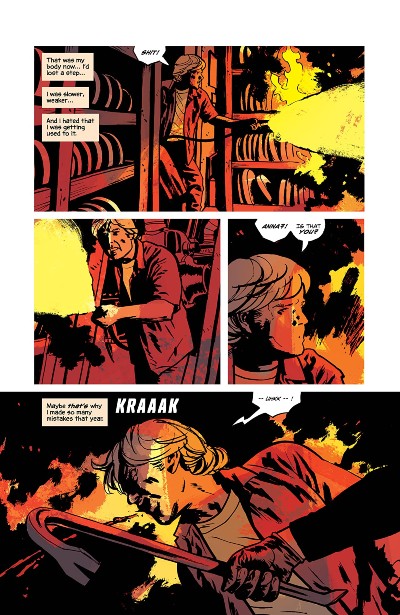 You may expect some diminishing returns to a series like Reckless, even in that these reviews of such solid crime stories would have nothing new to say. It's true that, by and large, you know what you're getting with a Reckless book by now and you can expect a certain baseline quality. Yet Reckless continues to impress me in the thematic depth Brubaker and Phillips bring to this work, how the narration carefully encircles the tale, spinning around the mistakes Ethan has gone through and the "secret history" of LA. As the most recent instalment of Reckless, Destroy All Monsters brings another solid, moody pulp tale that offers more than it might seem beneath the surface.
Ed Brubaker (W), Sean Phillips (A), Jacob Phillips (C) • Image Comics, $24.99
Review by Bruno Savill de Jong