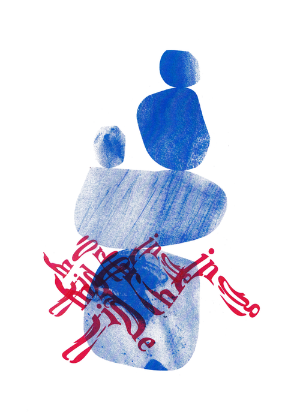 A couple of years back, in an interview here at Broken Frontier, graphic novelist Karrie Fransman spoke about the potential of the form saying "There are still so many untapped opportunities to play with the medium!". Our 2017 Broken Frontier 'Six to Watch' artist Peony Gent is one of those very same creators who continue to take comics into new narrative and structural territory with her powerful graphic poetry having been covered on a number of occasions at BF over the last couple of years. Gent has described her work as "usurping traditional comic frameworks" and she remains one of the most innovative practitioners I have covered in all my years of writing about small press work here at Broken Frontier.
Gent's major offering in 2018 was an interlinked double pack of zines titled Morning Tide and Evening Light; two autobiographically based publications that thematically complement each other. Evening Light is more sequential art in its presentational form while Morning Tide would be more accurately described as an illustrated poem. In Evening Light (below) Gent speaks to us of loss, of unfulfilled possibilities, of gradual recovery and of finding oneself again after a dark period of regret. While the exact specifics of the experience she describes with such affecting and resonantly rhythmic words are left to the reader to interpret and piece together, the emotional responses it elicits in them are both recognisable and deeply felt.
It's this organic synthesis of bleak, stark imagery and devastating descriptive passages that work in perfect synchronicity in bringing us into Gent's mindscape. Traditional panel layouts are eschewed for pages that tinker with, toy with and even abandon the structure of the page as the unique storytelling tricks of the medium are reappropriated for Gent's own intent. Overpowering visual metaphor lays waste to page composition, lettering is used intuitively to reflect emotional states so that font placement echoes meaning, and smudges obscure and hide words to speak of regret and anxiety. It's all testament to the way that Gent continues to push the possibilities of the form into places it has never gone before by both embracing and subverting its language and assumed boundaries.
Morning Tide is more detached in terms of immediacy and clarity underlining perhaps that Gent's visual poetry can be as much about what we take from it, or what it evokes in us, as the actuality of what she describes. It speaks of release, rebirth and security; intensely personal on the one hand and yet still relatable in its intangibility on the other. An absorbing juxtaposition of text, image, colour and shape, it's a graphic narrative that asks us to react to it instinctively rather than dissect or analyse as those aspects slowly melt and merge into one another in hauntingly abstract symbolic representation, echoing the words of Sylvia Plath in their wake.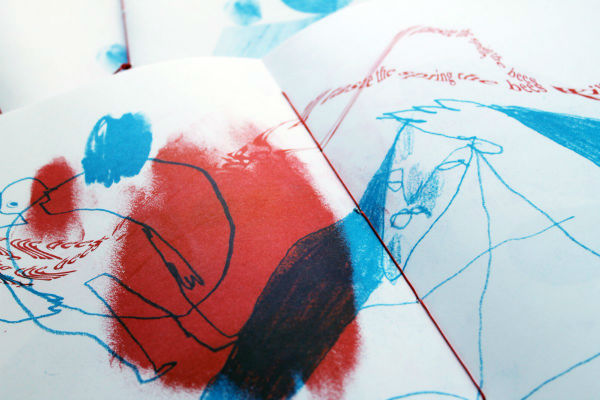 That Gent's practice crosses media isn't in itself unique but what does mark her out as one of the most important newer voices in the small press world is the pioneering manner in which she adapts the storytelling tools of the medium to her ends; breaking free of the self-imposed and self-defined confines that limit others and re-imagining the canvas of the comics page. To return to that interview mentioned in the introduction of this review for a moment, Karrie Fransman also said therein that comics is still "a medium which is open for any of us to define it." It's artists like Peony Gent who continue to remind us not simply of the strengths of what comics are but of the many possibilities of what they can be.
For more on Peony Gent's work visit her site here and follow her on Twitter here. Morning Tide/Evening Light are available on her online store here priced £20.00. 
For regular updates on all things small press follow Andy Oliver on Twitter here.