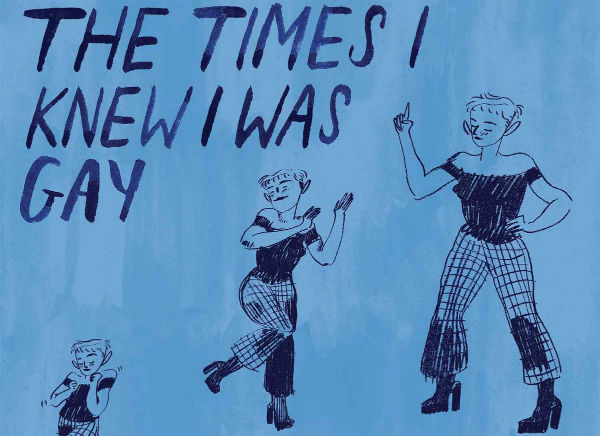 Back in early 2017 I reviewed a short autobiographical zine by UK small presser Eleanor Crewes and was struck by the immediate connection its creator made with her readership in communicating her story. That self-published offering would go on to be greatly expanded on and, earlier this year, a longer-form incarnation of Crewes' The Times I Knew I Was Gay was published and launched by Good Comics at London's Gosh! Comics.
I described Crewes' unforgettable account of coming out as "a fragmentary series of autobiographical vignettes in an often wittily observed, sometimes quietly poignant, coming-of-age story" when I reviewed it here at Broken Frontier. The work of one of 2018's breakout talents on the UK indie scene, the book has been critically lauded and has underlined Crewes' growing profile. We chat today about that rapid rise in the wider comics consciousness, her distinctive approach to graphic narrative and the incredibly touching effect the book has had on some of its audience…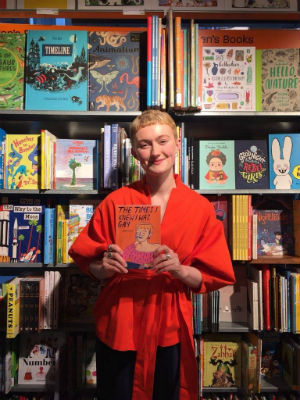 ANDY OLIVER: Before we talk about your work itself can you tell us about your route into comics in terms of both a medium and as an area of practice?
ELEANOR CREWES: I started reading comics from my Dad's collection when I was probably as young as 8 years old. He started to buy me comics like Mary Jane Loves Spider-Man and Ted Naifeh's Courtney Crumrin and The Night Things. But the coolest thing about comics at that age was that they were never off-limits to me – my dad would let me read anything I wanted from his own collection: Sin City, Invincible, Strangers In Paradise. Stuff probably not for a kid but that never stopped me (or him!) I would skim most of the words and instead let the drawings tell me the story. That all had a really significant impact on my storytelling.
In terms of my own making, as a kid I would draw and panel my own stories. But it wasn't until I was about to graduate from my Illustration degree that I actually returned to comics in a serious way, with my first zine of 'he Times I Knew I Was Gay. But this time I had a different approach than I used to, I wasn't panelling anymore and speech bubbles were quite rare. Even with my slightly odd approach to comics I felt like  it was the best medium for telling my story.
AO: The Times I Knew I Was Gay has a very different structure, then, in that it pulls together isolated moments in time into a fuller narrative. How would you describe your approach to autobio work to a new potential reader?
CREWES: The structure of the book is fragmented, like all memories are. Memories are subjective and only ever partial. So the book pulls loads of these remembered moments together to create a full picture of my life. I'd describe it as vignettes, like lots of windows into my world. I made it in this way because trying to recount 23 years was a big task, and one I could only truthfully tell through this method.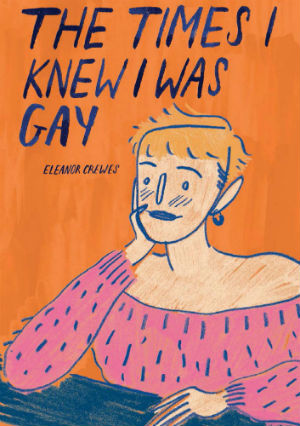 AO: Originally self-published as a short zine, The Times I Knew I Was Gay was eventually published as a much expanded edition by Good Comics this year. How did its journey from small press zine to micropublished book come about?
CREWES: I spent about a year on Volumes 1 and 2, repetitively printing and hand binding in batches of 5 – 50 copies across that year. For a little zine it did pretty well, especially with the help of the lovely people at Gosh! Comics in Soho. Those small successes gave me so much more confidence in my idea. I then started to realise it was way too long a story for me to keep making in zine form, so after delving into the UK micropublisher scene and seeing that someone like Tillie Walden was published by Avery Hill, I just began to send out feelers. That's when I emailed Paddy and Sam at Good Comics and it turned out that they had been planning to contact me after seeing my zine around. That's some weird fate stuff! From there it has been such a cool and happy journey to publication.
AO: It's a standard question to ask creators working in autobiographical comics but how much of a sense of vulnerability is there in sharing some of your innermost reflections with an audience? And, conversely, what are the particular responsibilities of autobio work?
CREWES: I think there's always going to be a negotiation between sharing and oversharing when you make autobiographical work, and every artist will have their own limits. But for me, I was so excited to tell this story, that sharing became much less of a scary idea for me.
Of course lots of my drawings came from my own memories of events, but I also spent a lot of time talking to my friends and family about my life and their part in it. My friends would remind me of things that happened, and I'd get late night texts saying something like "oh my god remember when…!?" Sharing the process with people I love and trust made things a lot easier and way more fun too. There are of course some parts of my life that I excluded from the book, but I was excited to share these memories with my readers and so I rarely felt squeamish about something I had decided to write or draw.
When it comes to responsibilities for autobio writers, I only ever speak from my own perspective and to try and protect the honesty of my own stories. As a queer artist I feel that in telling my own story I can also tell a bigger story, or at least make up a small part of a bigger, often untold, picture. This made me very conscious of my language throughout the book, some sections I re-read and edited for days so that I wholeheartedly believed in what I had written. Unfortunately, in all aspects of the arts, the LGBTQAI+ community are still underrepresented, our stories are often told by other people, and so I wanted to make sure I was doing the best I could with this opportunity.
AO: In revisiting so many pivotal points in your life in the comic did you ever find you were seeing events with a different perspective? Was there an added layer of discovery in the act of creating the comic as well as in recording your story on the page?
CREWES: There were some very straightforward memories that I found easy to get down on paper, like my first holy communion, my haircuts and my last date with a man. There are some memories that just came to me almost in a fully formed way. Others were harder to recall and communicate, and others felt pivotal which meant that they took longer to articulate completely.
The memories that I saw from a different perspective through the process of drawing and writing about them were definitely my multiple comings-out. I had spent a long time blocking them out of my head that over time I erased the accuracy of those memories. Part of me thinks that if it had been easy then I wouldn't have needed to tell the story! The biggest discovery was probably grappling with the reasons behind my actions, or lack of actions. But actually the biggest discovery I made was that I could write a book!
AO: You have a very accessible, clear visual style that allows readers to instantly connect with characters on the page. Can you give us some insight into your creative process and the mediums you work in?
CREWES: The Times I Knew I Was Gay was drawn entirely using a Palomino Blackwing Pearl. I love this pencil, it's unbeatable! I have a very quick drawing style and most of the images I created for the book were done in a few days. I then scanned the drawings into Photoshop and made sure they were bold enough for printing. With my new work I've slightly evolved my approach, sketching out in blue pencil first and then using a lightbox to ink the imagery with black watercolour. But for this book I wanted my artwork to match the narrative voice which was pretty immediate and loose.
AO: What has feedback been like on the book? What have been the most rewarding responses to it?
CREWES: I feel very lucky to have only received really positive feedback (not just from my mum!) I had a great write up on The Quietus a little while ago, it was amazing to be reviewed next to Emily Carroll who has been such an inspiration to me since Through The Woods in 2014.
Taking part in comic fairs has also been a lovely and rewarding experience. When I was signing at the Toronto Comic Arts Festival in May I met a young man who told me his sister had used my book to come out to their parents; At Macc-Pow in June a mum came to buy my book for her daughter who thinks she might be gay. It's been really amazing to have face to face experiences with people like this who have been affected by my work. It makes me even more motivated to create more books with queer narratives at the heart of them.
AO: The first two pages of your new project The Ghosts in My House (below) was recently seen in the Good Comics Reader. What's the premise of that psychological thriller?
CREWES: The Ghosts In My House is something I've wanted to do for a while now. I love psychological thrillers and even quoted Shirley Jackson's The Haunting of Hill House at the beginning of The Times I Knew I Was Gay. I think that they are an amazing tool for unlocking the way we think and what we are scared of.
I got the idea for it from my own life again – when I'm working alone at home and get scared of strange creeks, or when I see something out of the corner of my eye. So The Ghosts In My House mixes the supernatural with the autobiographical: an autofiction meets The Sixth Sense sort of narrative.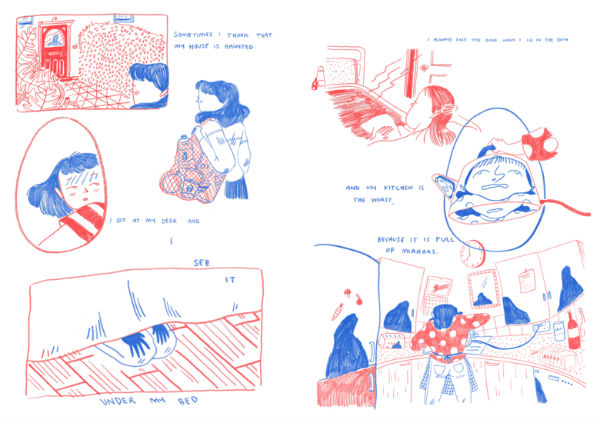 AO: Your profile has undergone a rapid rise this year. How does it feel to have had a book launch in Gosh and tabled at TCAF in 2018?
CREWES: I've been visiting Gosh! since I was about 10 years old, so having my launch with them was the best, and felt like coming full-circle in a very happy way. Travelling all the way to Toronto with the book was surreal. TCAF is an astonishing festival and the reception I had there as a totally unknown debut author blew my mind a bit. Things like doing a panel discussion about queer narratives with Hazel Newlevant (of Lion Forge), Noelle Stevenson coming over to my table during a signing, and having the queen of small press Annie Koyama introduce my work to other exhibitors all felt like a big dream. I felt so lucky to be around those people whose work I really admire.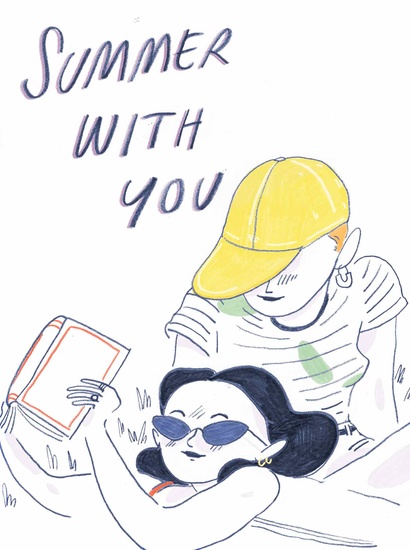 AO: And, finally, what's next for Ellie Crewes? What are you working on at the moment?
CREWES: Alongside The Ghosts In My House I've got some other secret projects that I'm so excited about and hope I can announce soon! Back in June I had a short web-comic published with Papier's online magazine The Fold, which was called Summer With You (above, read it here). That was a cool piece to work on as it was wholly autobiographical but to someone else's brief. I've got some more fairs coming up: a signing slot on Saturday 22nd of September at Thought Bubble from 10-11:30 am, a table at The Lakes with Page 45 between 13th-14th October, and then Brighton Illustration Fair on 3rd November where I'll be signing and doing something else yet to be announced! Since The Times I Knew I Was Gay came out it's been pretty non-stop, and I've properly loved it.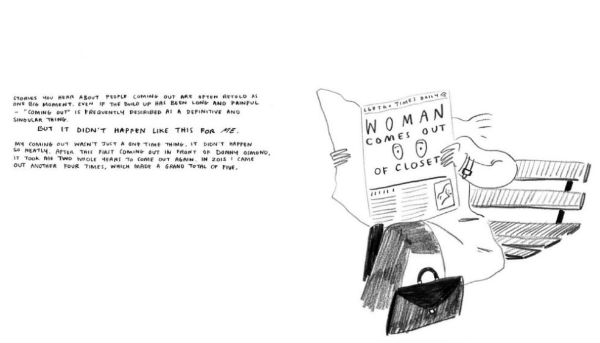 For more on the work of Eleanor Crewes check out her website here. You can pre-order The Times I Knew I Was Gay from the Good Comics site here priced £10.00. You can also follow her on Twitter here. You can catch Eleanor at Thought Bubble for a special signing on the Good Comics table in the ComiXology Marquee between 10.00 – 11.30 on Saturday September 22nd.
For regular updates on all things small press follow Andy Oliver on Twitter here.