London-based illustrator and designer Alxndra Cook first featured a few years ago on Broken Frontier when we covered some of her lively and quirky zines. Her relatively recent move into comics has seen her achieve second place in 2019's annual Manga Jiman competiton and go on to become one of Broken Frontier's 'Six Small Press Creators to Watch' for 2021. Alxndra's comics work is notable for its haunting fragility and resonant use of colour, and ranges from evocative slice-of-life to lyrical fantasy.
I talk to Alxndra today at BF about her background in fashion, her recent comics Kiyomi's Prequel and Wednesday's Child, and the importance of building an online audience…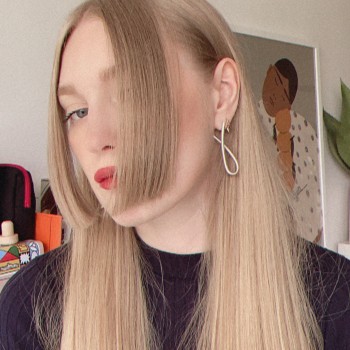 ANDY OLIVER: Your creative output extends beyond comics and illustration so let's begin by asking you about your wider artistic practice and your background in fashion?
ALXNDRA COOK: I originally studied at Central Saint Martins before moving on to do my degree in Surface Textiles at London College of Fashion. As most people do, I grew disillusioned by the idea of a career in fast fashion and quickly discovered it wasn't for me, that's when I began to pursue illustration seriously. Making the shift was challenging and I filled much of the void in between by designing bold fabric print designs for small fashion companies.
Being my own boss now and doing things on my own terms is why I still choose to make products that are partly fashion-based; silk and cotton scarves, jewellery and I did attempt clothing in the past (which I sadly stopped doing because it wasn't proving cost effective!). I can be more sustainable than most of the fashion industry standards and only create small limited runs too just like a screen-print edition. Printing my illustration as prints is really great but there's something I find really satisfying about seeing my work float about in the wind printed onto delicate fabrics. It adds a contrary element to my work that sits differently with my audience I think.
I wanted to try and separate myself somewhat from the illustration crowd initially by offering something that not everyone could. Artists like Tuesday Bassen were awesome influences too. Her tenacity to move away from the normal view of "what illustrators do" made me realise I could still exercise both practices without worrying about needing to be one or the other.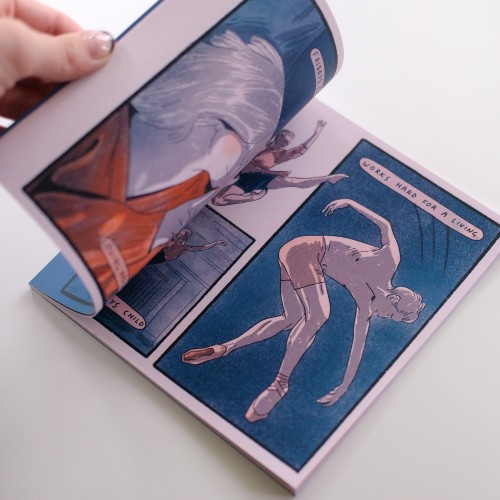 AO: There's a very distinct aesthetic to your work regardless of medium. What do you consider your main influences and inspirations?
COOK: Thank you! I draw inspiration from many things but there are a few distinct influences that are hard to miss in my work, Japanese culture being the obvious one. Growing up, anime was a huge influence on me and honestly I never really stopped watching cartoons. Japanese fashion with its ideals of existing "outside the box"  appealed to me next in my teens and the interest in the culture kept growing after that. But I also take inspiration from photography, mythology, music, fashion and the human condition. That last one is very important to me. Even if it isn't obvious in a certain illustration, I hope that my work evokes emotion either by use of colour or subject. Art of any kind commands being meaningful even if it only does something as simple as improving your mood.
AO: You've been working on a full-length graphic novel, an early chapter of which, Kiyomi's Prequel, you released in print last year. Can you tell us about the premise of the comic and its origins?
COOK: I am indeed working on my first self-proclaimed graphic novel of which Kiyomi's Prequel is essentially a part of. When I have the time (rarely!) I try to work on it. In 2019 I decided I wanted to start this really big project, something I could work towards that I could feel proud of in a different way between running my brand and working on commissions. It took me a while to pluck up the courage because the idea of something like this at the time was so out of my comfort zone – storytelling. Then while talking to a friend at a Japan House open event I was prompted to apply to the upcoming Manga Jiman competition. I had already started writing my graphic novel so I decided to partially marry up the two projects. It was a great motivator to get started.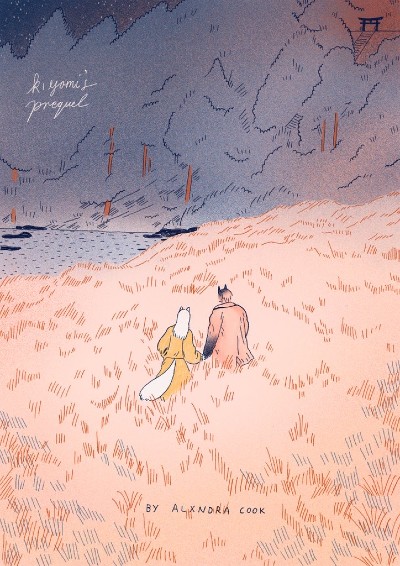 A lot has happened in between however and I am currently still fleshing out the story! It's heavily influenced by Japanese and Greek mythology and I spent a lot of 2020 studying The Hero's Journey so I am hoping it will be a cute little adventure/fantasy novel that focusses on self-discovery.
The protagonist, Kiyomi, lives a stagnant existence after an apparent attempted suicide accident wiping her memory. Depressed and lonely but not for long. Her perspective on life is about to be flipped upside down with the help of an old lady, a racoon and a kitsune mask!
I don't want to give too much away because truthfully it still has the potential to morph into something else!
AO: As mentioned, Kiyomi's Prequel was the second place winner in the 2019 Manga Jiman competition. How much of a boost to you was that level of recognition?
COOK: It certainly was a huge boost of confidence! I could hardly believe I had been shortlisted let alone wiggle up to second place when it was my first time entering. Not to mention I only just realised that it was supposed to be a black and white format as I was prepping my application the penultimate night before the deadline! Hence why when I self-published it last year, it was a full colour version! It came at such an unsure point in my life so I am extremely grateful for it. I have really appreciated the level of support I have been getting for such a short story. It made me realise that my dream of wanting to get back into comics was possibly not so unreachable.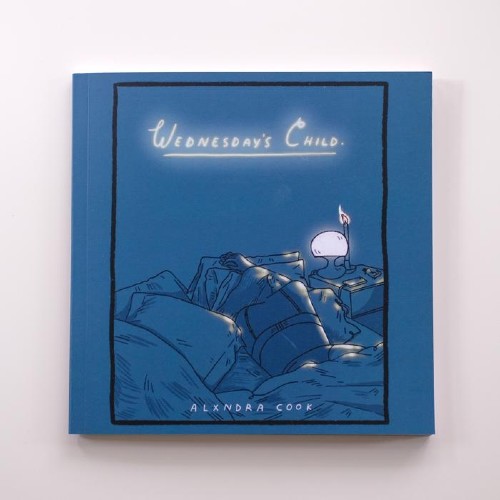 AO: Your newest comic Wednesday's Child was released a few weeks ago. How would you describe the series of resonant vignettes that lie within its pages?
COOK: Wednesday's Child touches upon themes of love, heartbreak, grief, depression and hope. Each representation of a rhyme is supposed to be a separate comment on a thought or feeling. I wanted to make something that commented on some reoccurring thoughts that I realised was relevant for many others, not just applicable to myself. Certainly the events of 2020 and its added new view of isolation was an influence but as I worked on it, there was a realisation that 2020 feelings may have been amplified but they were not solely attributed to last year alone. These are feelings anyone can experience at any moment or can relate to from a previous time in their lives.
AO: From a reader viewpoint Wednesday's Child feels like a very personal comic. As a creator do you ever feel a sense of vulnerability about depicting such raw emotional themes in your work? Does the nursery rhyme/folk song motif of the comic allow you to explore those ideas from a less exposed perspective?
COOK: Oh definitely, it's a personal comic for me. Not going to lie, I created this comic as a sort of therapy session for myself! 2020-21 has been a couple of the most difficult years for me for a lot of reasons, as I know it has been for a us all. Exploring emotions in this fairly bold way is quite new for me but it has been extremely liberating and I hope it helps others realise they're also not alone.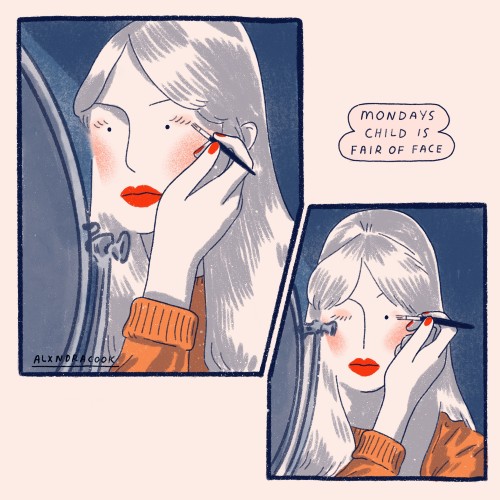 Someone once said to me that sometimes you just have to let yourself sink to the bottom to allow yourself the energy to start swimming back to the top. Creating this comic was part of this exact process for me. As I illustrated, I let myself sink, into the emotions, allowing myself to be vulnerable. And by showing it to other people once it was finished, letting them read this comic, is my small way of starting to swim back up. Finishing a project is always a nice motivational pull as well.
Certainly the nursery rhymes were just a vehicle to help propel my ideas forward. It wasn't ever meant to be something that hid anything from anyone though. I chose nursery rhymes and little folk songs like this for the exact reason that they already talk about misleading subjects that seemed to have morphed into content for children. In theory I am not doing anything different with them that history hasn't already done in a way, this is just my personal take on them. For example "Ring around the roses" originates from the 1600s during the black plague. The "rosie" is apparently a reference to the rash people contracted from the disease and flowers in your pocket was supposed to ward off the smell! The lines "we all fall down" literally relating to people falling down and dying. So turning apparently sweet nursery rhymes into something more to think about isn't exactly new.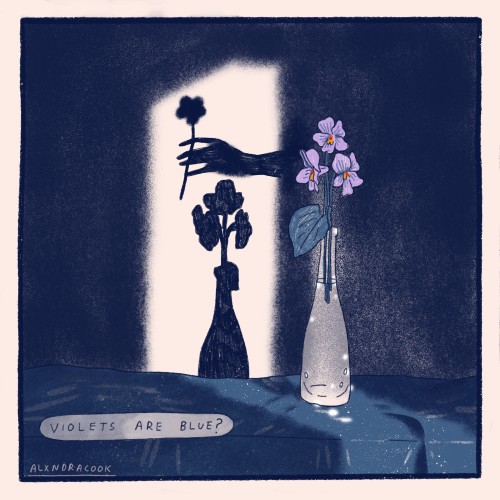 AO: Your delicate and highly empathetic use of colour is such a vital part of your comics in eliciting emotional responses in your audience. With that in mind can you about your artistic process and the mediums you work in?
COOK: Thank you, that's exactly what I am hoping it does! Before purchasing an iPad and starting my recent artistic path into digital artwork, I often worked in black and white with only one extra colour like red or blue but I always felt there was something missing. Working digitally made it so much easier to go from sketch to finished line work to a fully coloured image, allowing small mistakes and colour revisions to no longer be a hindrance. And I didn't have to be tied to my desk to do it.
I am actually a really impatient artist! If the drawing or colour combinations don't feel good, pretty much right off the bat, I tend to give up and move onto something else if I can. Just as an emotion or feeling is a natural response to anything in life, I try and use colour within a natural flow of the process to help convey a feeling. No specific tricks, just whatever feels right at the time. It may sound terrible, but using Procreate on the iPad has influenced the way I look at my work and artistic process so much that I hardly ever pick up a normal pen these days! All on one device I can find images for reference (or take photos of my own), sketch and finalise a full image. No more extra cluttered stationery and all the colours I could possibly think of at my disposal.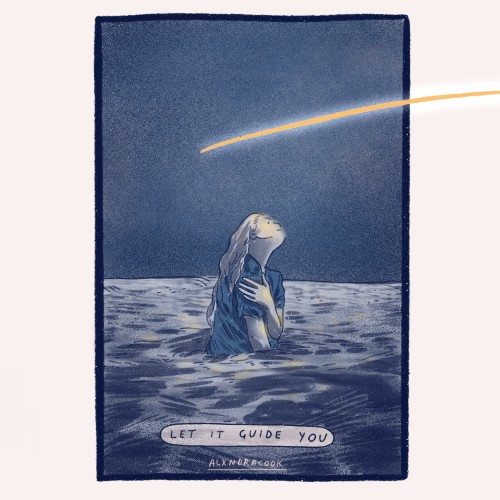 AO: Given your Instagram profile and the frequent video content you produce how important has maintaining a social media presence been to you in building an audience?
COOK: Oh super important! I think it's integral to keep a social media presence these days. It's been my main source for building an audience and for all its misgivings, it has brought me loads of joy too. I have made some incredible friends, boosted my freelance jobs without having an agent and on my low days, all I have to do is look through my DMs and read all the wonderful messages and feedback that my incredible audience send me which really cheers me up! Lets be honest, being an artist is difficult! So what's the use of spending all that time working on drawings if you don't show it to anyone? And social media makes that super easy to start with. Certainly a time-consuming thing to cultivate and maintain but worth it, I promise 😉
AO: When I first discovered your work it was through picking up your zines like Eat Your Fruit! and Batcat at small press fairs. In terms of self-publishing what advice would you have for new small pressers about what has worked for you in getting your illustration and comics work in front of readers?
COOK: Those zines feel like a lifetime ago now! I can imagine it was unexpected for you to see me jump from Batcat to Kiyomi's Prequel? It certainly was for me! But that's what's cool about creating zines. It's all about committing to finishing a small project, doesn't matter if you love the outcome because you can always try and make the next one better. I would say, if you were anything like me when I started out, I literally had no idea what I was doing and definitely didn't have the kind of social media audience I have now. Actually just getting out there and doing small fairs, meeting people and seeing how the small press events worked was the best thing for me. It gains exposure to the general public and puts your work right in front of real readers, giving you an honest idea of what kinds of reactions it will get too (whether you wanted to see it or not!).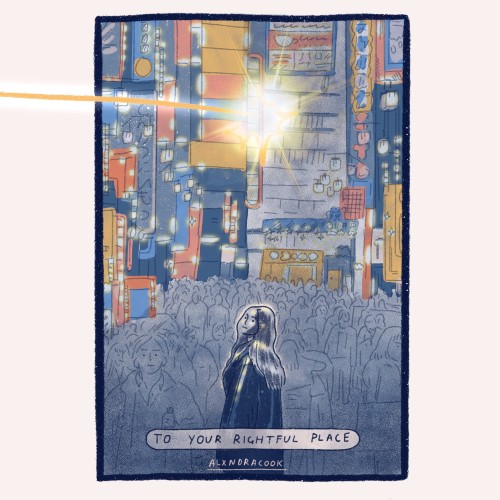 It's tough work though! Make sure you stand out from the crowd and pay attention to your table set-up, keep it neat and eye-catching to get people from the other side of the room to notice your work. The more professional your set-up looks, the more people respect what you do because it looks like you care about your work. No one loves a dismissive artist sitting moodily at a comic fair these days! Putting yourself out there, especially when you're unsure if your work is good enough, is always hard but super worthwhile in the long run.
Additionally I walked into my local comic shops that sold self-published and small press comics and asked if they wanted to stock my most recent zines. I guess I'm lucky since I live in London and here there are some really cool stores but most places do things via email now so it's always worth sending a couple feelers out to see if there's any interest for what you're creating no matter where you live.
AO: How has the pandemic and the events of the last 15 months forced you to adapt in the promotion of your work?
COOK: I was taking a break from fairs prior to the pandemic so not a lot has actually changed for me! I was already promoting my work mainly online using social media. For once I had prepped my scarf releases in January for the whole year which was incredibly lucky though! The one thing that was difficult was working out better ways to photograph all my new products for the shop from home, I often did it myself in the past but in the last couple years I enjoyed working with other photographers for product photography. Cheaply upgrading my photography set-up (tripods and self timer buttons) and working out how to take better self-portraits for my products is something I am still figuring out! Apparently I can now add basic photo editing to my arsenal of 'what freelancers need to be good at' skills list!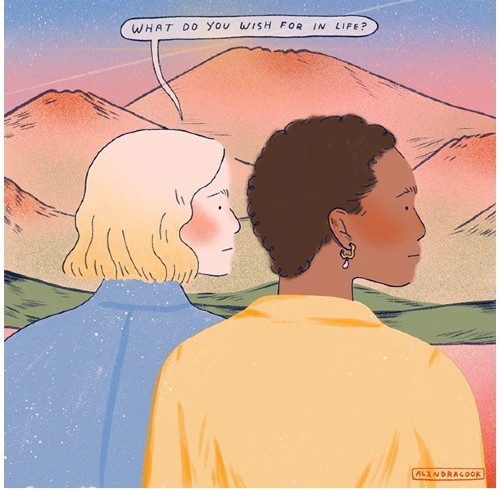 AO: And, finally, are there any other projects you're currently working on that you can tell us about?
COOK: Apart from my graphic novel and running my shop there isn't anything I am allowed to disclose sadly! I worked on a very exciting pitch recently which I was extremely honoured to be a part of, however it's uncertain of the result right now. I am also working on something as part of a hushed anthology project which I have been prompted to not say much more about also. There has been a lot on the go and it's all been very exciting! Nothing is set in stone for anything at the moment but it's safe to say that I am definitely keeping busy!
For more on the work of Alxndra Cook follow her on Instagram here and on Twitter here. You can visit her site and online store here.
Interview by Andy Oliver