I'd been meaning to contact you for a long time. I tell everyone and anyone.
Compelled to justify that drift – a thing that happens often and endlessly, to almost everyone you meet in your life.
The comics of Peony Gent have always had a haunting lyrical quality but that has perhaps never been in more evidence than in her latest offering For Sarah, arguably her most powerful and certainly her most personal work to date. For those who may be affected by the subject matter it covers, a warning first that the comic deals with the subject of suicide, exploring not just themes of grief and regret but also the ways in which we process the aftermath of such an event.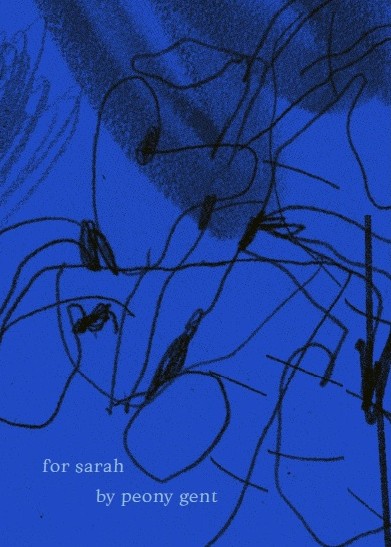 For Sarah was created by Gent as a reaction to the news that an old schoolmate had taken her own life. A friend she had long fallen out of touch with and yet one who had been an integral and fondly remembered part of her childhood. It takes the form of a candid monologue tracing those familiar stages of grieving after such a loss – the initial disbelief, the guilt that maybe we could have made a difference if only we'd known, the revisitation of happier times and memories, and that ultimate acceptance that so many people we may care about immensely in our lives may still only be temporary cast members in our wider story.
These reflections sit side by side with Gent's usual loosely defined imagery which feels particularly poignant here, embodying the hazy memories of yesteryear with a lack of definition that nevertheless embodies its own truths and realism. It's a reminder of the potency of the connection that Gent's visual poetry makes with its audience; how it immerses us in experiences and emotions that are not our own and yet are profoundly recognisable in their expression.
This is not an easy read but in sharing For Sarah with an audience Gent also reminds those going through something similar that they do not do so in isolation. "I have all these memories and I don't know what to do with them" she says, perfectly capturing the confusion and the helplessness that bereavement brings. Long-term Broken Frontier readers will be aware of just how highly I rate Peony Gent's practice. If you're discovering her work for the first time through investigating what's on offer at this year's online Thought Bubble then For Sarah perfectly encapsulates the emotional honesty of her practice.
For more on Peony Gent's work visit her site here and follow her on Twitter here. and Instagram here. You can visit her online store here.
Review by Andy Oliver