EXHIBITING AT BCZF!
Graphic medicine – the term coined by graphic novelist and GP Ian Williams – is one of the strands of comics narrative that has played a vitally important role over the last few years in not just reaching those all-important crossover and non-traditional comics audiences but also in communicating the uniquely empathetic power of the medium to them. That latter trait is one that is very much in evidence in Lottie Pencheon's recent longer-form comics offering Summer Break, published earlier this year by ShortBox.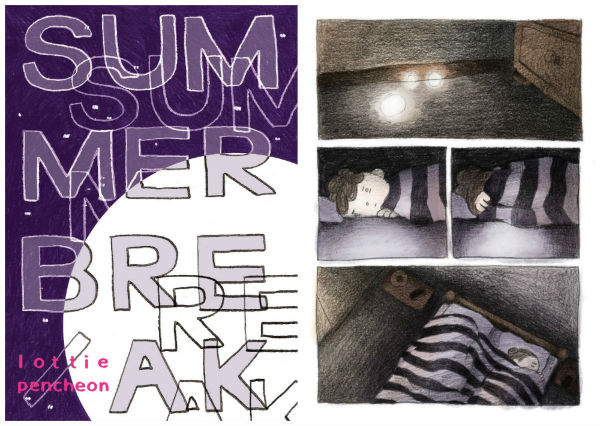 What makes Pencheon's Summer Break such a remarkable comics depiction of mental health issues is that rather than describe, explain or explore the experience of living with depression she instead does something far more subtle with the form and ultimately far more effective. She makes us live it vicariously through her on-page incarnation.
Summer Break provides the reader with the dual perspective of seeing the world through Lottie's own disconnected viewpoint and of observing her reactions to that gradually eroding grasp of reality. When we first meet her she's been aware for some time that something indefinable is not right; that her perceptions of her environment seem somehow "off" in an intangible way that makes her feel all the more isolated. Nothing seems real, she's plagued by doubts and self-recriminations (embodied in illusory versions of herself), and sensory hallucinations sweep across the page as we watch her at work and with friends. Events come to a head at the titular vacation as Lottie begins to come to terms with what is happening to her.
This is a comic that deliberately discombobulates and disconcerts to underline its protagonist's experiences. Scenes jump jarringly, sometimes with abrupt segues, sometimes without. Pencheon plays with pacing, speech balloon placement, dual imagery and shifting visual styles in intuitive ways as we are immersed in her worldview. It's a book where the art is often stripped back to the starkly representational but is always intensely sophisticated in terms of the language of the form with visual characterisation being particularly powerful and sometimes quietly devastating in its fragility.
What marks Summer Break out as an outstanding piece of graphic memoir is the intuitive way in which Pencheon embraces those qualities to tell her story in a way in which only comics could. There's the obvious and effective visual metaphor and employment of parallel imagery, of course, but there are less obvious and nuanced storytelling tricks that play such an important role in establishing tone and mood here as well. Speech balloons placed half off-panel to emphasise her detachment from her ostensible environment or frequent shifts in degrees of visual realism to bring us more fully into her ever changing interpretation of the world around her.
When we included Summer Break in our round-up of 'Staff Picks' for this year's East London Comics and Arts Festival I described it as "not just one of the best comics you'll pick up at ELCAF but simply one of the best comics you'll pick up this year." The intervening months have not changed my opinion. I've reviewed a lot of graphic medicine in my years at Broken Frontier but Summer Break is one of the most important comics explorations of living with mental health issues that I've read in that time. A quietly powerful masterpiece of the purest of comics storytelling.
For more on the work of Lottie Pencheon visit her site here and follow her on Twitter here. You can buy Summer Break and other ShortBox books from their site here and follow them on Twitter here. Both Lottie Pencheon and ShortBox are exhibiting at this year's Bristol Comic and Zine Fair on October 6th.