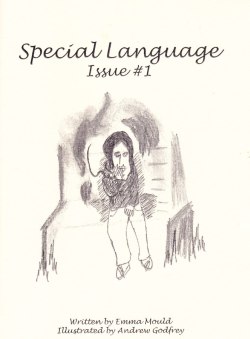 Emma Mould and Andrew Godfrey's Special Language #1 is an uncompromising account of the two and a half months Mould spent in a psychiatric facility in Bath in the summer of 2010, and is published through their small press partnership Sicker than thou. In these 26 pages we follow Mould's admission into hospital and become witnesses not just to her attempts to deal with her illness but also its effects on those around her, the complex bonds and rituals that build up within the close-knit community of patients, and the fractious, adversarial relationship between them and the staff.
As the weeks in the hospital progress Mould slowly settles into what eventually becomes a comfortable cocoon around her as the outside world takes on a distance and the social structures of the ward gain fundamental importance. Friendships form through the most defined of shared experiences while staff-baiting is a popular sport. But, in welcoming institutionalisation, her illness is exacerbated and she begins to become more and more detached from her life before the ward…
The first thing I feel the need to underline about this small press offering is Emma Mould's presence as a narrator. Her use of language here is remarkable and – in conjunction with Godfrey's empathic visual realisation of her words – it's the standout feature of her storytelling. She doesn't just recount events on the ward, she fully immerses the reader in them. Her monologues are replete with the most evocative dialogue ("…trapped within the cells of ourselves, hopeless and desperate") but tinged with a dry, observational humour ("It felt like I was in first year university accommodation…") and a darkly witty sense of self-deprecation ("I was a void, an evacuation. I was hoping that somebody was going to tell me that I was, in fact, possessed and that a simple exorcism would cure me. Clearly I have never got over being raised Catholic.")
Don't be misled by the apparent simplicity of Andrew Godfrey's illustration because his work here is the perfect embodiment of the unrefined honesty and rawness of Mould's autobiographical musings. Special Language #1 richly rewards a second reading because such is the power of Mould's narration on the first journey through the comic that some of the subtle visual metaphors and knowing, reflective details within his artwork may be missed. I am reminded of Nicola Streeten's Billy, Me & You in this respect; pages that appear to have been constructed with a naive and minimal charm but whose (superficial) lack of sophistication actually plays an integral part in successfully imparting the narrative's message.
The graphic memoir is, arguably, the single genre most responsible for the notable renaissance and subsequent newfound respectability of the comics form in the U.K. literary arena over the last few years. In that respect, what we now seem to have classed as "graphic medicine" has had a vital role in that upsurge in interest representing, as it does, a subgenre that has brought in an audience of previously non-comic readers who discover in its identifiable environs the potency of this medium for sharing experience and conveying feeling. I have covered some quite remarkable graphic novels in this field for Broken Frontier over the last few years including Ellen Forney's Marbles: Mania, Depression, Michelangelo, and Me, the aforementioned Nicola Streeten's Billy, Me & You, and Aneurin Wright's Things to Do in a Trailer Park Retirement Home to name just a handful. What Mould and Godfrey have created in Special Language is something I hold in equal esteem with those critically acclaimed works; vital, unforgettable and a true ambassador for the communicative power of the comics page.
For more on Sicker than thou check out their site here. You can buy Special Language #1 here priced £2.00.