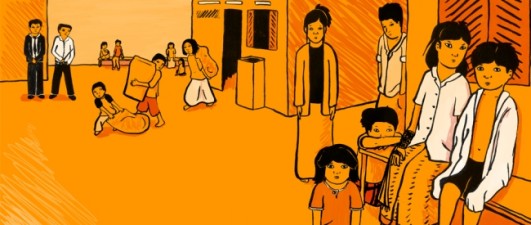 Lisa Grant's The Orphans Who Had Parents examines a social issue that you may well be unfamiliar with: the exploitation of children in Cambodia by institutions that purport to be "orphanages". It follows the fortunes of eight-year-old Ary and her little brother, six-year-old Peou, who end up in a home for children when their father can no longer afford to keep them. Most of the kids who live there are anything but parentless however; rather they are being used to entice wealthy volunteers whose generous financial gifts to the orphanage are being diverted straight into the pockets of its administrators.
As the months pass we watch Ary and Peou's struggles and are witness to the corruption and cruelty that surrounds them. Hunger and poor living conditions become the least of their worries at the Okhna Orphanage, though, as physical abuse, and attentions of a sinister and predatory nature, become part of the routine of life there…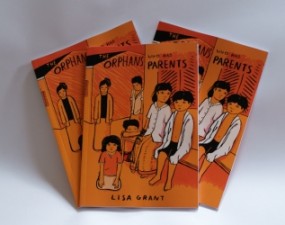 Lisa Grant's name was not familiar to me before I discovered The Orphans Who Had Parents on the small press shelves of London's Orbital Comics. It's one that I will watch out for in future, though, because this is not just an exercise in awareness-raising it's also a well-executed and very human piece of storytelling. Ary and Peou's journey is one that you'll feel deeply invested in and the supplementary endnotes  give plenty of scope for further investigation. While the comic remains cautiously optimistic for the future of the children involved it never skirts the depressing realities of their plight, maintaining a careful balance between hope and pragmatism.
Grant's art has a clear, slightly minimalist air that puts me in mind of Marjane Satrapi or A Game for Swallows's Zeina Abirached. It works particularly well in this context as it emphasises the innocence and naivety of the comic's protagonists and underlines that the narrative is told from a child's perspective of events. The book also has something of a hybrid feel to it; it's slick in physical presentation with solid production values but the interiors are decidedly "old school" small press. The text pages are fully handwritten, for example, which by their very informality somehow help to foster a more intimate relationship between author and reader.
The power of the comic strip form to educate and enlighten is something of which we're all aware I'm sure. Lisa Grant uses that ability to great effect here, communicating information in an engaging and economical 40-odd pages. Well worth your time and money.
For more on Lisa Grant's work check out her website here. The Orphans Who Had Parents is available here priced £2.80.