Dan Cox's Wrong Songs is a collection of inventively bizarre takes on children's nursery rhymes from the same gent who co-created the madcap music industry book Hitsville UK (shortly to be relaunched by Great Beast) and the supernatural feline-based comedy hijinks of The Graveyard Cats. It's a truly all-ages book in that its inherent silliness will appeal to kids on one level while the sheer surrealism of its humour will work for adults on another.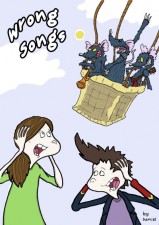 Its loose framing sequence follows two kids, Henry and Liza, and their nemeses the Pie-Rats; piratical rodents who initially sail into view on – yes you guessed it – a pastry-based nautical vessel. While there's a semblance of a narrative the true emphasis is on a constant scattergun procession of ridiculous verse, bad punning and slapstick humour.
Cox completely embraces the self-consciously daft with great aplomb. Childhood sing-song fave 'There's a Hole in My Bucket' becomes the almost Python-esque 'There's a Hole in My Parrot' while 'The Grand Old Duke of York' morphs into 'The Grand Old Duck of York'. There's plenty of original lyrical nonsense as well with songs about lethal sherbet dips, farmyard animals with identity crises and confectionary-based washing machine mishaps.
It's all a bit Edward Lear meets Dr. Seuss meets Roald Dahl and they all pop off on a three-day pub crawl really. I've noticed Dan Cox's eye for a good visual gag and a wily spot of word play in the past and he certainly doesn't disappoint here. Perfect comics fodder for keeping the kids quiet for an hour or so before you sneak a crafty little look yourself…
 Wrong Songs is available for free online here or you can buy your own digital copy to keep for just £1.00 here.