Writer Neil Gibson is back, with one of his most chilling and unpredictable thrillers to date…
Earlier this year in 'Small Pressganged' I reviewed the two volumes of Twisted Dark from T-Publications; an anthology book dealing in dark psychological dramas with often unexpected plot developments. Both collections were of note for writer Neil Gibson's mastery of the structure of concise and snappy storytelling. Of the tales collected therein I opined "What all of them have in common…is a keen understanding of the art of the short story form and suitably moody black and white artwork. Gibson has a mischievous skill in misdirection but he's also adept at crafting a truly satisfying complete tale. Disconcerting and unsettling, this is powerful and memorable material."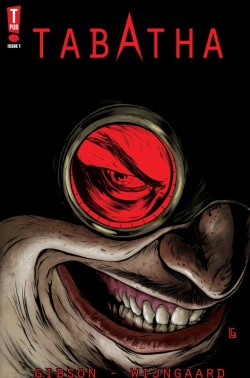 So when it came to considering this review I found myself in something of a quandary. Tabatha may be a four-issue limited series but it is still a Neil Gibson comic so naturally a lot of the fun of the reading experience will be in encountering those little twists and turns that the reader will never have seen coming. However, given that I'm looking at a couple of issues here, it's going to be impossible to discuss Tabatha without a reveal or two if I'm going to analyse the book's premise to any great degree. So, as forewarned is forearmed and all that, I'm going to stick up a standard *Spoiler Warning* in nice stark bold letters before we begin…
Still here? In that case let's try and keep the spoilerage to a minimum as I briefly give you an idea of Tabatha's plotlines to date. Tabatha #1 introduced us to likeable postman Luke, portrayed as a bit of a loser but an amiable one. Little did we realise, however, that Luke was not all he seemed. His daytime job is hardly a vocational calling but, rather, a ruse so that he can case properties for potential later burglaries. Joining him in this criminal enterprise are his protective brother Fin, Fin's girlfriend Baily, and her brother Ty.
It's in the process of committing one of those home robberies that our cast's troubles begin. When they invade the domicile of what appears to be a movie props designer they discover the absent homeowner has some horrifying secrets of his own: he's a serial killer. They also make the mistake of mishandling a life-size doll (the titular Tabatha) amongst his collection of cinematic treasures; an act that will come back to haunt them all. Wracked with guilt afterwards over what they have stumbled upon Luke attempts to do his bit to bring the murderer to justice, even if the group can't go directly to the police in the circumstances. But no good deed goes unpunished and Luke's attempted altruism will backfire horribly as he and his chums become embroiled in a game of cat-and-mouse with the mannequin-obsessed madman that will have terrible consequences for all…
In terms of story set-up Tabatha is obviously very different to the previous shorter work I've read from Gibson. Narratively, this is very much constructed in the traditional style of American serial comics back in the good old days, before the pacing of monthly issues had become so turgidly stilted to fit the all-pervasive "writing for the trade" mentality. It's neatly composed and well-paced character-led storytelling that builds up to that all-important and gripping final reveal; twenty-odd page chapters that end on ultra-dramatic story points acting as hooks for the next segment.  Both issues so far certainly have you eagerly awaiting the next instalment by their final page.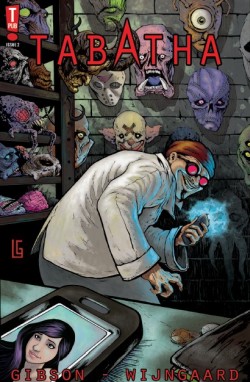 What Gibson most effectively achieves in this tense thriller is a sense of escalating helplessness as the cast find themselves drawn further and further into the spider's web of an unhinged psychopath. It does share that familiar Gibson trait of constantly wrongfooting the reader as well. Just when you think you have a handle on things Gibson will spring another surprise on you – whether it's a plot point that undermines all your preconceptions about character motivation or a cleverly enticing melodramatic cliffhanger. It's his stock-in-trade now, perhaps, but his skill in manipulating the audience's expectations is always something of a delight.
Characterisation is also strong throughout with Gibson adept at making a cast of what appear initially to be somewhat amoral individuals sympathetic and a group whose fates the readers are prepared to invest in. In addition there's a level of dark humour throughout, although it works better in the first issue's scene-setting episode and does, perhaps, slightly undermine the tension a tad in the second part, just when the ominous sense of dread has started to ramp itself up.
Artist Caspar Wijngaard is more than a match for the challenging shifts in tone of Gibson's scripts. He switches from the daftly comedic to the heart-stoppingly sinister with ease and has a nice knack of summing up a character's thoughts or reactions to a situation in just a single expression. This is also a beautifully, even meticulously, coloured book. If, like me, you're not exactly an ardent fan of the muted, muddy colouring that seems to have become the norm on most "mainstream" serial comics then you'll be in for a bit of a treat with Wijngaard's carefully selected hues.
As with any tale presented episodically over a number of individual issues a true assessment of Tabatha will ultimately only be possible with that fourth and final part. But in many ways the hard work has been done – we have a story here that you can't help but feel lured in by, characters that you're rooting for despite their flaws, and an antagonist with a most unnerving demeanour. And if past experience of Neil Gibson's plotting is any indication I strongly suspect there will be more than a surprise or two to come before #4's final page is turned…
Tabatha is published by T-Publications and is available digitally on Comixology here priced $0.99 for #1 and $1.99 for #2.