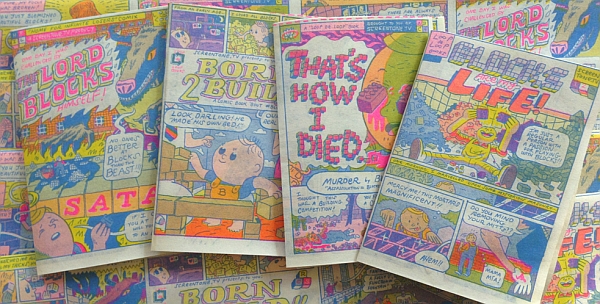 Ryan Cecil Smith's BLOCKS minicomic began life as an explanatory design for the Loop de Loop Animation Challenge – the cyclical reading experience inherent in its distinctive physicality mimicking the creation of a looping animated film (visit the Loop de Loop site here for examples). One side of BLOCKS serves as a public information poster on that contest while the other side comprises four two-page comic strips.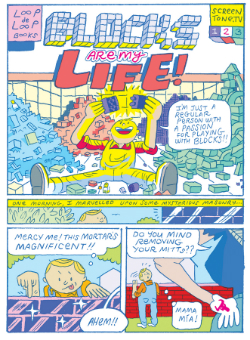 When carefully cut and folded BLOCKS also becomes an eight-page minicomic. The four strips – 'Blocks Are My Life!', 'That's How I Died', 'The Lord of Blocks' and 'Born 2 Build!' – are presented as part of a circular narrative. In combination with the comic's tactile format this allows the reader to choose their own starting point from which to commence reading. You can even play with the folding of the book to decide which "chapter" is the beginning. It's one of those elegantly clever reading experiences that could never be captured in quite the same way digitally which, obviously, has a certain element of irony given what the zine is promoting.
I now find myself in the rather odd having to choose my own arbitrary starting point in describing Smith's tail-chasing story.  Essentially we follow, from childhood to death, the life a man with a peculiar talent for improving the lives of those around him through his skills with children's building blocks – whether mending his neighbour's furniture with brand name block substitutes or fashioning casts for broken limbs with adaptable kiddie building paraphernalia, our hero is a whiz at exploiting these childish utensils to their fullest effect.
Such is the cutthroat nature of this pastime, though, that he is murdered in his prime by a jealous rival and finds himself in Hell. There, his block-building abilities are put to a whole new use constructing new cells for incoming souls. But the Lord of Hell is an avid hobbyist in this area as well and his intervention steers the story off in an Ouroboros-like direction…
Smith's four-act fantasy is a witty little offering that moves from pun-based semi-surrealism to pre-code EC horror pastiche (had anyone in The Vault of Horror suffered a particularly gruesome ocular-based death by Lego…). The three-colour risographed presentation gives the pages a feel that is both childlike and lurid, echoing the metamorphosis of this quite bizarre storyline, and Smith's packed cartooning is far denser and involved than a casual first cursory read-through suggests. If you have been with 'Small Pressganged' for the long haul then you know I have a fondness for comics with a playful palpability and the teasing, foldable make-up of BLOCKS affords just that sort of tangible encounter with the page.
In what amounts to just eight pages of story Smith proves himself an inventive and splendidly mischievous storyteller and one who, on the strength of this minicomic alone, has leapt to the top part of my list of creators to be urgently investigated further in this column…
For more on Ryan Cecil Smith's work check out his website here. BLOCKS Comic can be ordered online from his store priced $5.00 here.
For regular updates on all things small press follow Andy Oliver on Twitter here.