Becky Cloonan's Eisner-winning, self-published The Mire is a book that has been available for some time now, having originally come out in 2012, but I have a simple rule when it comes to coverage in our 'Small Pressganged' column at Broken Frontier – if it's still available for you to buy then it's fair game for being featured here. Those whose interest in Cloonan's work is piqued by this short review may want to look at Broken Frontier editor-in-chief Frederik Hautain's interview with her here a few weeks back to hear Becky talking about her latest minicomic Demeter, her inspirations, and her plans for the future.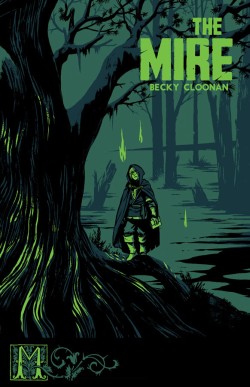 The Mire begins on the eve of a great battle when the knight Sir Oswain sends his young squire Aiden on an important mission to Castle Ironwood to deliver a letter. It's a journey that will take him through a reputedly haunted swamp and the horrors that supposedly lie therein. What awaits him at his dilapidated destination, however, will be even more traumatic as Aiden must come to terms with his past and with revelations of a truly life-changing nature…
Cloonan embraces the fantasy genre in The Mire to provide a dark fable that is both stark and sobering and yet, simultaneously, has a quite beautiful cyclical nature to it. It's a tale that deals with themes of loss, redemption and true love; of choices made and paths in life that could never be taken. And it builds up to a denouement that will smother the reader under a blanket of almost agonising poignancy, made all the more evocative by Cloonan's playful narrative misdirection.
The magic of Cloonan's art lies in that strangely haunting way that she can find splendour in the macabre and imbue the eerie with a spellbinding charm. Its black and white clarity allows her to create an atmosphere of foreboding and apprehension, and generates a tense, grim tempo to the proceedings that is further accentuated by her meticulous use of light, shadow and grey tones.
Let's look beyond content for a moment, though, because what's also very noticeable about The Mire is that in terms of presentation it has that Nobrow Press philosophy of possessing a reason to exist physically. There's an exquisite tactile sense to it – the feel of that silkscreened card cover and the way that stunning artwork is rendered on the high quality paper interiors adding an extra dimension to the reading experience. Some things just never can be replicated digitally…
I'm not sure whether using facile terms like "superstar self-publisher" advances the small press cause or not but if we are going to bandy about phrases like that then Becky Cloonan surely fits the criteria. The Mire is a gorgeously realised and carefully constructed piece of storytelling that thoroughly deserves every plaudit that has been thrown its way.
For more on Becky Cloonan's work check out her site here. The Mire is available at her online store here priced $5.00.
Follow Andy on Twitter for regular small press updates.