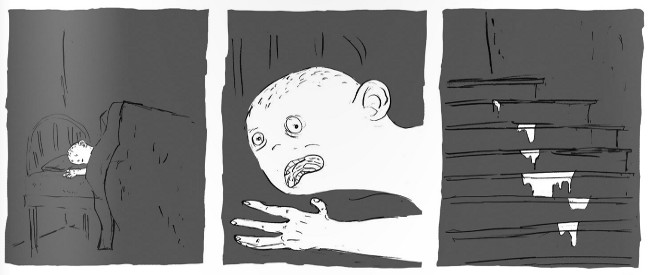 Showing the value of small press subscription services, cartoonist and fine artist Gus Hughes provides an unnerving collection of short stories that seem to daub the subconscious straight onto the page.
I've prattled on before about how much I love small press subscription services: they're a great way of getting a <shudder> curated taste of some of the exciting stuff going on out there. And earlier this year I eagerly took advantage of the four-comic deal being offered by the Dublin-based Cardboard Press.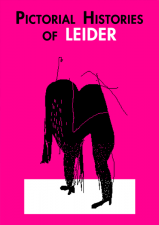 The first two books in the series were very different but both very enjoyable: Storm Chasers, a snappy and accessible bit of low-key sci-fi by Ken Mahon, and A Hibernian in Hellas, a travelogue by Maeve Clancy, focusing on the differences and similarities between Ireland and Greece, amid the turmoil of the financial crisis.
However, the third comic, Pictorial Histories of Leider by Gus Hughes, is by far the most startling so far. I know that trying to equate comics with music brings to mind "dancing about architecture", but Hughes's comic left me with the same feeling I had when I first popped the Jesus and Mary Chain's Psychocandy into my Walkman and pressed 'Play'.
The comic contains five short but powerful stories, each in its own very individualistic style. Gus Hughes is a fine artist as well as a comics creator, and that wider range of influences becomes clear in the variety of material.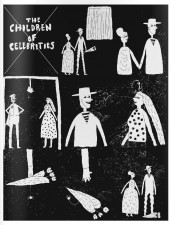 It opens with 'The Children of Celebrities': a wordless, oblique and dreamlike four-pager in which a woman has to deal with her beau giving the glad-eye to a female performer in some sort of tableau or play.
It's delivered in a bold scratchy style that I don't think I've seen before. The medium isn't clear; it could be some rough digital format, but could just as easily be a more physical etching technique. Whatever the specifics, it's an intriguing opener that asks quite a bit of the reader.
The next piece, 'Oak Tree', initially looks much more accessible. The narrator relates the childhood creation of a time capsule with his friend Patrick, and the efforts to which the two boys went to bury it in an almost inaccessible location. A subsequent tragedy drives home the themes of time and fate.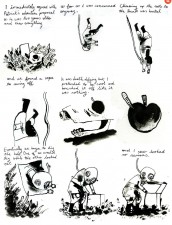 However, even in this apparently straightforward story, Hughes undercuts the reader's expectations by illustrating it with the seemingly unrelated visual tale of a deep-sea diver discovering and fighting with an octopus.
This is the clearest and most traditional-looking comic in the short collection, but the disconnection between the text and imagery forces the reader to question their expectations of the medium.
Things get altogether more freeform in the title story (below, left). Laid out across a series of double-page spreads, it doesn't offer much of a narrative flow: instead, it's a riot of mark-making. Like 'automatic writing', it seems to come straight from the author's subconscious onto the page, uncensored and unmediated.
At first glance the work looks similar to the studied naïveté of David Shrigley, but on closer examination the subject matter is more primal and troubling – the base savagery of conflict and violence laid bare in a coarse art style.
In another deft change of pace, Hughes follows up that graphic whirlwind with a four-pager that seems to be titled 'The Spectre's Bride' (above, right), after a piece of music by Dvořák that plays a part in the story. This is an altogether more controlled piece that showcases a mastery of tone and atmosphere to create the disquieting tale of a solitary music lover having his sanctuary violated by a pair of threatening figures.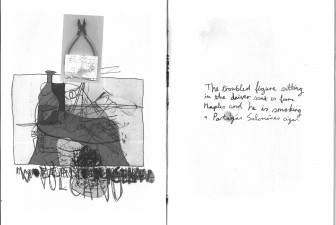 The final piece returns to a more freeform mode of work, combining text, photographs and free expressionistic drawing. The narration, with its hints of surrealist poetry, reinforces the sense of the subconscious etching itself directly onto the page.
So what the hell does any of this have to do with the Jesus and Mary Chain? Well, there's something about the mixture of work here that reminds me of the exciting way the Reid brothers could follow up an accessible melody with wild, violent squalls of feedback, sometimes even in the same song: something of the exhilaration you get from not knowing what's coming up next.
Pictorial Histories of Leider isn't like any comic I've read for a while. It's intriguing and even unnerving at times, and what Gus Hughes sacrifices in narrative coherence, he more than makes up for in visceral, emphatic impact.
Gus Hughes (W/A) • Cardboard Press, €4.00, August 2014.