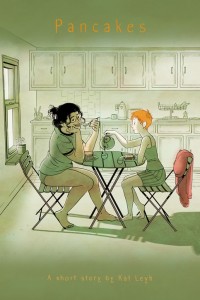 A household chat over the breakfast table may not seem the most dynamic of starting points but all is not as it seems in Kat Leyh's Pancakes from Yeti Press, the Chicago micro-publisher. Leyh's character set piece centres on the relationship between May and Molly which has just reached a pivotal moment with a big turning point on the horizon. But if you think this sounds like mere slice-of-life comics soap then be prepared to have the rug pulled out from under your smug and complacent expectations…
For a reviewer, the one-off minicomic is something of a conundrum. How does one provide commentary on a short story – in this case a tale that is just seven pages long – without giving so much information away that actually reading the publication in question becomes an exercise in redundancy? Even comparing its premise to similar small press books like Rus Hudda's The Day Job lets the cat out of the bag to a certain portion of the audience. That economical storytelling format, however, is the raison d'etre of the one-shot minicomic; to provide brief snippets of narrative – little windows into other lives – that are designed to be experienced as one-off, tantalising vignettes. In that respect Leyh succeeds with flair here giving us a pair of protagonists we can invest in over just a handful of pages and also a playful, teasing denouement.
Leyh's art has an easygoing charm to it with the muted use of colour meaning the subdued hues of each panel merge beautifully in and out of each other. It all creates a rather dreamlike effect that accentuates that early sense of relaxed domestic bliss, luring the reader into a deceptive comfort zone before turning their assumptions on their heads. While the casual punter may find Pancakes a little too slight in construction to satisfy I have no doubt that the ardent small press minicomics fan will get a kick out of this fleeting, almost ephemeral character study.
Pancakes is available priced $4.00 from Yeti Press via their online store here.
Follow Andy on Twitter for regular small press updates.