Jade Sarson's online Cafe Suada series is the epitome of feelgood comics. To great comic effect it depicts the ongoing feud between Geraldine, manager of the Piyo Piyo teahouse and Ewan, who manages the recently opened Dark Moon coffee shop next door. This manga-influenced "battle of the beverages" made such an impression on me in 2012 that I included the print editions in my select end-of-year 2012 Ten UK Small Press Books You Need to Own! list of titles
With Cup 3, the third print issue of Cafe Suada, shortly to be available to buy from Jade's online store it seemed an appropriate time to talk to her about the world of Cafe Suada and its colourful cast, her plans for her time-travelling commuter train OGN 'Siddown!', and why she counts everything from manga to 1960s girls comics among her influences…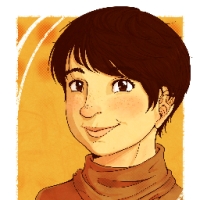 BROKEN FRONTIER: Fans of British webcomics will no doubt be familiar with your work from your long-running Cafe Suada series but, for the benefit of those discovering your characters for the first time via this interview, fill us in on your journey into the world of comics so far.
JADE SARSON: Okay! Hi everybody. I'm Jade, I write and draw comics and illustrations. I gained a first class degree in Illustration from the University of Lincoln in 2011, and after that I did a comics internship at the Londonprintstudio, finally going  freelance in April last year (2012). I've been creating short comics on all sorts of subjects (from the simple to the surreal) siiiiince… about 2006. I've come a long way since then!
Cafe Suada is the longest running comic I've made yet (100+ pages so far), followed by my final university project adaptation of scenes from Antony and Cleopatra which was 35 pages long. I tend to experiment and try something new and different with each comic project I do, whether it's changing the writing or the art or both. I try to make sure they're all consistently good though!
BF: As an illustrator, what was especially enticing about sequential art as a medium to specialise in?
SARSON: Training as an illustrator I learnt the importance of not just high quality art; but good ideas and communication behind that art. Comics enticed me because I was interested in using both stories and art to communicate ideas to people. They're the perfect blend of both mediums.
It has so much potential, but it is also very challenging to work sequentially because you can't let either side of it fail. If the story is good, but the art is terrible, people won't want to look. If the art is beautiful but the story is boring, people won't want to read. I like that challenge, and I also like to think it improves my one-off illustrations because it helps me to flesh out one-off ideas, characters and scenes and make them appealing in a short space of time.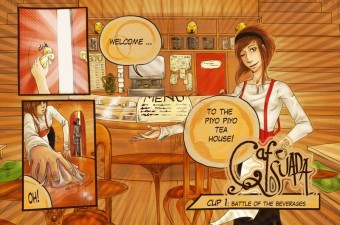 BF: Your work has an obvious manga influence to it. Which creators/series do you count as particular inspirations for your approach?
SARSON: One Piece, definitely One Piece. My favourite comic ever. Eiichiro Oda commands a mastery over character design (especially in his later work, not so much his earlier pages), world-building, and storytelling that is unparalleled I must say. I hope one day I can live up to his influence.
Let's see, I've also been very much influenced by Yoshiyuki Sadamoto (.hack, Neon Genesis Evangelion), Hisaya Nakajo (Hana-Kimi), Fumi Yoshinaga (Antique Bakery), Maki Murakami (Gravitation), Yuu Watase (Fushigi Yugi), Takeshi Obata (Bakuman), Hiromu Arakawa (Fullmetal Alchemist), Naoki Urasawa (Monster) and a whoooole bunch of other Japanese creators that it would take too long to name. Yoshinaga is especially wonderful in terms of pacing and page layouts.
I'm also influenced by things outside manga too, of course, otherwise I think my work would be quite boring. My writing stems from years of watching British shows, like the work of Richard Curtis, Edgar Wright and Graham Linehan, and Life on Mars, Green Wing, etc. I also like Terry Pratchett a lot.
Finally, I'd say that latest inspirations have come from David Mazuchelli (Asterios Polyp), Kate Beaton (Hark! A Vagrant), Tessa Stone (Hanna is not a Boy's Name), retro girls comics from the '60s (Sindy annuals and such) and the Valve series of comics (Team Fortress 2 etc). I'm being influenced every day by so many wonderful works!
The opening pages of Cafe Suada Cup 1…
BF: I've reviewed the print editions of your webcomic Cafe Suada here at Broken Frontier and thoroughly enjoyed its immensely likeable charm. Could you give us some background on the creation of the strip and your quirky cast of offbeat characters?
SARSON: Thank you Andy! Cafe Suada started life as a short black and white 8-page comic called Battle of the Beverages that was… well, it was terrible in my opinion, but people seemed to like it! I submitted it for the Manga Jiman competition in 2009, and it was published in the Leek and Sushi Manga Cupcakes anthology.
I realised there was something special in this little tale of a teahouse waitress battling against an obnoxious coffee bar waiter, but it was clear that it needed a lot of work. It was another year before I rewrote, redesigned, and began creating the new series with its new name Cafe Suada. I had a breakthrough with the colour scheme when I found some old comics annuals with yellowed pages and stains in them. AHA, I said, this was what I needed for a comic all about tea!
As for the quirky cast, it was important for me to create characters that could be believable, even though they are complex and a little strange or over the top. Influenced by character types from shoujo and shounen manga, they each have their obsessions and their problems and a story to tell. However, it was important for me that they clashed a bit… everyone doesn't get along in real life, and people don't always understand each other even if they're like-minded. The cast of Cafe Suada, just like real people, need to take the time to get to know each other before they can solve each other's problems.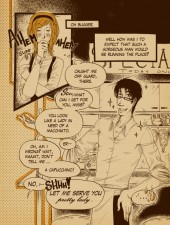 BF: In terms of the small press feelgood factor, for me Cafe Suada is up there with the work of people like Lizz Lunney and Philippa Rice's My Cardboard Life as mood-improving comics the reader can constantly revisit. Was that a tone you were consciously looking to cultivate?
SARSON: Oh my, that's quite the compliment! I love Rice's Soppy comics. Yes, this was definitely a feeling I wanted to get across to my readers. Don't get me wrong, I love really deep and complex, thought-provoking and often scary or depressing work… but with Cafe Suada I wanted to do what tea and comics do for me: make people feel good.
I've had comments that Cafe Suada doesn't focus enough on one aspect or another, like "it needs to be more factual, tell people more about tea" but for me it is more important that the subject is used to entertain, not just inform. The characters of Cafe Suada often have trouble sympathising with or understanding each other, and tea is one of the things that can help them to do that better and be better people. THAT is the tone I want to set with my story; being happy by becoming better people and trying to understand each other. Oh… I guess that IS a little deep, whoops!
BF: One of the most noticeable elements of Cafe Suada is your willingness to both play and experiment with the canvas of the comics page. Your considered use of colour springs to mind as a good example of that. Which of your design decisions for the comic are you most pleased with? And in that respect is Cafe Suada a constant learning experience or do you feel you have now found an established voice for it?
SARSON: I'm always learning as I create more pages. Each one is a lesson, for me. "How can I make this look more beautiful?" "How can I make it read and flow better?" Cafe Suada has a somewhat established look and feel with the limited colour palette, stains and the notebook background to each page (choices I am very happy with and keep using) but sometimes I've had difficulty with visual choices. Sometimes I overload the page with too many features and sometimes I pull back too far so that a page is too empty. I'm starting to be able to find the right balance more frequently now.
Something else that has changed a lot is the look of the characters; Geraldine has remained the way she's always been in my mind, but as the story continued and I improved the way I drew, I started to change the other characters from their old designs (which were all rather samey) to more diverse and interesting ones both in personality and body type. I think it's important for each of the characters to be easily recognisable visually. I still think I can get better though, so I'll keep trying!
BF: Last year, in the londonprintstudio's Parallel Lives anthology, we were treated to a preview of Siddown!, your graphic-novel-in-progress about a time-travelling commuter train. For those who missed it what is the book's premise? And what's the current status of that project?
SARSON: Ah yes I'm very excited about this story. Siddown! is about a British time-travelling train; aboard it is a typically polite, irritable Englishman by the name of Sid Downey, who tries to find a seat amongst the chaos of the packed train and unwittingly ends up entangled in the lives of other passengers from different eras. He finds himself on a journey through both time and self-discovery, as he tries to save himself … and his marriage! It's a really fun story that combines my love of time-travel stories with my penchant for romance and cultural references.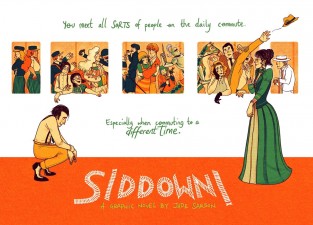 As of this interview the script is written, the characters are designed and I'm at the thumbnailing stage. I pitched the story to publishers last year, and I also applied for funding from my local council to complete the project (I was shortlisted for the funding). Sadly, both of these endeavours were unsuccessful, but I am determined to create this graphic novel anyway – I believe it's a fun, uplifting tale that will entertain people once it's given a chance. I'm working on how to get it out there at the moment, maybe through other publishers or other sources of funding (in fact if anyone has any suggestions, get in touch!).
BF: A couple of months back you participated in the rather fun Webcomic Artist Swap Project (WASP), co-ordinated by Tempo Lush's Richy K Chandler, where a number of creators traded places to work on each other's ongoing strips. What was that like as an experience? Are there feelings of trepidation about briefly handing your characters over to someone else? Or, conversely, about doing justice to someone else's?
SARSON: That was a lot of fun indeed! To be quite honest, I wasn't worried about my characters in the hands of Richy. He'd read my work and knew the characters, so I knew that'd be alright. He did a marvellously funny page. As for working on another creator's characters, I'm a fan of most of the participants' works so I knew I'd do my best to do them justice – I was lucky to work on a gender bent version of Naniiebim's Mephistos series, which I love to bits. That was so much fun I found myself chuckling as I drew it!
The covers to Cafe Suada Cups 1-3
BF: A chance to plug some other small pressers/webcomickers now. What other self-published work are you enjoying reading at the moment?
SARSON: Excellent, right then *rubs hands together*
Fruit Machine by Evelyn Hewett. Evelyn's work is so crisp, clean and stylish, and the characters are all so loveable. Her clothing and background designs are so unique and experimental, I love it!
The Summer of Blake Sinclair by Sarah Burgess. Sarah's work is full of so much energy it's unbelievable – and damn, her use of colour is fabulous. As much as I love some of the characters, I love to HATE the others! Such a great cast.
Twenty Thirty Three by En Gingerboom. Now, I don't know much about this one, but the previews look very interesting. En's previous works are all beautiful, and this one is now available to preorder. Go buy it!
Strangers and Friends by Rebecca Burgess. Like Cafe Suada, this comic makes occasional use of limited colour (blue on black and white) to emphasise certain elements. It's a great webcomic with really believable characters in a magical situation.
Hemlock by Josceline Fenton. If you haven't read Hemlock yet you must have been hiding somewhere dark like the character Sindri. Still, I have to plug it because it is SO gorgeous. The pointed, clean linework is beautiful. Oh, and she won Best Newcomer at the British Comic Awards last year!
And finally a non-British work that I finally got around to reading recently: Cucumber Quest by Gigi Digi. This is possibly my new favourite webcomic. Gigi Digi uses colour and lighting to its maximum potential. It's a stunningly clever, witty, hilarious comic and beautiful to boot.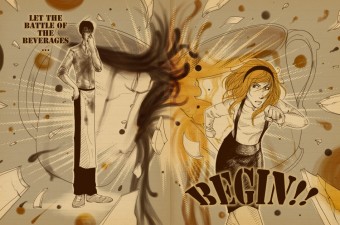 BF: And finally, looking to the future, are there any other projects you have in the pipeline? What's next for Jade Sarson?
SARSON: Well of course I'm working on Cup 4 of Cafe Suada, getting that ready for web serialisation, and there's Siddown! taking up a lot of my thought processes.
I do have some other projects on the go though. I recently finished a comic called Dis/Engage with my partner, which will probably be released online sometime in the next month or two. It's a 25-page full colour comic about the tense relationship between 'manufactured' superheroes and the media. It features a heat powered hero, an ice queen, a four armed military recruit and a comic-fan-turned-sidekick. I've never drawn a comic featuring superheroes before so it was really fun, and it shows what I can do in that genre.
I'm also working on a commissioned colour comic short based on Frankenstein, hopefully I can tell you more about that soon. I'm hoping this year I'll get more commissions really, as last year was very slow for that side of things. Freelancing is hard!
I also have an idea for a story I want to do after Siddown!. It's something a little sexier I reckon. Probably for older readers, but that's all I'm going to say as it's in the very early idea stage at the moment. I hope everyone looks forward to seeing what the future holds for my work, as I certainly do!
For more on Jade Sarson's work check out her site here. Cafe Suada can be read for free online here. You can buy print copies from her shop online here priced £7.00 a volume.