Hot on the heels of her extremely well-received Broken Frontier Small Press Yearbook contribution, small press creator Jess Milton launched her new fantasy webcomic series The Flying Ship last month.
Milton's flowing visuals and always inventive panel use were just two of the reasons I chose her as one of my 'Six UK Small Press Creators to Watch' at Broken Frontier in 2015. Since then she has gone on to contribute to a number of acclaimed anthologies including Comic Book Slumber Party's Greasy's Guide to Nookie, Dirty Rotten Comics #5, and One Beat Zines books Not a New Wave and Identity. Red, her acclaimed re-imagining of the Red Riding Hood story, debuted at Thought Bubble last year to a similarly enthusiastic reception.
Today I chat with Jess about how she approached this mammoth new project, the logistics of serialising a narrative online and what we can expect from her new fictional universe…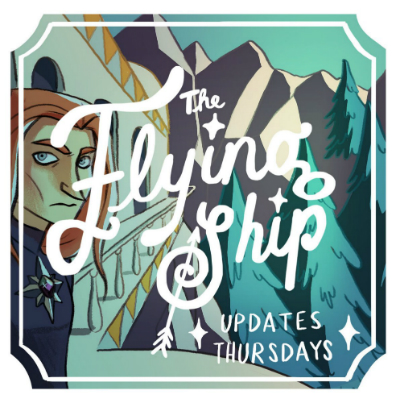 ANDY OLIVER: Let's begin with the premise of The Flying Ship? How would you describe it and how would you also classify it in terms of genre?
JESS MILTON: The Flying Ship is a fantasy adventure story, loosely based on a Russian fairy tale of the same name. The story is centred around a royal decree released by the Tzar declaring that his daughter will only marry someone who can build a Flying Ship.
As for the genre, I would call it a coming of age story set against a fantasy backdrop – it's about friendship and love in many different forms, but also the magic of adventure.
Can you guide us through some of the sprawling cast of characters we can look forward to seeing in the strip?
In the prologue we're introduced to a few key characters from the royal family, who will come to play a major part later on in the story, particularly the three brothers who are challenged to compete for the throne.
As for the main narrative, the plot is mostly focused around Dobrinia. She's a rude, grumpy girl who doesn't enjoy the company of others. But she's got a yearning for something more than the humble life she has wound up in.
Along her journey Dobrinia, and a dog named Brick, meet a host of characters, including Tamberlain: the awkward son of a famous explorer, Margot: a dancer and escape artist with ambitions of celebrity, Jul: the egotistical leader of a cult in the woods, and his mischievous, contrary sister Jaira. It's a fractious group with a lot of big personalities, but they share a taste for adventure that brings them together.
In terms of both story structure and building up a readership what advantages are there to serialising a comic online?
The thing I enjoy most about anything serialised is the time you have to get to know the characters. It's the same feel of watching a great TV show that lasts for several seasons; by the end, the characters feel like family. I think following a webcomic is similar to that, and I like the way you can drop little hints into the panels and dialogue that you can read into and try to guess what happens next, or go back and rediscover old clues. Breaking it up into chapters lets me have a break in between to plan the next one, and also allows me to approach each chapter differently, keeping the comic and the world versatile.
Conversely, what are the challenges in digital delivery? What have you learnt in that regard from producing your previous webcomic Jason?
I think the freedom of producing it completely independently comes with the challenge of motivation – taking on something as vast as a story like this, you have to make sure it grows and develops with you without being too ambiguous in its structure. In other words, I need to know vaguely where it's going, but I don't want to plan every detail or I'll get bored.
You self-published a short minicomic teaser of The Flying Ship last year. Do you have plans further down the line to produce collected print editions of the current online incarnation of the strip?
First and foremost I want it to exist online so that people can follow it as I create it. I would love to eventually print the story, I think it would make a really rich series of graphic novels. I'd also like to expand the main content with some little bonus scenes and bits of character development that happen outside of the main story. There are backstories, histories, families and even other countries that will only be mentioned in the main story – I'd love to explore these further in zine form.
Having seen ahead a little I noticed your distinctive and inventive use of panel structure is in evidence again. Do you see The Flying Ship as a venue for experimenting with your approach or do you feel you have a more settled voice for this particular strip?
I think I've had to strike a balance between experimentation and consistency. It all depends on what part of the comic you're reading –  the more ordinary parts of the story don't necessarily need to push the boundaries of page design, but I want the explosive parts of the story to jump out at you and stay in your memory. I hope the experience of drawing within the fantasy genre is going to push my art to the next level.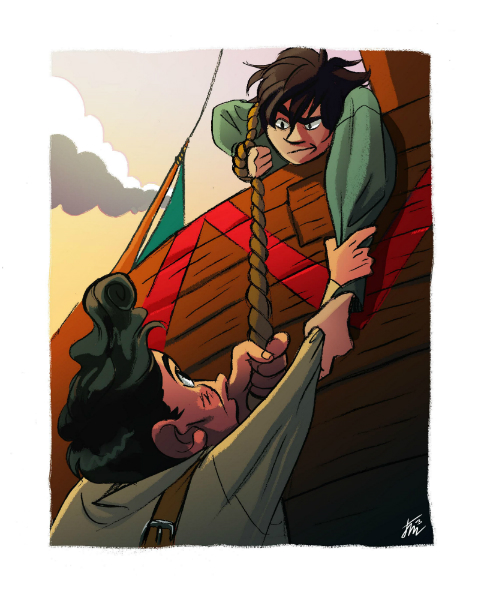 Above and below – some of Jess's concept art for The Flying Ship
There's a very pronounced sense of costume and background design in upcoming pages. Were there any direct influences on that visual design of The Flying Ship's world?
I've been heavily influenced by Russian folk costume, and more stylised costumes such as the work of designers like Diaghilev or McQueen. I also love anime and video games and their representations of fantasy clothing and environments, and wanted those influences to shine through. I wanted to set the stage for a grand adventure. The first parts of the story are designed to appear very traditional, but as the adventure progresses the costumes and locations will become much more varied and unusual.
Can you tell us about your creative process? And how far ahead is The Flying Ship plotted?
So far, I have been working mostly from a basic outline in my head. I have tried to write it down, but found that over-complicated it and made me less able to make decisions that could change the direction of a character or plot. So, the basic structure is bouncing around in my head and constantly developing and changing.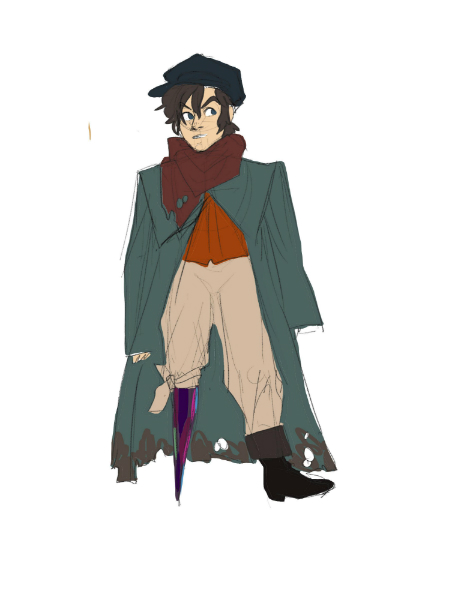 Each chapter, I write a brief play-by-play of the action and messages I'm trying to get across. Then I spend a few concentrated sessions thumbnailing the chapter, doing all the thinking and problem solving and making sure it flows and is consistent. That way I can just pick that up in the evenings around my day job whenever I have a spare few hours, wack on a podcast and just draw away. It's lovely.
Since last we talked the Broken Frontier Small Press Yearbook has been released to very favourable reviews, with Stephen L. Holland at Page 45 particularly noting your "delightfully stylish lines, faces and palette" in your story 'The Young Marquis de Sade' (below) here. How much of a boost has that positive publicity been?
It's been fantastic! It's great to get such positive feedback, and I feel that my style has matured since then so hopefully The Flying Ship will reflect that. I was a bit nervous about doing a long-form comic in colour for the first time but the response I've had has really pushed me to go for it.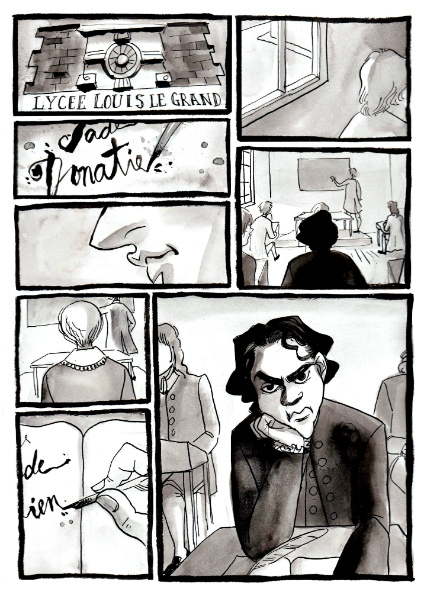 And, finally, outside of The Flying Ship, are there any other comics projects that you're working on that you can tell us about?
At the moment I'm really focussing on getting a few chapters under my belt, but I do have an idea about city witches running a supper club in London that I would love to make into a zine at some point, so we'll see!
You can catch up with The Flying Ship here. Updated Thursdays.
For more on the work of Jess Milton visit her site here and her tumblr here. You can follow her on Twitter here and visit her online store here. 
For regular updates on all things small press follow Andy Oliver on Twitter here.