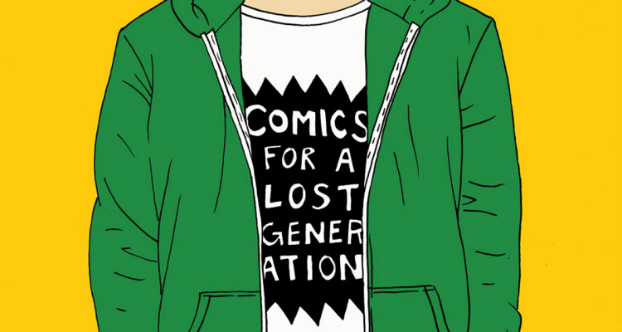 Formed in 2012, free street press comics anthology Off Life looked to connect comics with an audience of readers unfamiliar with the potential of the form, and to also give fresh new creative voices their moment in the spotlight. The Off Life team of editor Daniel Humphry and art director Steve Leard have clocked up twelve impressive issues in that time – available in both print and online – and have featured indie favourites like Kristyna Baczynski, Jack Teagle, Box Brown and Lizz Lunney alongside stars of tomorrow like two of our Broken Frontier 'Six Small Press Creators to Watch in 2016' Brigid Deacon and Ellice Weaver.
With Off Life accepting submissions for their upcoming thirteenth issue I caught up with Daniel Humphry to chat about Off Life's unique distribution model, what they look for in creators, and their recent adventures in hardcover publishing…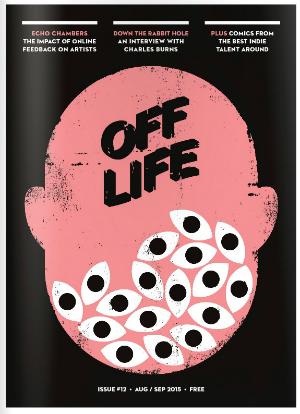 ANDY OLIVER: It would be surprising if the vast majority of the Broken Frontier readership weren't already familiar with Off Life but for those who may not be aware of the anthology how would you describe its philosophy and mission statement?
DANIEL HUMPHRY: We started OFF LIFE back in 2012 as a way to not only help break new or undiscovered talent, but almost to break the indie side of comics to a wider audience. The idea was to leave great short comics in galleries and bars, when they'd be picked up by people who might already be in to art, design, music or whatever – but who still has misconceptions about the art form. Hopefully we could then show these people that comics aren't all superheroes and fantasy… and send them packing to their nearest comic shop!
Going back to 2012 what were the challenges in getting Off Life off the ground as a project?
We thought the biggest challenge would be simply making enough noise to get noticed. We'd be working as designers and journalists and had no real connection to the comics world other than being readers – why would anyone want to read a comic that we'd put together, let alone submit work or advertise with us? But the comics world is so friendly and thankfully blogs such as yours believed in what we were doing, so the word got out pretty quickly. We're just honoured that the comics world embraced the magazine!
What was it about the street press model of distribution for physical copies that particularly appealed to you?
It was simply about getting comics under unsuspecting noses. If we were on shelves in newsagents or comic shops for a fiver… realistically what was the chance that any non-comic reader would pick us up? We had to bring the mountain to Mohammed.
How much of your readership is accounted for in online viewing?
It's a pretty big chunk. We average about 30,000 readers per issue, and half of that is digital. We never really anticipated OFF LIFE being an online comic, but it's helped us reach different types of readers. That can only be a good thing.
What's very noticeable about Off Life is the diversity of the artistic voices featured, from major figures in indie comics to new creators fresh to the medium. Could you give us a very brief rundown of some of the names that have been involved to date?
We've really been blessed with the artists we've been able to feature over the last 12 issues. Kyle Platts, Jack Teagle, Kristyna Baczynski, Box Brown, Brigid Deacon ('Dream Manifesto' in Off Life #11 below left),  Warwick Johnson-Cadwell, Jamie Coe, Grace Wilson, Dan Berry, Rob Ball, Lizz Lunney, Jon Cei Douglas, Ana Galvan, Sam Alden… we hope it's a good cross section of what's happening in comics right now.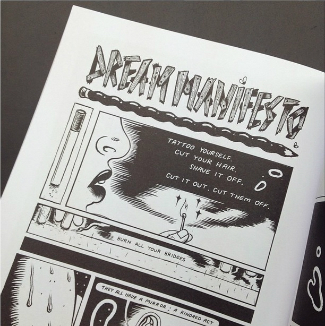 Over three years and twelve issues later how do you feel Off Life has evolved as both a magazine and a concept?
I'm not sure if it really has to be honest. Sure the design has improved, we've access to bigger names for interviews and all that… but the concept, or the reason for the magazine existing, is still very much the same as on day one.
There's something about the nature of Off Life's format that hearkens back to an era of ephemeral print publications which, arguably, comics has moved away from in the collective consciousness in recent years. Is that an element of the anthology that you relish?
One of the proudest things for us about OFF LIFE is how its been picked up in the wider arts and magazine world, not just our lovely comics world. We all know how ignorant people can be about comics, so that fact that OFF LIFE has featured in publications such as The Guardian, Creative Review and Design Week – or that we've been invited to talk at magazine events such as Printout or illustration shows like Pick Me Up – it kind of feels that we're sneaking comics in the back door, back into collective consciousness.
We're only a small part of that and loads of other publishers are fighting the good fight too (NoBrow and Breakdown come to mind), but we're proud to be doing out small bit. 
Submissions for Off Life #13 are now open. What are you looking for from potential contributors? Are you actively encouraging newer creative voices to be a part of the next line-up?
We want to see comics that feel honest and that have something to say for themselves. We stay away from genre material, such as sci-fi and superheroes, because I think we all know that type of work is already well represented enough. But other than that we don't care if it's a tale of modern romance, a kick out against society or a three panel gag so long as there's a point to it existing.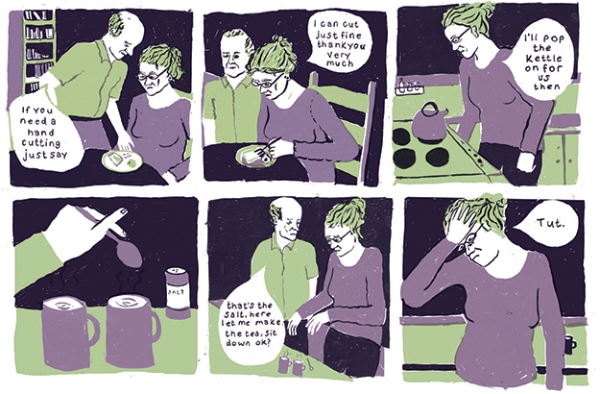 Ellice Weaver's 'Fish Bowl Fever' from #12
As for new talent… there is honestly nothing we love more than opening an email attachment from a new or undiscovered artist and being blown away by the work. Some of the people we featured in our early issues were complete unknowns at the time, and now have books with major publishers. We're not claiming that's because of us (it's their talent!) but it is gratifying to see someone who you believed in from their first comic continue to find bigger and bigger audiences.
You recently published Yellow, a hardcover collection of weekly news stories throughout 2015 as imagined by illustrators working in a number of media. Can you tell us a little bit about how that project came about and what you were looking to achieve with it?
We'd been going to a lot of illustration shows and exhibitions and, while the work was always beautiful, we rarely saw any pieces that took a stand and made a point. Not that every artist should strive to be political or have some great social or cultural point to their work – but you could see in magazines and newspapers that these same artists had things to say, it just wasn't in their exhibition work. So we though why not open up a whole year of news and give these artists pages to have their say on it.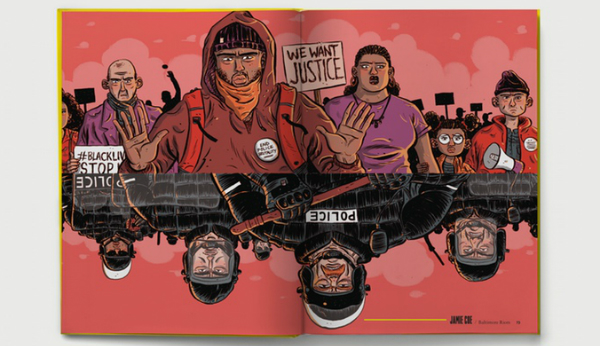 Broken Frontier Anthology contributor Jamie Coe's work in Yellow
We're all aware of how much the small press, self and micropublishing world has burgeoned in the UK over the last few years. What do you see as the particular issues facing the scene going forward in 2016 if that growth is to continue?
I think reaching outside of the comics world is still a problem. We've already seen some amazing publishers effectively shut up shop over the last 12 months, and I wonder if part of that is down to how profitable printing and selling small runs of comics is. We need to find new ways of getting independent comics into the hands of bigger groups of potential readers, because comic shops alone aren't going to sustain burgeoning publishing houses… and getting into regular bookshops can be an absolute pain in the ass for new publishers.
The good news is that platforms such as Patreon and Kickstarter have allowed independent creators to reach large audiences, but there's bound to come a time when gets oversaturated too. We interviewed the musician and comic artist Jeffrey Lewis about a year back and he said he's always been perplexed as to why there aren't comic racks in gig venues. Perhaps more thinking like that is needed.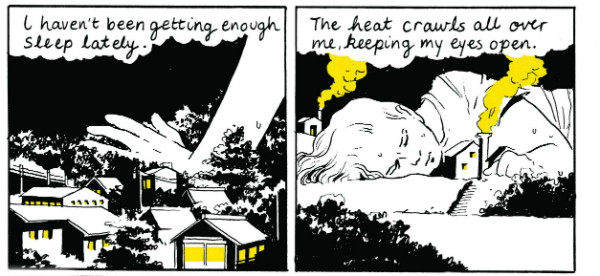 Broken Frontier Breakout Talent Award winner 2015 Tillie Walden featured in #12
What are your future plans for Off Life in terms of both content and distribution? And do you have any further plans like Yellow for expanding the brand?
We'll have a new issue of OFF LIFE out at the end of March or start of April, then another couple before the year's out. We've also got a few of our QuickDraw live drawing nights coming up, which are always super fun and a great way to meet new talent.
As for Yellow, I think we're still recovering from the last book to be honest… it was an insane amount of work! We've Yellow talknights and a few spin-offs in mind though, including one on 23rd Feb at Print Space, so watch this space!
You can find out more about Off Life and read back issues online here. Follow Off Life on Twitter here. You can also visit the Off Line store here.
For regular updates on all things small press follow Andy Oliver on Twitter here.