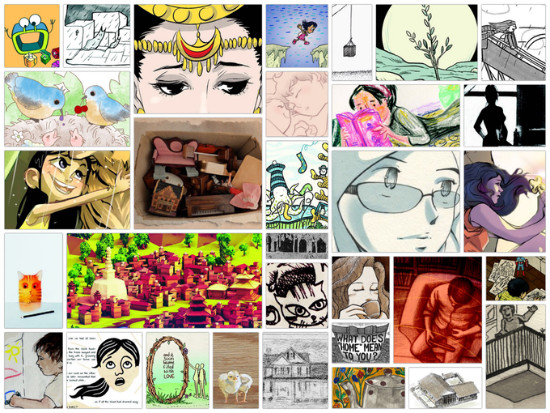 Crowdfunding has changed the comics landscape as we knew it over the last few years. But the unsurprising upshot of its ever growing presence as a tool for securing publication is that sense of fatigue we have all felt at being bombarded by an overwhelming mass of new projects looking for backing. Today in 'Small Pressganged', though, I want to take the time to bring to your attention three projects from micro and self-publishers that I feel are well worth your support.
After all, without the platform the likes of Kickstarter and IndieGoGo provide then countless comics, anthologies and graphic novels covered in this column since 2011 would never have seen the light of day…
Home – Art Aid Nepal Anthology
Only last week I was talking in 'Small Pressganged' about the sense of community on the current small press comics scene when I reviewed Richy K. Chandler's multi-creator anthology Tempo Lush Tales of the Tanoox here. The Art Aid Nepal anthology Home is a fine example of that vibe bringing together a whole host of international artists exploring the concept of "home" in a 92-page book. The proceeds will "go towards supporting children who lost their homes in the devastating earthquake that struck Nepal earlier this year."
Edited by Elena Vitagliano and Kripa Joshi this project needs an extra push if it's to get over the finishing line. But given that it includes so many favourite creators of this column (and Broken Frontier in general) – including Katriona Chapman, Gill Hatcher, Mike Medaglia, Rozi Hathaway, Richy K. Chandler, Karrie Fransman, Chie Kutsuwada, Hannah Lee Miller and John Miers to name just a few – there should be plenty here to attract the support of 'Small Pressganged' readers. You can get a taster of the art in the top banner image.
You can back the Art Aid Nepal Anthology on Kickstarter here. Consider it a special favour to me.
2D Cloud Fall Collection
I've given time to the boundary-pushing, Minneapolis-based micropublisher 2D Cloud on a number of occasions over the years. Their books often take an experimental approach to the form, exploiting its unique narrative potential to the fullest degree. Of all the 2D Cloud books I've reviewed in this column Anna Bongiovanni's haunting Out of Hollow Water, Christopher Adams's engagingly oblique Strong Eye Contact, and MariNaomi's profound autobio Dragon's Breath have particularly impressed.
Their Fall Collection has just a few days to run on Kickstarter and includes Maggie Umber's sketchbook Time Capsule ("a book of beautiful, ambiguous visual poetry and questions"), the magic realism of Jake Terrell's Summer Carnival, and Tracy Auch's "tour-de-force unfinished epic" The Necrophilic Landscape. Completing the package is the first quarterly Altcomics Magazine from 2D Cloud, designed to complement their project-in-development; a feature-length documentary on contemporary cartoonists. This first edition features the likes of Aidan Koch, Sab, Lala and Leah Wishnia, and Nou.
2D Cloud represent altcomics at their daring and thought-provoking best. You can find out more about their output here and back the Kickstarter here.
Yellow from Off Life
We've been covering the free street press anthology Off Life off and on since its first issue back in 2012. An eclectic showcase for some of the best creators on the indie and small press scene it's been an important player in proactively taking the form to a potential new readership.
Over the course of the last year the Off Life team have been running a weekly feature on their site with 52 artists having contributed on a pertinent news story from their given seven days in illustrated form. These shorts are now being collected together in a hardback print edition that includes work from artists like Joe Decie, Grace Wilson, Jamie Coe, Jean Jullien, Hattie Stewart, Matthew the Horse and many more.
You can back the Kickstarter here and visit the Off Life site here.
For regular updates on all things small press follow Andy Oliver on Twitter here.