Anna Bongiovanni's Out of Hollow Water, published by U.S. micropublisher 2D Cloud, contains three thematically intertwined short stories that fuse the otherworldly and the ethereal with the most oppressive elements of the female experience. Haunting and brooding in presentation, this is a largely metaphorical journey through the trials of abuse and violation, and a subsequent symbolic representation of release and attempted liberation.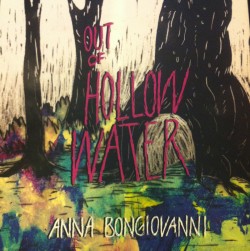 The first segment 'Monster' is an intense monologue on an abusive relationship that utilises a series of ever more grotesque and invasive illustrations to epitomise its protagonist's powerlessness to separate herself from her tormentor's existence. It's a harrowing read, deeply unsettling to begin with and becoming progressively more overwhelming visually as her identity becomes suppressed by this monstrous, overbearing other. In what amounts to little more than a handful of pages, Bongiovanni brings the reader into the claustrophobic heart of an inescapable subsistence; one that has become permeated by relentless psychic persecution and irrevocably altered even its subject's perception of self.
The majority of Out of Hollow Water is formed by one-panel pages. In that first offering stirring soliloquy segues into disturbing, misshapen representations of the confining nature of the repression and suffering its character endures. The second story, the titular 'Out of Hollow Water', has a more, superficially at least, conventional sequential narrative structure. Here we have something resembling a forbidding folk tale. In a remote forest cabin a young girl is given the ominous charge by an old midwife of abandoning her sister's newborn child in a well deep within the woods. Throughout, there's the implication that the baby either symbolises, or is the result of, something ill-omened.
Unable to assuage her guilt at the enormity of the task set out for her, the girl performs a ritual that will bring supernatural forces into events to stake their claim on the child. Bongiovanni's obscurer storytelling style comes to the forefront here with the audience allowed to draw their own conclusions to the inherent allegorical possibilities; whether that amounts to a superstitious betrayal of innocence, the perplexities of an insoluble moral quandary, self-sacrifice or some form of metaphysical fatalism. It's ambiguous but deeply affecting, oblique yet provocative; all couched in the familiar devices of fairy tale tradition.
The final tale 'Grave' is explicitly metaphorical in content. Again there's a core theme of violation and the betrayal of trust as a woman attempts to bury the horrors of her past in a box in the woods. An exercise in the cathartic, and in freeing oneself from the memory of something unspeakably traumatic, but with a constant enduring reminder that this unburdening will never – and can never – entirely remove this weight from her. It cannot be truly expunged; full closure is an impossibility.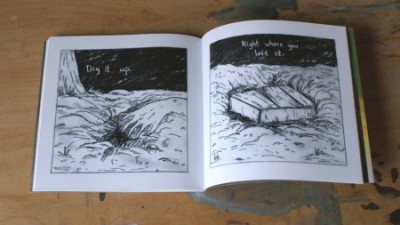 Bongiovanni's sketchy yet busy visuals add extra layers to the disturbing atmosphere of the book with their use of deep shadows and a muddy, smudged feel to each image. Similarly, that "one illustration a page" structure is highly effective because it limits the usual sense of prescience that is an innate part of the multi-panel comics reading experience. This means that the tension is increased incrementally and the eye tends to linger on each image, drinking in their significance and absorbing every unsettling detail.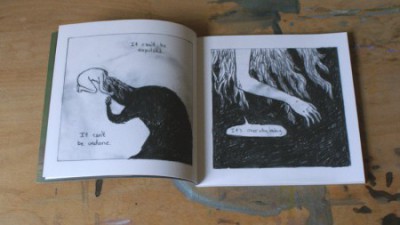 There are echoes here – both thematically and in terms of what the reader infers – of Ravi Thornton and Andy Hixon's astonishing The Tale of Brin & Bent and Minno Marylebone; a similar melding of dark fantasy and stark, horrifying reality. It sounds tediously trite to remark that this is a graphic novel that will stay with you long after you have put it down but this evocative and disquieting collection of short stories really does remain in the memory, enticing you back to its dark environs again and again to ponder on subtext and meaning. Anna Bongiovanni is, without a doubt, another notable addition to the 2D Cloud catalogue of unique and distinctive creative voices.
For more on Anna Bongiovanni's work visit her website here. Out of Hollow Water is published by 2D Cloud and is available from their online store here priced $10.95.