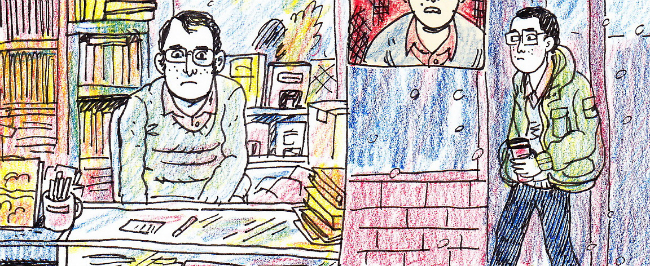 It's been a while since I last covered the work of Noah Van Sciver in this column. On that occasion it was Deep in the Woods – also from the folk at Minneapolis-based micropublisher 2D Cloud – his dark fantasy double header with Nic Breutzman. Unlike that haunting and eerie offering "I Don't Hate Your Guts" falls firmly into a far more traditional arena of small press comics fare: the diary comic. It traces a month in the life of our rather apathetic host between February and March of this year as he recounts the routine drudgery of his waking world, his insecurities, slacking off and the ennui of the daily grind. Or, as the pre-publication copy put it, "30 Days in the life of sad Noah Van Sciver. Fucking around on the internet, cussing out co-workers, serenading a kitty cat."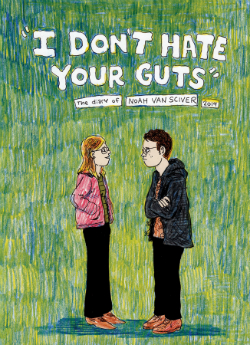 "I Don't Hate Your Guts" is a curious beast in that it defies the audience's early, comfortable expectations by emerging from an initial cocoon of recalcitrant cynicism into something almost hopeful and optimistic by its final page. In that regard it begins as an exercise in comics nihilism, seemingly setting out to prove by its very existence the pointlessness of the sub-genre it embodies; a diary comic for those who hate diary comics with an unpitying vengeance perhaps.
There's something very self-aware about these early strips as we witness the humdrum minutiae of Van Sciver's life – the tedium of his retail jobs, fractious relationships within the workplace, a solitary homelife – but all reflected through the lens of the artist's dark, self-deprecating humour. The first half of "I Don't Hate Your Guts" embraces a sense of worldweariness, an unspoken but tacit agreement between creator and audience that the entire effort has a certain futility to it. "This is the blandest diary comic of all time. I'm sorry" one strip proclaims and yet this implied contract, this understanding that both sides of the author/readership relationship are engaged in something ultimately ridiculous, is oddly consoling in its own peculiar way.
It's that very lack of pretension that makes this such an absorbing read because Van Sciver's raw candour and his laidback delivery gives his misanthropic observations in "I Don't Hate Your Guts" a fascinatingly morose appeal. In amongst the defeatism and the pessimism, though, are moments of true profundity and poignancy – a silent, solitary Noah aware of the sounds of other people partying on a Friday night for example (below right), or his self-disgust at his own perceived unkindness on a different comics project – small relatable character moments that will speak to us all.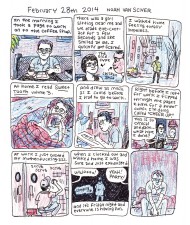 While the first sixteen or so pages are about acknowledging and taking ownership of the self-indulgent nature of diary comics, and making that a narrative strength, the book's second half turns back that tide of negativity (to a certain degree anyway) as a blind date with the pivotal Leah – whose declaration "I don't hate your guts at all, in fact I quite like them" is where the comic's title originates – moves the emphasis of the book in an altogether different direction. From here we witness the blossoming relationship between the two as they take those awkward first steps in their partnership and "I Don't Hate Your Guts" begins to display some rather tender moments.
By the time, some pages later, that Van Sciver is remarking to himself "Damn. I'm really, really happy" the audience has realised just how invested they are in his on-page, self-caricatured persona. A comic that almost seemed to be revelling in its "just another diary comic" bravado has evolved into a rather touching romantic sitcom-cum-soap slice-of-lifer. And then as soon as we reach this moment of mini epiphany it's all over. No neat resolutions, of course, and no tidying up of plotlines. All of which is as it should be. This is a snapshot of real life after all and not a tidily constructed piece of fiction.
Brought to visual life in Van Sciver's customarily unostentatious but highly expressive and detailed cartooning style, "I Don't Hate Your Guts" has a most unlikely charm despite itself. With a strong line-up of original and collected material in 2014, and more work to be published from Fantagraphics next year, this singular talent may finally be on the verge of attaining the level of recognition he has long been overdue.
For a comic that goes to such great lengths early on to establish its "throwaway" credentials  this one's an absolute must-buy. Another excellent publishing choice from the ever eclectic 2D Cloud.
Noah Van Sciver's work can be checked out his tumblr here. For more on 2D Cloud visit their site here. "I Don't Hate Your Guts" is available from the 2D Cloud store here priced $5.00.
For regular updates on all things small press follow Andy Oliver on Twitter here.