Two young women, two quests, and two entrancingly menacing takes on the folk tale tradition make up Noah Van Sciver and Nic Breutzman's double header Deep in the Woods from micro-publisher 2D Cloud. First launched on Kickstarter last year, this A3 newsprint style comic makes use of that tabloid format to showcase these creators at both their disquieting and, I think it's fair to say, enigmatic best.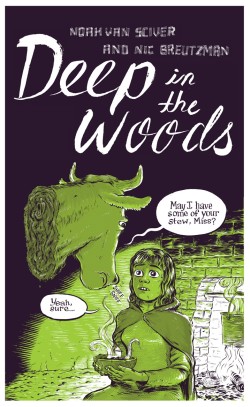 Van Sciver's story 'The Cow's Head' is rife with the conventions of fairy tales and, in its own special weirdness-addled way, is probably the story here that most conforms to the customary format for such fare. I underline, however, that when I use the word "conform" in this context I am talking comparatively in direct reference to Breutzman's offering. An important qualification to make, I feel, because this is still, in its own right, a bubbling brew of the eerie, the bizarre and the utterly disconcerting.
We have all the familiar standards of the genre here. Young Robin lives in a remote cabin in the woods with her rather weak father and evil stepmother. There's also an obnoxious stepbrother thrown in for good measure. The preceding adjectives to describe these characters are probably somewhat redundant, of course, given this is fairy tale territory and the prefix "step" should always be enough to clue you in as to personality and role in such circumstances.
Mistakenly believing her father wants rid of her at her stepmother's bidding, Robin runs away into the woods and soon becomes lost in its imposing, grasping environs. Stumbling upon an abandoned shack she takes refuge, only to encounter a phantom, floating cow's head who makes a number of burdensome requests of our young heroine…
Van Sciver provides an atmospheric and creepy little adventure in these pages revolving around ideas of self-sacrifice and integrity. Given where the narrative ends it's very possible the whole thing is a metaphor for leaving childhood behind and entering womanhood. Or perhaps Van Sciver simply likes drawing self-propelled bovine craniums a lot and this was his greatest opportunity to work one into a story. Whatever the case, this is an effective little reminder that fairy tales as originally conceived – and before their eventual sanitisation – were unsettling and deeply disturbing affairs in both execution and intent.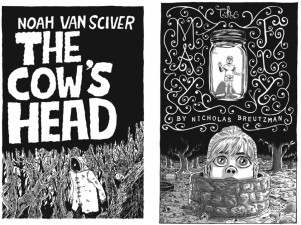 The opening splash pages to both the stories contained in Deep in the Woods…
A final word about Van Sciver's art here. I'd always believed that the small press/minicomic form suited his visuals because its smaller presentation accentuated the feeling of claustrophobia embodied in his busy, detailed panels and use of shading and linework. I was wrong. His work really benefits from having the space to breathe on this larger canvas. There's an almost morbid beauty to the pages of 'The Cow's Head'.
Nic Breutzman's 'The Mayfly' rounds off the double feature. Here the themes of folklore are reinterpreted in a contemporary setting. Again we have a young heroine, Samantha, as a protagonist who is forced to make an ominous deal with a witch to save her ailing grandfather; although in this case said granddad is a grieving addict who has climbed down a well on the anniversary of his wife's death and the sorcerous crone in question is a dealer known as the Crack-Witch. Running at the bottom of each page is an adaptation of a Mark Twain short story that seems to tie in thematically with the main strip's ideas about the ephemeral nature of life and relationships.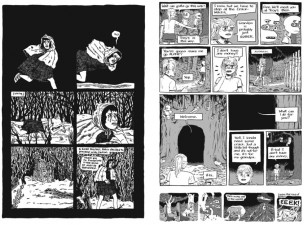 Interior pages from Noah Van Sciver's 'The Cow's Head' (left) and Nic Breutzman's 'The Mayfly' (right)
Breutzman has an aptitude for the grotesque that is particularly appropriate in illustrating this rather portentous piece. Samantha's brothers (above right) look like something out of one of the great Ken Reid's nightmares, for example, and there's an air of carefully constructed squalor and decay to the visual world he has created here that is almost enticingly sordid. Always a bonus I feel.
Both stories are open to the reader's individual interpretation and neither creator is standing there, kitchen utensil in hand, ready to spoonfeed you the answers. I'm going to give the semi-last word to the UK small press's great master of the macabre and the obscure Douglas Noble, who seems a fitting gent to quote when dealing with such dark and layered material. In our 'Small Pressganged' interview last year on the subject of interpreting an author's original intent in a narrative Noble said to me "I think anything that a reader finds in there is theirs to take away." A sound and sage declaration, and one that seems tailor-made for Deep in the Woods. A highly recommended read that will give you plenty of (probably festering) food for thought, and another worthwhile publication from the always dependable 2D Cloud.
You can order a copy of Deep in the Woods here priced $6.00. For more on 2D Cloud's back catalogue check out their website here.