It's almost Wednesday, and you know what that means: a fresh load of comics and graphic novels! With so many publications hitting your local comics store or digital storefront, BF is here to lead you through the woods. These are the books that need to be on your pull list this week.
Comic of the Week
The Bad Doctor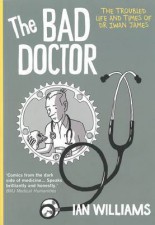 After Hannah Eaton's Naming Monsters, and the winning entry The Black Project by Gareth Brookes, The Bad Doctor is the third graphic novel to be published by Myriad Editions from the shortlist of their inaugural First Graphic Novel Competition back in 2012. Creator Ian Williams immerses us in the world of country GP Dr. Iwan James, the titular bad doctor himself; a designation with little grounding in reality beyond the insecurities of the book's protagonist.
From the barely functioning bereaved, to incontinent pensioners, through to bizarre encounters with denture-challenged oddballs, Williams adeptly weaves the stories of the practice's patients in and out of the immediate world of Iwan himself; his struggles with one professional partner, infatuation with another, and the demons of his own secret past. Full of tautly paced comedic set pieces juxtaposed with skilfully constructed moments of sheer humanity, The Bad Doctor combines wickedly black humour with subtle characterisation that never fails to engage the audience's empathy. Graphic medicine with true heart, this is a testament to the value of the Myriad First Graphic Novel Competition in nurturing exciting new creative voices.
Ian Williams (W/A) • Myriad Editions, £12.99
– Andy Oliver
Youth Is Wasted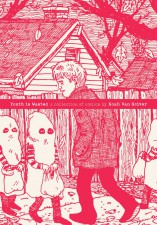 Eagerly awaited by comics connoisseurs, the first collection of cartoonist Noah van Sciver – brother of superhero artist Ethan van Sciver – ranges from parody to (auto-)biography to fairy tale adaptations to slapstick, collecting short stories from his award winning series Blammo and various anthology submissions.
Amidst the various genres on display, van Sciver's auto-bio tales are wrought with self-reflecting doubt and aimless wanderings agonizing over life, belonging and relationships. These days, Noah van Sciver is putting out mini-comics and stories at a steady pace and his shaky yet confident underground linework illustrates it all with verve. I, for one, am quite keen on discovering this promising new talent and Youth Is Wasted is my must-buy of the week.
Noah van Sciver (W / A) • Adhouse, $14.95

– Bart Croonenborghs

Letter 44 #7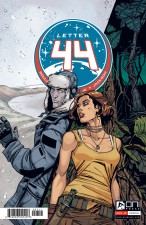 After the conclusion of its first story arc, the new sci-fi series about NASA astronauts and their discoveries in outer space takes a break between storylines. And this means a new one-shot special illustrated by Helheim artist Joëlle Jones!
Before she led the crew of the Clarke, Charlotte Hayden was a celebrated anthropologist and physicist. Find our what made her decide to leave life on earth behind – possibly forever. Plus this issues features the first appearance of the mission's most mysterious astronaut, Rowan. If you haven't already been reading this space-thriller, the latest issue make for a perfect jumping-on point.
Charles Soule (W), Joëlle Jones (A) • Oni Press, $3.99
– Tyler Chin-Tanner

Big Damn Sin City HC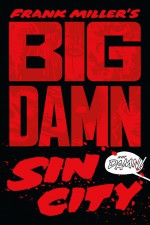 "The biggest, baddest Sin City ever is here…"
Indeed it is, as Frank Miller's acclaimed Sin City stories are finally collected in one massive hardcover omnibus which, according to Dark Horse's solicitation, is "suitable for home defense". Clocking in at over 1300 pages, Big Damn Sin City collects all seven yarns of the iconic crime book, chronicling all the sex, violence, and corruption of Basin City.
The timing of this omnibus is part of the lead up to the series' second feature film, Sin City: A Dame to Kill For, but there are better reasons for spending $100 on this collected edition. Between the various yarns of the saga, Sin City is a multi-award winning series, racking up multiple Eisner awards for both writing and art, as well as a Harvey award for art.
In Frank Miller's long career of seminal works (The Dark Knight Returns, 300, Ronin, Daredevil: Born Again), Sin City may be his greatest achievement – a consistently striking and impressive neo-noir world that is full of danger, excess, and bloody consequence.
Frank Miller (W/A) | Dark Horse Comics, $100.
– Reid Vanier
Superman #32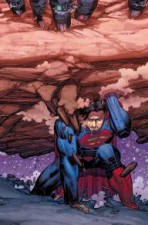 The biggest story of the week is the new creative team taking over DC's flagship title. Veteran Super-scribe Geoff Johns returns to the title and is joined by the insanely talented John Romita, Jr. in his first-ever work for DC. And as proof that DC is going all-out with the new team, they have also added colorist-extraordinaire Laura Martin. I spoke with her at C2E2 and she was definitely looking forward to working on the Man of Steel. New characters, including Ulysses the Man of Tomorrow, will present new challenges for Superman, and Clark Kent will receive an offer from Perry White to return to the Daily Planet.
Geoff Johns (W), John Romita Jr. (A), DC Comics, $3.99
-Karen O'Brien
Shackleton: Antarctic Odyssey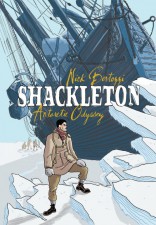 A shrewd observer (whose name I've totally forgotten) described the Antarctic as "a place where dudes with beards go to see how dead they can get", which gives you a good idea of the stakes involved in polar exploration. And no-one threw themselves up against those challenges with more gusto than Ernest Shackleton, whose three-year Imperial Trans-Antarctic Expedition set course south from Plymouth 100 years ago.
Writer/artist Nick Bertozzi has ventured into this sort of territory before, with his recreation of Lewis and Clark's famous expedition across the North American continent. His passion for the great explorers and evocative black-and-white artwork should give this tale of real-life courage and adventure plenty of wit, energy, attention to detail and humanity.
Nick Bertozzi (W/A) • First Second Books, $16.99 
– Tom Murphy