Hannah Eaton's idiosyncratic psychodrama is an absorbing mix of the quirky, the sinister, and the very human, and yet another perceptive publishing choice for the Myriad back catalogue.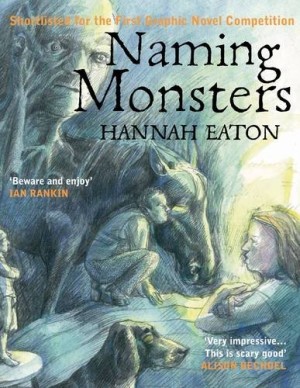 It's the summer of 1993 and teenager Fran, a self-professed amateur cryptozoologist or "monsterologist" as she prefers, is still struggling to come to terms with the death of her mother just a few short months before. Over the course of the next day and a half of her life, we will follow Fran as she traverses the streets of London interacting with her small cast of supporting players – confidante Alex, pretentious and self-serving boyfriend Sam, her somewhat detached Nana, and her oft absentee father – and witness the coping mechanisms she has developed to come to terms with the many black clouds of worry that hang over her day-to-day routine: the titular exercise of "naming monsters"…
Naming Monsters is one of those debut graphic novels that will undoubtedly fill you with intense excitement at the unveiling of such a unique new creative voice in the form of author Hannah Eaton but, at the same time, you will also experience excruciating frustration at the realisation that this hitherto unknown talent has no copious back catalogue to immediately and voraciously acquire and gorge greedily upon. Eaton's tale of a dispirited youth struggling to survive with the many demons that haunt her may sound like an unremarkable premise when pared down to its absolute basics but in execution it is one of the most original takes on this theme you are ever likely to encounter… in comics form or elsewhere.
Each chapter of Naming Monsters opens with the recounting of a tale from folklore depicting a supernatural creature from the myths of a variety of nationalities. These introductions serve to represent her obsessions and fears and melt into the main narrative as a precursor to each section's focus. In the prologue, for example, we hear an account of a shuck type "black dog" legend prior to a segment touching on her mother's death. Later we are to behold the story of the changelings left behind to replace children stolen by the fairies to epitomise her hang-ups over her self-perceived strange behaviour as a child and her sense of displacement living in her grandmother's home. And a description of the traits of the incubus directly precedes an unpleasant evening with her boyfriend Sam.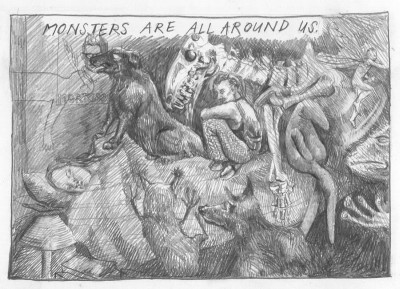 In the same way that these legends historically came to symbolically represent the fears of entire communities or cultures to things they didn't fully understand, so here do they play the same role in the life of this disconsolate young woman. By "naming" them she attempts to take control of them; in objectifying these terrors they become a proxy for the otherwise indefinable emotional torments and anxieties that are such a prevalent force in her life. Even if, for Fran, the boundaries of actuality and imagination begin to blur and merge when it comes to the question of the reality of these otherworldly beasts…
Don't be deterred by the thought that this may be an overbearingly stark and turgid trip through one young woman's psyche, though, because Naming Monsters is also an incredibly witty book. Eaton has an astonishingly keen ear for dialogue, catching the particular rhythms and inflections of teenage banter with an ease one rarely sees in any form of fiction, let alone comics. As coming of age stories go this one may have something of a macabre twist to it but there's a warmth to these characters, and an appealing humanity, that permeates each and every page.
Eaton's visuals have a dreamy quality to them for much of the book; one that perfectly characterises that slightly pensive atmosphere of those late teenage years where we stand on the boundaries of adulthood. In contrast, this hazily realistic early '90s London is perfectly counterpointed by the more pronounced pencils of the pages dealing with the many grotesque monsters indexed by Fran. These are depicted with a denser, almost ghoulish use of darkness and shadow, accentuating the indescribable horrors that lurk within.
Naming Monsters may be a story of loneliness and despair and one wherein the protagonist occasionally seems like an outcast in her own narrative. But it's also a tale with great humour in places and one that is strangely life-affirming. It's a book that rewards a second reading with a finale embodying self-awareness, realisation, and acceptance that is quite beautiful in its cyclical nature. Eaton's idiosyncratic psychodrama is an absorbing mix of the quirky, the sinister, and the very human, and yet another perceptive publishing choice for the Myriad back catalogue.
Hannah Eaton (w/a), Myriad Editions, £12.99, 13 June 2013.