It's nearly Wednesday, and you know what that means: a fresh load of comics and graphic novels! With so many publications hitting your local comics store or digital storefront, the BF staff is here to lead you through the woods with our weekly staff picks. Satisfaction guaranteed.
Comic of the Week
The Spire #1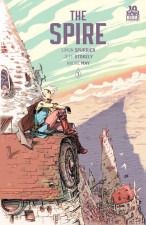 Working together on last year's Six-Gun Gorilla forged an unbreakable bond between Si Spurrier and Jeff Stokely – so much so that the writer and artist plan to keep on creating stories together until society is in as out of whack as it is in their new BOOM! mini, The Spire.
Named after the world that forms the décor of the book, The Spire is a story that explores what it means to be human in a society heavily divided by race, sex and social class. Just don't try to pigeonhole it into one genre box or another. It won't fit. It won't even fit in three of those boxes, with the dividers between them smashed to bits.
Known for his weird, out-there concoctions (Numbercruncher and The Simping Detective, to name just two), Spurrier has dreamed up a concept that's dystopian fantasy, LGBT sci-fi and psycho-thriller all at once – an offspring that's part Mad Max, part Blade Runner and part Dark Crystal.
Add in Stokely channeling some Moebius and Heavy Metal, and you've got yourself a series that's as all-new, all-different as they come. For real.
Si Spurrier (W), Jeff Stokely (A) • BOOM! Studios, $3.99
– Frederik Hautain
Mercy: Shake the World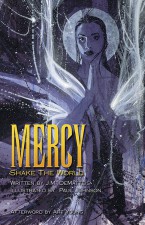 Dover Graphic Novels, the publishing imprint tasked with resurrecting long-out-of-print graphic novels, has struck gold with DeMatteis and Johnson's 1993 DC/Vertigo title. The book follows an aging stroke victim who finds himself witness to an mysterious immortal's acts of benediction.
Even two decades on, this unlikely tale stands out on the shelves for a couple of reasons. One is immediately evident: Johnson's darkly beautiful painting style, which should appeal to fans of other singular talents like David Mack and Dave McKean.
Mercy's other main attraction is more subtle, but no less powerful. There's a sense of hope throughout the title that is in stark contrast to the "grim-and-gritty" brethren of its original publication. If you've enjoyed any of DeMatteis's more personal work through the years or are a fan of revolutionary fantasy, this one's for you.
J.M. DeMatteis (W), Paul Johnson (A) • Dover Graphic Novels, $14.95
– Paul Mirek
Diary Comics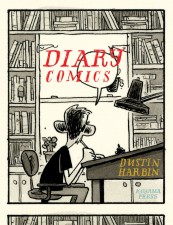 In 2010 cartoonist Dustin Harbin started to document his experiences in a daily diary comic, initially as little more than a sketchbook exercise. However, over the following months and years, his four-panel strips developed from the humorous recording of little daily dramas into a deeper exploration of his place in the world, while losing none of their quick-fire energy or self-deprecating charm.
Now, with publisher Annie Koyama, Harbin has trimmed down more than 400 diary comics to an collection that provides an incisive and illuminating insight into his life and practice, covering topics from his own creativity and self-image as a cartoonist to reflections on relationships and depression. Diary comics are a genre that can be easy to dismiss at times, but Harbin's self-awareness and craft make this an essential collection.
Dustin Harbin (W, A) • Koyama Press, $15
– Tom Murphy
We Stand On Guard #1
Just in time for Canada Day!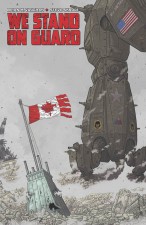 Celebrate the birth of the Great White North with superstar artist and Matrix storyboard guru Steve Skroce's return to full-time comics work, in his new book from Image Comics. Forming half of a true comic-book dream team, Skroce teams up with fan-favorite writer Brian K. Vaughn (Saga) for a sci-fi thriller set in a world, where the good ol' U. S. of A invade their neighbours to the north, desperate for clean water.
Vaughn bases the plot on legitimate environmental and health concerns that have plagued Canada-U.S. relations behind the scenes for years. Married to a Canuck, the writer tries to do his wife's homeland justice, infusing his script with a liberal injection of ever-peculiar (to my American neighbours, at least) Canadiana.
The real stars of the issue though are the big-ass mech-style robots. Skroce really lets his imagination run wild with these animal-based designs. From sleek canine scouts to monolithic gorilla ATVs, these mechanical beasts are a testament to the artist's masterful design skills.
Featuring an appropriately Canadian multicultural cast, gorgeous art, and bombastic, large-scale sci-fi action on a par with Pacific Rim, We Stand On Guard is the perfect way to celebrate July 1st.
Brian K. Vaughn (W), Steve Skroce (A) • Image Comics, $2.99.
– Jason Wilkins
Cheer Up One-Shot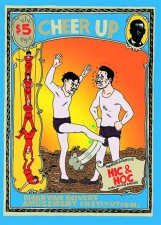 Broken Frontier Anthology contributor Noah van Sciver (The Hypo, Saint Cole) sets his sights on all things painfully funny in this self-described "shout-out" to the alt-comics scene of the '80s and '90s. From the blasphemously insightful to the downright raunchy, there is no subject too smart – or stupid – for van Sciver.
Ever since he rocketed onto the alt-comics scene in the mid-2000s with his ongoing series Blammo, van Sciver has made readers guffaw and grimace in equal measure. His stories walk that fine line between satire and cynicism that only a true observer of the human condition can navigate.
A fitting introduction to Van Sciver's work, this collection of one-off gags and comedic shorts will make you laugh out loud and maybe even cringe, just a little.
Noah van Sciver (W, A) • Alternative Comics, $5.00.
– Jason Wilkins
Crickets #4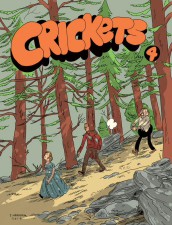 Nearly five years after the previous issue, the publication of Sammy Harkham's Crickets #4 – with art assists from Kevin Huizenga – marks a red-letter day in the alt-comics calendar. (In the meantime he's been editing the ground-breaking anthology Kramer's Ergot, as well as picking up an LA Times Book Award in 2012 for Everything Together, which collected stories from the first two issue of Crickets.)
The 48-page magazine-sized issue marks the next instalment of 'Blood of the Virgin' – a long-form work that offers an unblinking look at the ins and outs of the exploitation movie scene in 1971 Hollywood. It continues the tale of Seymour, a hassled young father and lowly film editor at a tiny film company who suddenly gets the chance to produce a script he's written. Then, as now, you should be careful what you wish for.
Sammy Harkham (W, A) • Self-published, $8
– Tom Murphy
Moose
Originally published in mini-comic form by Charles Forsman's Oily Comics, the English-language version of Moose, by Belgian cartoonist Max de Radiguès, is now being published in a single volume by Conundrum Press, as part of the publisher's Conundrum International imprint.
Moose tells the tale of Joe – a shy high school student who is relentlessly bullied and finds comfort in the natural world. However, circumstances change, and Joe finds himself facing a huge moral choice. Characterised by rich visual symbolism and fluid cartooning, Moose has a morally ambiguous ending that will stick with the reader.
As they did recently with Kat Verhoeven's Towerkind, Conundrum Press are doing an important job in putting important comics work back on the shelf.
Max de Radiguès (W, A) • Conundrum Press, $17
– Tom Murphy
Will Eisner's The Spirit #1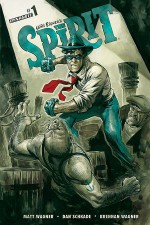 It may be tough to believe, but Will Eisner's most enduring character, The Spirit, is celebrating his 75th anniversary, and Dynamite is debuting a new ongoing series featuring Central City's favorite son. He first appeared on June 2, 1940, in a Sunday newspaper comics section called "The Spirit Section" that was distributed to some 40 million readers via the Register and Tribune Syndicate.
Matt Wagner's 12-issue story, 'Who Killed The Spirit?', is intended to be a great adventure for longtime fans, as well as a good place to introduce the character to the uninitiated. The Spirit's friends have been looking for him for two years, and we can expect to see plenty of action that includes the strips usual cast of characters, including police commissioner Dolan, Dolan's daughter Ellen, assistant Ebony White, and Sammy.
Dan Schkade (The Fowl) is handling the artwork, so look for some pretty faithful reproductions of the traditional looks we've come to expect with these characters, as well as some freedom with panel construction that will remove the newspaper strip vibe utilized in earlier iterations.
If you like Golden Age heroes, add this one to your pull list now.
Matt Wagner (W), Dan Schkade (A) • Dynamite Entertainment, $3.99
-Karen O'Brien
Battleworld: Red Skull #1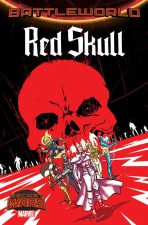 In the wrong hands, the Red Skull can feel like a caricature. In the right ones, though, he's an illuminating embodiment of the human capacity for evil (see Greg Pak and Mirko Colak's chilling Red Skull: Incarnate).
Joshua Williamson is no stranger to monsters in his ongoing serial killer saga Nailbiter. I'm hoping he can channel those same insights as the Winter Soldier, Magneto, Lady Deathstrike, and other Marvel baddies try to find the truth behind the missing Johann Schmidt. If he does, this could be a worthwhile pick for fans of darker crime fiction like True Detective.
Luca Pizzari's art seems to be drawing on some hardboiled influences as well, echoing Eduardo Risso in particular. At the least, Dr Doom's gerrymandering has made for enough strange bedfellows to set this tale apart from previous Skull stories. Zombies, Ultron drones, and the galaxy-shaking Annihilation Wave all have a role to play – and that's just in the first issue!
Joshua Williamson (W), Luca Pizzari (A) • Marvel Comics, $3.99
– Paul Mirek