Roche Limit #1, by writer Michael Moreci and artist Vic Malhotra, is seedy space-noir. And if you don't like it, tough.
Eccentric billionaires are nothing new to comics, but exploring the lengths to which they will go in their efforts to bend the world (or universe) to their will never really gets old.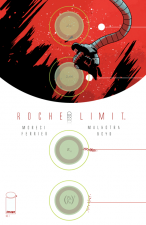 When Langford Skaargred shunned his family's oil business to invest the fortune in space colonization, some thought he would lose everything.
However, his efforts bore fruit on Mars, and his net worth increased to the point where he believed that establishing a human colony on a dwarf planet in the Andromeda Galaxy that sat just next to a massive energy anomaly was a feasible step of forward progress for mankind.
Instead, the Roche Limit colony he built became the seedy underbelly of Babylon 5 and the Mos Eisley Cantina rolled together, in a desperate landscape where even the good guys are more than slightly shady.
Roche Limit is nestled on the dwarf planet Dispater, which possesses a mineral (discovered by teams digging for the abundant water below the surface) that can be processed into a powerful drug, Recall. Skaargred's dream has become a cesspool of depravity in space, and no one has seen or heard from him in two years.
But Skaargred isn't the focus of the first issue. Instead, one naïve cop's search for her missing sister is the centerpiece of the action, and it brings out all of the colony's colorful scum.
If it sounds like writer Michael Moreci has pulled out all the overused science-fiction story tropes ever created and homogenized them into one book… well, he has.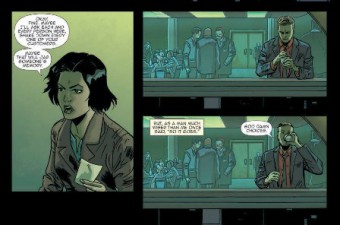 The disillusioned rich forging the path for the predatory rich, missing girls, unsanctioned scientific experiments, the criminal hierarchy, drug-trafficking, dodgy heroes, and incorruptible outsiders are all dangling on the edge of oblivion in Roche Limit.
The real question is: does Moreci pull it off? If this was prose or television, I'd say no, because these are characters we've seen before. But comics offers a unique visual medium where the reader's imagination fills in the gaps between the panels, and with the help of artist Vic Malhotra, Roche Limit works.
It's not a procedural mystery like Fuse, and it's not a fly-by-the-seat-of-our-pants drama like Letter 44, but if the idea of a many-layered mystery in the armpit of space is irresistible, then Roche Limit is your cup of tea served in chipped china. Malhotra's noir-ish artwork delivers the dark side of humanity with the corruptive relish of a Sith Lord.
And I'm willing to give these guys a few issues to see this develop.
Michael Moreci (W), Vic Malhotra (A) • Image Comics, $3.99, September 24, 2014.