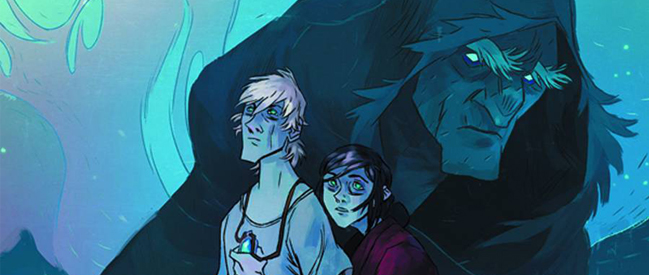 Edmondson and Novosadov create a strange, new modern mythology plumbing the depths of our dreams.
There once was a boy named Winslow, who dreamed big dreams every night. In fact, he dreamed the same dream every night. Like many of us, Winslow dreamed he was falling, only he was falling through a strange, primal landscape always alone, each and every night. What makes Winslow different is that his recurring dream may just hold the key to the world's sanity and survival. Aided by his friend Anne, a friendly cafeteria server in the psychiatric hospital that is home, Winslow escapes the tedium of his state-funded drug stupor, becoming a fugitive from both law enforcement and a mysterious cadre of metaphysical dream police.
Weighing in at an impressive 52 pages, Nathan Edmondson and Konstantin Novosadov's The Dream Merchant #1 is an epic exploration into the power of dreams that succeeds on a number of different levels. First and foremost, this is a well-crafted, balanced book. Although long for a typical introductory issue, the story moves along at a surprisingly smooth, fast clip. Edmondson transitions between planes of existence, introducing the main elements of his fictional world and moving between the mundane and the metaphysical with a slippery ease. Character development and Winslow's first person narrative are the main keys to Edmondson's approach. They create an epic yet intimate thematic tone that starts off feeling a little like a modern autobiographical comic before quickly yet naturally ratcheting up the intensity of the central conflict, as the importance of Winslow's dream is revealed.
The plot revolves Winslow's induction into a mysterious underworld where dreams are for sale and the world's collective metaphysical safety is maintained by a cadre of cloaked guardians armed with the ability to enter our dreams with disturbing ease. The first hints of Edmondson's new dream mythology occur with the appearance of the titular Dream Merchant, who looks remarkably similar to the shadowy hunters pursuing Winslow in both his dreams and waking life. It is through his cryptic remarks that we discover Winslow's dream is the remnant of a primordial human memory scourged from the collective unconscious thousands of years ago. Although, this first chapter only lays the foundation of Edmondson's fictional framework, the thematic implications and story potential of The Dream Merchant are off the chart.
Novosadov's classic cartoon style, though rough around the edges, is a great fit for this down-to-earth dream-quest. His panoramic dreamscapes feel huge, the panels appropriately bleeding out to the edges of the page in most depictions, and employ a vertiginous dream physics that evokes the bizarre mesas and alien rock formations of a Roadrunner cartoon, while somehow evolving into something far more sinister and garish. Novosadov balances the surreal with the real with amazing facility. His cartoonish style lends itself naturally to the nightmarish exaggeration and primal expressiveness required by Edmondson's script.
Delving into the dark territory of our dreams, Edmondson and Novosadov hit the paydirt with this clever and resonant quest of self-discovery. Intelligent and well-crafted, The Dream Merchant #1 is a big book out of necessity. How else to contain such huge potential for great stories, not to mention the talent of its creators?
Nathan Edmondson (W), Konstantin Novosadov (A) • Image Comics, $3.50, March 15, 2013.