In Bitch Planet, Kelly Sue DeConnick and Valentine De Landro transcend their "exploitation film" tropes to produce a hard-hitting and relevant series opener.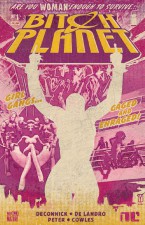 The pitch for Bitch Planet and its opening cover line ("Girl gangs – caged and enraged!") suggested something like an sci-fi treatment – or even pastiche – of that staple of exploitation cinema: hard time in a women's prison.
However, while there's no shortage of attitude and brutal action in Kelly Sue DeConnick and Valentine De Landro's debut issue, the book soon rises above those progenitors.
Image have blurbed the book as "Margaret Atwood meets Inglorious Basterds", and the first part of that equation is certainly invoked in this opener. Welcome to a near-future world where patriarchal rule – in the form of the 'Council of Fathers' – is laid bare.
And welcome to a world where men can almost effortlessly trade in their wives for a new model, and where women who don't fit the template society deems acceptable – physically or behaviourally – are designated as 'non-compliant' and shipped offworld to a dire detention facility – the Auxiliary Compliance Outpost.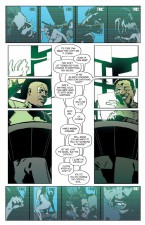 Compliance is the key word here. In the book it has become a codified legal concept that governs how women can and should behave. However, it also reflects what's pushed on us – socially, culturally and commercially – here on the non-fictional plane.
This is elucidated in the book's back matter, in a succinct and accessible essay by media analyst Danielle Henderson:
The striking thing about Bitch Planet is that we're already on it. We don't have to be thrown on a shuttle to be judged non-compliant – to be a little overweight, talk too loud, have an opinion on the Internet – or be a woman of color.
As a batch of 'fresh meat' arrives at the detention centre, the plot initially seems to centre on Marian Collins. Marian is a familiar figure in the 'caged vixen' genre: an out-of-her-depth woman who feels she has been wrongly imprisoned. Regardless of setting and genre, there's something universally nightmarish in the notion of an innocent person (someone just like "us") falling unjustly into the grim machinery of 'justice'

The other women joining Marian on the 'bitch planet' also play their part – and it's almost exhilarating to see a defiantly non-generic, non-Hollywood diversity of shapes and sizes among the core cast. I don't think it's going to take long for Penny Rolle in particular to generate a torrent of fan art.
By the end, with the creation of a murder mystery plot, the focus shifts to a more general – and shocking – examination of how cheaply women's lives are valued, how women can take back a bit of agency in a world that systematically subjugates them, and how some women are complicit in their own oppression.
The book is narratively as well as thematically dense; DeConnick and De Landro create a teeming and textured future world. The level of detail is epitomised on the 15-panel first page, with its American Flagg level of immersion creating a real sense of the world that has produced this story (and an eager anticipation to learn more about it).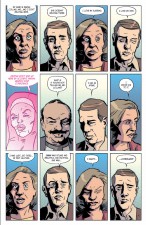 (It's also worth noting that even though the first page seems to have little apparent link with the prison planet, its depiction of a woman apologetically tip-toeing through a 'hostile' environment sets up a little appetiser for the dripping meat of the book.)
There are some lovely formal touches here, such as the interwoven parallel scenes where Marian and her husband outline the series of events that led to her incarceration. I hadn't come across the work of De Landro before, but some of his storytelling and colouring choices assault the senses in a way that's totally fitting for such a high-impact narrative.
There's no doubt that the creators of Bitch Planet are expecting – and even demanding – a high level of reader engagement with this book, which stands as testimony to the unshackling of creators taking place in the current publishing environment.
With such substance and weight of purpose, Bitch Planet makes most of the other "fight the power" comics out there feel a bit like wet tissue paper.
Kelly Sue DeConnick (W), Valentine De Landro (A) • Image Comics, $3.50, December 10, 2014.