It's almost Wednesday, and you know what that means: a fresh load of comics and graphic novels! With so many publications hitting your local comics store or digital storefront, the BF staff is here to lead you through the woods with our weekly staff picks. Satisfaction guaranteed.
Comic of the Week
Art Schooled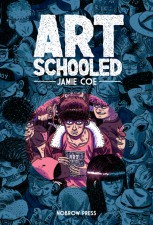 Jamie Coe is one of the stand-out artists of the Nobrow stable of creators. He produced one of the best stories in Nobrow magazine n°9: It's Oh So Quiet and I was quite curious as to what a long-form comic book from Coe would be like.
That question has been answered as Jamie Coe's Art Schooled hits stores this week in the US (the UK release was September). Art Schooled deals with small townee Daniel Stope who finds himself dropped into the mad kaleidoscope of styles and philosophies of the student populace of an undisclosed art school. Combined with his new-found independence, will Daniel find his place in this mad micro-society or crumble under the pressure?
Coe's Art Schooled is both slice of life and autobiographical as it is 'an observational narrative on his own experience at art school'. But what is sure as ever is that his art has never looked better. Slick, refined and with remarkable page layouts and coloring, Art Schooled looks to be a remarkable debut from a promising creator.
Keep your eye on future installments of Crossing Borders for an interview with Jamie Coe.
Jamie Coe (W/A) • Nobrow Press, $22.95
– Bart Croonenborghs

Tooth & Claw #1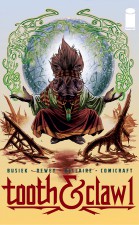 "When is Arrowsmith coming back?" This constitutes one of the most-asked questions legendary comics scribe Kurt Busiek (Astro City) has had to answer from fans and critics alike. The alternate history WWI fantasy he created with Carlos Pacheco undoubtedly touched a chord in the imaginations of fans of comics and fantasy fiction everywhere.
This week sees Busiek's long-awaited return to high fantasy in a wonderfully realized new series from Image with stunning art by breakout talent Benjamin Dewey (I Was the Cat). Over ten years in the making, Busiek has created another epic realm as complex and huge as anything he's ever created.
Full to bursting with wizards, warriors, romance, and intrigue, all viewed through the singular lens of Busiek's sprawling imagination, Tooth & Claw looks to be another classic in the making. It may not be Arrowsmith, but it just may be something even better and at a measly three bucks for 48 ad-free pages, how could you or your wallet go wrong?
Kurt Busiek (W), Benjamin Dewey (A) • Image Comics, $2.99
– Jason Wilkins
Grandville: Noël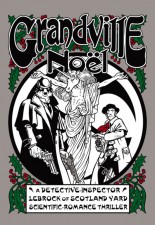 British writer and artist Bryan Talbot has racked up one of the comics world's defining bodies of work over the past 40-odd years, moving from the psychedelic underground antics of Brainstorm Comix to the literary acclaim of a leading UK mainstream book award for Dotter of Her Father's Eyes (in collaboration with his wife, Mary M Talbot).
However, among his most eagerly awaited work at the moment are the handsome volumes in his Grandville series. Chronicling the cases of Detective Inspector Archie LeBrock of Scotland Yard, they're a tirelessly inventive anthropomorphic mash-up of alternative history, steampunk styling and high-stakes political thriller.
In Grandville: Noël, the fourth in the series, LeBrock stalks a cult responsible for horrific mass murder. With Paris in the grip of a mysterious crime lord and violent attacks by human terrorists, can LeBrock stop the inevitable slide into fascism? And could this all be part of a centuries-old conspiracy to throw the world into war?
Bryan Talbot (W/A) • Dark Horse Comics, $19.99
– Tom Murphy
Day Men #5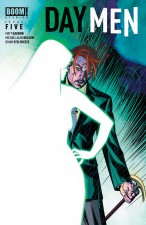 Now that we're no longer on Daylight Saving Time, it's time for the day men to awaken as BOOM! Studios' vampire mob opus finally resumes.
A book about the normal blokes who look after their vampire family's interests by day and featuring bloody good artwork by Brian Stelfreeze, Day Men stands as one of BOOM!'s best-received series to date. Alas, it was plagued by an erratic shipping schedule – only four issues were released over a year's time – but hopefully that's a thing of the past.
Someone who can't dwell on the past is series lead David Reid, who has to put his best foot forward to keep the Virgo family out of harms way in the opener of the story arc, Ex Curia.
If you're intrigued by the concept but have not drunk the Day Men juice, pick up the trade collecting the first four issues, also available as of this week for a measly $9.99. If you let this one pass by, the vampires won't be the suckers… but you.
Matt Gagnon & Michael Alan Nelson (W), Brian Stelfreeze (A) • BOOM! Studios, $3.99
– Frederik Hautain
The Leg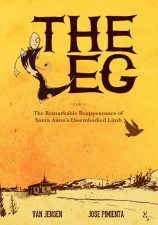 Most graphic novels have a protagonist, albeit often an unusual one, but a protagonist they do have. Van Jensen and Jose Pimienta's graphic novel has part of a protagonist. The leggy part.
The Leg was funded on Kickstarter, originally as an homage to an old historical mystery. Mexican general Santa Anna lost his leg in a hail of connon fire in 1838. After a long twisted career in politics, rebellion and being overthrown by the people of Mexico, the general leg (which had been buried with full honours) was exhumed and promptly lost to history.
Not so according to this graphic novel which posits the leg regain sentience in the 1930s and went on an offbeat crime-busting spree across Mexico. An autonomous vengeful leg with a hero complex hopping its way across acrid Mexican desert… what more could you want?
Van Jensen (W), Jose Pimienta (A) • Top Shelf, $3.99
– Conori Bell-Bhuiyan
Terrible Lizard #1

Recently, it seems like there isn't a week that passes when a comic written by Cullen Bunn (Brides of Helheim, Lobo, Sinestro) doesn't hit the shelves. This week's offering? An all-ages romp about a girl and her tyrannosaurus rex with larger-than-life art from the inimitable Drew Moss (The Crow: Pestilence).
When her father's experimental portal cutting through time and space destabilizes, Jess Anders suddenly finds herself besties with a huge, orange T-rex who stumbles into the present. Now imprinted on the first living being he encountered on this side of the portal, the dinosaur named Wrex and Jess find themselves inextricably joined at the hip.
But is Wrex the only strange beastie to waltz through Dr. Anders' temporal rift? Probably not…
A wonderful mix of Devil Dinosaur and Jeremy Whitley's Princeless, Terrible Lizard is a fun, fast-paced romp perfect for the kid in all of us, whatever our age.
Cullen Bunn (W), Drew Moss (A) • Oni Press, $3.99
– Jason Wilkins
Ichiro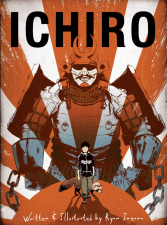 The second graphic novel from acclaimed illustrator Ryan Inzana, Ichiro uses the rich and dazzling world of Japanese mythology to tell a universal tale: that of a young person trying to find his place in a confusing world.
The title character is a boy growing up in New York City with his Japanese mother, having lost his father – an American soldier – to the war in Iraq. His mum decides to take Ichi back to Japan, where his grandfather takes him to temples and the Hiroshima Peace Park, leading Ichi to question the nature of war.
However, things get altogether more complicated when an encounter with a supernatural shapeshifter leaves him adrift in the world of gods and monsters, forcing him to face his fears to get home.
Mixing myth and reality with a lovely fluid art style, Ichiro looks like an engaging cross-cultural fantasy.
Ryan Inzana (W/A) • Houghton Mifflin, $12.99
– Tom Murphy
The Fuse #7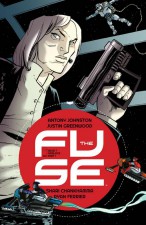 After wrapping up their wildly successful first story arc, Antony Johnston and Justin Greenwood return with "Gridlock," a new mystery for Klem and Ralph that should put their fledgling partnership to the test.
The illegal and highly dangerous Gridlock races across the Fuse's massive solar arrays are one of the most popular forms of entertainment aboard the station. When one of the racers turns up dead, it sets off a race to catch the killer.
When the last arc ended, we learned that Dietrich is more than just a cop on the job, and it will be interesting to see where his real mission (whatever that is) takes him and his partnership with the hard-as-nails Klem. Johnston is very adept at leading readers on a merry chase through his mysteries, so expect the seemingly unimportant to surface later as a vital clue.
Throughout their work on Wasteland and now this series, this creative team specializes in making science fiction a character-driven experience, and if you haven't read them yet, pick up the trade collection of the first arc and join me in line on Wednesday for my copy of issue #7.
Antony Johnston (W), Justin Greenwood (A) • Image Comics, $3.99
– Karen O'Brien
Eternal Warrior: Days of Steel #1
"Maybe all my work has been nothing but an insane game." So ponders Gilad Anni-Padda, also known as the Eternal Warrior of the Valiant Universe.
For ages, he's helped shape the course of history, steered by the powerful geomancer, a mystic who channels the voice of the earth. But because men continue to slaughter each other at breakneck-pace he's questioning of what use his uncanny efforts have been.
In the Eternal Warrior's first solo adventure following the (unofficial) ending of his short-lived ongoing series earlier this year, Peter Milligan and Cary Nord bring you an untold story of Gilad's past in which he must save a baby destined to become the liberator of his people.
This book is worth the price of admission alone for the chance to see Cary Nord draw brutal barbarians and big swordfights not seen since his Conan days.
Peter Milligan (W), Cary Nord (A) • Valiant Entertainment, $3.99
– Frederik Hautain
Nightworld #4
One of this year's most unique miniseries comes to a thrilling conclusion and it's even trippier than usual as the spirit creature known as Plenilunio must use the soul key to travel into the ancient book where he will attempt to free the love of his life from her eternal "waking sleep."
With the help of the speedster demon Hot Spot and the mortal Ludmilla, Plenilunio must penetrate Hellena's fortress and confront the devilish Underboss.
The high-speed chase to hell comes to its explosive, emotional finale as mortals and demons stand against their most frightening foes — but what will happen when they come face-to-face with themselves?
Paolo Leandri & Adam McGovern (W), Paolo Leandri & Dom Regan (A) • Image Comics, $3.99
– Tyler Chin-Tanner

Superman Unchained #9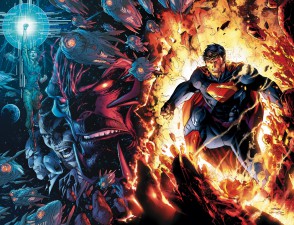 From the beginning, Superman Unchained has placed Superman in settings where he can take the gloves off and not hold back when it comes to using his abilities to their fullest.
And as villains go, Wraith is more than a physical match for the struggling Man of Steel, who has thrown everything including a cargo freighter at his opponent to no avail. I don't have the same sense of foreboding with Wraith that I did with Doomsday, but he's still plenty formidable.
Issue #9 will be the final installment of this series, and as much as I enjoyed the slugfest that has been building momentum throughout, I'm especially pleased that Supes has added brains to his personal arsenal. At the end of issue #8, Superman took Wraith into the sun itself, thereby nullifying Wraith's "extra" powers and placing the two on a level playing field. My money is on Superman in the super-fight climax. And let's not forget that Scott Snyder still has Lex Luthor and Lois Lane subplots to resolve as well.
Honestly, Jim Lee's stellar pencils are reason enough to pick up the issue. Holy cow, the guy can orchestrate a brawl!
Scott Snyder (W), Jim Lee (A) • DC Comics, $4.99
– Karen O'Brien
Madame Frankenstein #7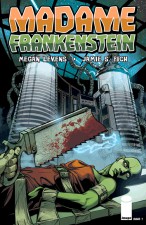 In the final issue of the series, the creature confronts her creator as both try to maintain the control they so desperately crave. But, as with many things, the more someone wants something, the easier it is to lose.
Jamie S. Rich and Megan Levens bring you the gruesome grand finale that promises to be more strange and horrific than anything you've seen so far!
Jamie S. Rich (W), Megan Levens (A) • Image Comics, $2.99
– Tyler Chin-Tanner