It's almost Wednesday, and you know what that means: a fresh load of comics and graphic novels! With so many publications hitting your local comics store or digital storefront, BF is here to lead you through the woods. If you want to know which books should be on your pull list, look no further…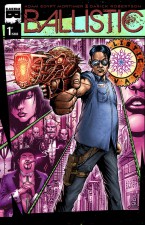 Comic of the Week: Ballistic #1
This week's release of Ballistic from writer Adam Egypt Mortimer and artist Darick Robertson (Transmetropolitan, The Boys, Happy!) will surely be explosive. Ballistic chronicles the life of air-conditioner repairman turned devious criminal, Butch, and his genetically engineered, foul tempered sidekick, Gun. What is it like to live in a future of crime-worship, science beyond our imagination, and a city on the verge of destruction?
For more on this new book from Black Mask Comics, check out our interview with Adam Mortimer here from earlier today.
Adam Egypt Mortimer (W), Darick Robertson (A) Black Mask, $3.50
– Jason Clyma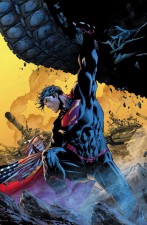 Superman Unchained #2
The all-star team of writer Scott Snyder and artists Jim Lee and Scott Williams returns for another action-packed issue of the hottest comic to hit the stands this year. Ascension grows bolder with its terrorist attacks, creating problems beyond the scope of even Metropolis' finest.
This is a job for Superman, and he's about to get a little help from the world's greatest detective, Batman. Adding to the mystery is the unknown figure shadowing Superman. And in the issue's backup story, Superman's pal Jimmy Olsen takes the lead as Metropolis is shaken to its roots.
Scott Snyder (W), Jim Lee and Scott Williams (A) • DC Comics, $3.99
– Karen O'Brien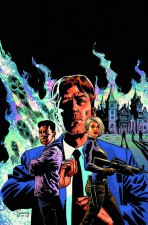 Ghosted #1
Jackson T. Winters is a criminal mastermind who's locked away in jail for good, until some rich bloke breaks him out. And because there's no such thing as a free lunch, Mr Money wants something in return from our bad guy: to capture a ghost in a haunted house to add to his infamous collection of desired objects.
Leading Jackson through the front door and into the dark rooms – no pun intended – are series architect Joshua Williamson and artists Goran Sudzuka (interiors) and Sean Phillips (covers). Pick up the opener of this five-issue mini that can best be described as Supercrooks meets B.P.R.D.
Joshua Williamson (W), Goran Sudzuka (A) • Image Comics, $2.99
– Frederik Hautain
[Read our interview with Joshua Williamson]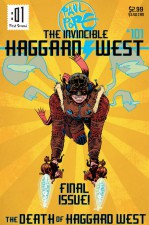 Death of Haggard West One-Shot
This week Paul Pope (100%, Batman: Year 100) releases a one-shot offering that chronicles the death of Haggard West, a vigilante superhero who defended the planet of Acropolis. What piqued my interest first, however, is learning how Haggard West came to adjust to a world that no longer needed him, and how that affects his death.
Pope is a solid writer and fantastic artist, which will surely result in the combined offering of a stand-out and gorgeous looking book.
Paul Pope (W/A) • :01 First Second, $2.99
– Jason Clyma
Sheltered #1
What happens when a town's children rebel against the very parents who have sheltered them their whole lives? Would there be violence? Would there be death? Would there be murder? The men and women of Safe Haven are about to learn how to survive and who to trust in Ed Brisson and Johnny Christmas's Sheltered.
The setting of Sheltered feels like a title just on the brink of exploding, and its safe to say that blood-ties and blood-feuds sounds too intriguing to pass up.
Ed Brisson (W), Johnny Christmas (A) • Image Comics, $2.99
– Jason Clyma
[Read our interview with Ed Brisson]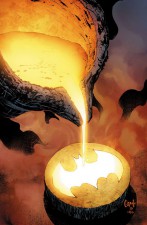 Batman #22
After a thrilling start in the previous issue, "Zero Year" continues its retelling of Batman's origins. Chapter two kicks off with a bang in Batman #22 as writer Scott Snyder delves into Bruce Wayne's history with the Red Hood Gang. Young Bruce is also going to cross paths with aspiring District Attorney Harvey Dent, and don't forget his pending troubles with an uncle who wants him dead.
It all makes for some creative challenges for artists Greg Capullo and Danny Miki. And we get another glimpse of Bruce's training overseas in the backup story. If you haven't read Bat-titles in a while, start now.
Scott Snyder (W), Greg Capullo and Danny Miki (A) • DC Comics, $3.99
– Karen O'Brien