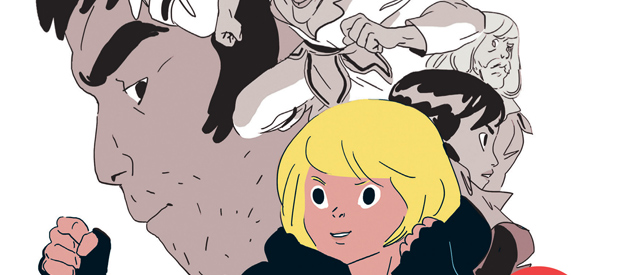 Last Man,  a 12-issue maxi series, was released in France to much fanfare and is now finally available in English, courtesy of publishing house First Second. Last Man is essentially a shounen manga created by a French team influenced by Japanese and American pop culture.
It is also a rollicking read, featuring a young fighter Adrian Velba, who is forced to team up with a mysterious roughneck called Richard Aldana in order to compete in a gladiatorial arena for the glory of the city. The first volume sets up the premise and is a great introduction to both the characters and the world the creators are building.
French wunderkind Bastien Vivès, together with Michaël Sanlaville and Balak, have various ambitious for Last Man, with plans for both a video game and an animation series. I spoke to them briefly about the Last Man series.
Last Man is influenced by manga, and – more specifically – shounen manga like Dragonball. What is it about this genre that resonates with you personally?
As far as I'm concerned, the manga format is the best one to tell stories. When you think about it, graphic novels are just big manga. I personally love Fist of the North Star; to me it's really a masterpiece, not only in manga, but in the comics art form as a whole. In each book of 200 pages,  the author has all the space he needs to create and expand an incredible universe, while staying very close to the characters' emotions.
What pushed you into doing a 'group comic', as opposed to handling all the work yourself?
It's faster, we're more efficient, have more ideas, more energy… Last Man is an ambitious project which was conceived and nurtured by three artists. When you're alone, you're more restrained  – and if you're more restrained, making one book takes forever!
Do you ever find yourselves at odds in terms of story or characterization?
A good idea always elicits unanimity! If it's not getting everyone's approval, you can be 100% sure it's not as good as you think – and, in the end, to be three people is an advantage: you can rely on democracy! 
So it's quite easy to sort good and not-so-good ideas with our method. Sure we fight, we don't necessarily agree on everything, but in the end we only really think about the good health of our child, the story.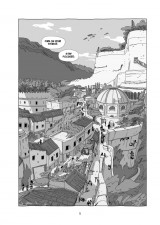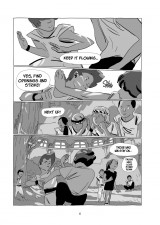 How did the drawing style come into being? The styles of Michaël Sanlaville and Bastien Vivès sit comfortably close to each other, but are there ever moments when one is overpowering the other?
We've drawn with each other since our school days in Gobelins; we know how to adapt our style to each other. It never was an issue and came very naturally.
How it works is that Bastien gives the main directions of the story, then the three of us discuss it. Balak starts to draw the storyboard, cutting the 200 pages into 10 "chapters", making sure there is a cliffhanger of some sort at the end of each 20 pages.
He puts in dialogue, creates situations and events, and submits the pages to Mic and Bastien, who take 10 pages each of the chapter and start to draw their page from A to Z, while Balak is working on the next chapter. And it goes on like that until the book is done. We have to draw 20 pages a week, and this is the way of working that works the best for us.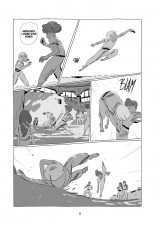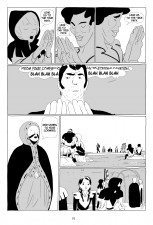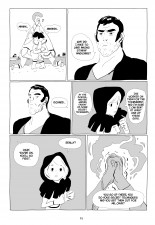 How do you feel about the cultural influence manga is exercising on European and US storytelling in comics?
I think it's very good. We have a lot to learn from our Japanese friends.  On the other hand, when European or Americans are just mimicking or copying the art style, or the "bells and whistles", without understanding the essentials, it's quite unfortunate.  Most of the time, what comes out of it is not good.
Why this cross-pollination with animation and video games? What point are you trying to make with these side-steps?
If we could expand the universe, using each medium within each of our own specialties, it would be perfect. Kind of like what George Lucas does with Star Wars, with the novels, toys and spin-offs!
Last Man Vol. 01, 'The Stranger', is published by First Second. It is a black-and-white paperback counting 208 pages and retails for $9.99.
For more news and info from Europe's comics community, follow me on Twitter right here.