Paul Pope's eagerly awaited new book is a rollicking good all-ages adventure that shows an artist at the height of his powers. Good things do come in small packages…
A new book by Paul Pope is an all-too-rare treat. So when I trotted excitedly into my LCS, I was taken aback – and a little disappointed – to see the small format (smaller than a conventional US comic book) that Battling Boy had been published in. However, what the book lacks in page area it makes up for in Pope's trademark energy and imagination.
The 208-pager – aimed at 'all-age' readers and clearly the first in a series – takes us to the retrofuturistic city of Arcopolis, where the pulp-inspired 'techno-champion' Haggard West and his daughter Aurora form the terrified population's last line of defence against a plague of 'ghouls' and monsters. The opening sequence, in which the child-snatching ghouls seek new victims, is genuinely chilling.
However, Pope then pulls the rug from under us by taking the story to the 'Hidden Gilded Realm' – a dimension-hopping spaceship on which god-like beings debate the fate of the multiverse in fruity Asgardian patter. The switch is exciting: suddenly you don't really know where the book is going. This where we meet our eponymous young hero – a boy whose thirteenth birthday heralds his Turning Day, when he must go on a cosmic 'ramble' to prove himself as a man. Or, as his father puts it more loquaciously: "All of those of the starry lofts must face adventure perilous on the eve of adolescence."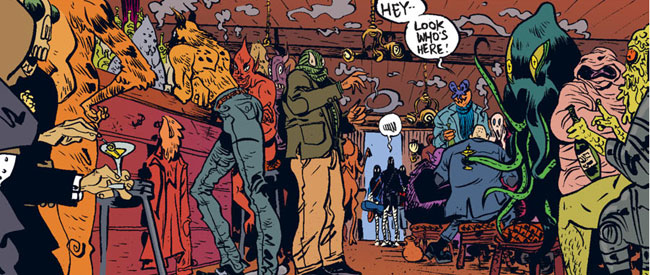 When the boy's ramble brings him to Arcopolis, he soon comes to the attention of the authorities, the monsters and the young Aurora West, who has been forced by circumstance to take up her father's mantle as the city's defender.
The young heroes and the situations they face make it clear that Pope is primarily targeting a Young Adult audience, marking a switch from the Doomed Beautiful Romantic Nuisances who have populated a few of his other books. However, he makes the transition easily, as '. 'Boy' and Aurora have to face the peril and uncertainty of being pitched into an adult world and handed very grown-up responsibilities.
One thing that hasn't changed is Pope's art style, which retains its trademark mix of brushy fluidity and kinetic splatter. Pope remains a singular talent, with the ability to create a whole world within his work that couldn't be anyone else's. Even when the story draws on familiar elements (and there's a lot of affectionate genre-bending here), it's done with energy and visceral texture. And if some of the action scenes go on a bit… well, there are worse places to pass time than in a Paul Pope comic.
The artwork is helped to leap from the page by the vibrant colouring of Hilary Sycamore, who uses the full palette to bring to live the strangeness of life in Arcopolis. However, a quick riffle through the book's pages show how often she pares it down to a lovely contrast between reds/oranges and blues/greens.
So let's go back to that page size. Yes, it might be nicer if Pope's work had more room to 'breathe' and we could pore over every mark. However, I found the urgency of rapidly turning the pages helped to drive the fast-forward pace of the book – particularly towards the start. Moreover, I think First Second have actually done Battling Boy a service by putting it in an accessible and portable format: they've produced a book for readers rather than collectors.
Battling Boy isn't without its faults. The way the first part comes to an end is slightly irritating, and could be more problematic if Pope can't get the next volume out in a timely manner. But this is still a book to celebrate, a welcome addition to the shelf and a clear indication that Paul Pope is at the height of his powers.
Paul Pope (W/A) • First Second, $15.99 (SC) $24.99 (HC), October 2013