With an Eisner Award nomination for the previous volume, Philippe Coudray's Benjamin Bear books are a series with an established pedigree. Benjamin Bear in Bright Ideas! contains twenty-seven playfully inventive single page gag strips that follow our titular ursine chum and his rabbit pal's slapstick antics in their forest home.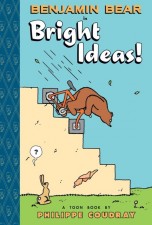 Whether it's Benjamin taking his pet goldfish for a walk, finding novel ways to rid himself of fleas, or ruminating philosophically on the act of creation, Coudray imbues each page with quirky, ingenious, and sometimes borderline surreal humour. Indeed, as can be inferred from the book's title, it's Benjamin's often quite eccentric solutions to the challenges he faces that is the basis for much of the fun on offer here.
The style of comedy is largely very physical but it's always inspired and witty, working up to skilful punchlines that defy easy expectation. There's a clarity to Coudray's layouts that is both accessible and absorbing; one that will, no doubt, endear both the artist and the characters he has created to the younger audience the book is targeted at.
Benjamin Bear in Bright Ideas! is published by Toon Books who have developed a range of comics publications carefully classified for specific age groups. Their mission statement, so to speak, to provide entry point comics for kids that can be shared and enjoyed with adults is admirable, and one that I am sure all enthusiasts for the medium will have the utmost empathy with. While at $12.95 we're admittedly not talking about something that is pocket money-priced, this is still a book that would make an ideal gift for a younger reader making their first formative steps into the wonderful world of sequential art.
Sharp, droll, and imaginatively constructed, Benjamin Bear's adventures are a perfect introduction to comics for their intended demographic.
Philippe Coudray (w/a), Toon Books, $12.95, March 15th 2013