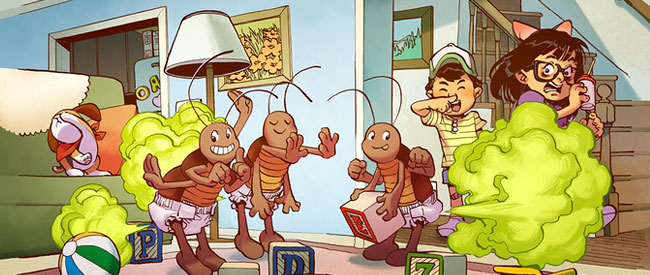 Greg Pak's summer has gotten off to a great start. From the announcement that he's returning to his old-time favorite superhero, Marvel's green goliath, on The Totally Awesome Hulk to launching his first creator-owned book at Dark Horse in Kingsway West, the writer's plate is quite full for the foreseeable future. Because next to these new series, he continues to script Action Comics and Batman/Superman for DC.
If that wasn't enough, Pak has found the time to launch a new Kickstarter campaign with the same crew responsible for the incredibly successful The Princess Who Saved Herself crowdfunding project just a few months ago. Full plates be damned!
Created with the team of Takeshi Miyazawa (art), Jessica Kholinne (colors) and Simon Bowland (letters), ABC Disgusting is another wild and endearing adventure that's great fun for every kid you know – and the kid inside yourself.
As the title indicates, it's an alphabet book filled with disgusting things like nose hair, mayonnaise milkshakes (a Pak favorite, as you'll read below) and farts… lots of farts.
For Pak, projects like The Princess Who Saved Herself and ABC Disgusting provide the perfect counterweight to his other, more high-profile gigs.
"I love writing big Superman and Hulk stories and I love epic tales that span multiple comics issues," Pak says. "But I also love tiny, compact, done-in-one stories. And children's picture books let me scratch that itch. It's also a blast to see how kids respond to these stories. I remember how much I loved the books I loved as a kid.
"To have a chance to write something that could mean something like that to a kid today is just tremendous."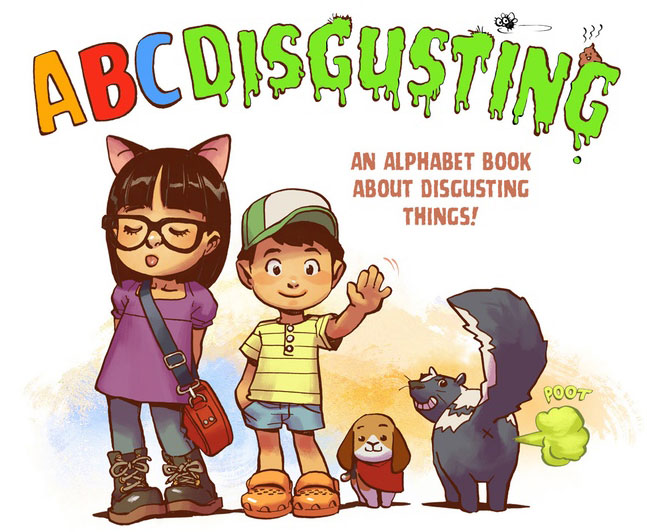 In the campaign video, you mention that you're very much on the same page with Takeshi and crew. How does that affect your creative process?
I know that Tak is always going to understand the emotional nuance and humor of whatever I write. We're just simpatico in that way – he tends to immediately get the tone I'm going for. And I've worked so much with this whole creative team, including Jessica and Simon, that we all know how to communicate and get where we need to be pretty efficiently.
On a creative level, that means I don't have to worry about whether the team can nail a moment I'm going for – I know they can do it.
For example, when we started the The Princess Who Saved Herself, I knew that the colors for this kid's book should be distinct from the colors we might have done for another traditional comic book. So we just talked it through and traded reference and Jessica ended up coming up with a great watercolor style that was evocative and subtle but at the same time bright and colorful.
Knowing I've got a team that can adjust and find the right take is a wonderful thing.
What do you consider to be the most important traits of a good children's book, and how does  ABC Disgusting fit the bill?
Wow. That's a big question! Okay, I'd say…
Operates on multiple levels – both as a fun concept and as an emotional story.
Ethos/moral compass.
A book a kid would want to read rather than feel like he or she should read.
So how does ABC Disgusting match up?
1. It's an alphabet book of disgusting things — but it's also the story of a brother and sister getting to know each other better.
2. I don't want to spoil the story, but our characters learn a little something about how the world works and how people work together. I think picture books are often one of the ways kids start to figure out how to relate to other people at a very early stage in their lives. So the book acknowledges the glories of grossing out your friends and family, but it also goes to another level in human interaction. Again, I won't spoil. But it's a gross-out book with heart.
3. I think we totally nail this one. We've got fart jokes, people!
Which of the various disgusting bits in the book did you enjoy creating the most?
I remember being a kid and coming up with the horrible idea of a mayonnaise milkshake, which grossed out everyone I described it to. I'm pleased to say "M" in ABC Disgusting is indeed for "Mayonnaise Milkshake"!
The Kickstarter campaign for ABC Disgusting runs until July 29, 2015. You can back it now at abcdisgusting.com.