At more than 300 pages and five years in the making, Farel Dalrymple's The Wrenchies is an epic achievement of imagination and illustrative splendour. But can you have too much of a good thing?
First Second's blurb for The Wrenchies, written and illustrated by Farel Dalrymple, paints a fairly traditional Young Adult picture: an unhappy and alienated boy from our world finds purpose and acceptance when he's flung into a fantastical post-apocalyptic environment and joins a gang of warrior kids to fight nightmarish psychic vampires.
However, what lurks within this hefty tome (304pp) is something altogether more rich and strange – a tiger of a story that dares the reader to hold on to its tail as it leaps through time and space, fantasy and reality.
In the very broadest of strokes, this is the story of two boys: the first is Sherwood, who enters a cave with his brother Orson and stumbles across a world of magic and demonic monsters – a discovery that takes his life in as strange a direction as he could ever have imagined.
The second young man is Hollis, a lonely and fantasy-fixated boy growing up in a suffocatingly religious household. He also finds himself falling down a figurative rabbit hole, dragged by a mysterious figure known only as The Scientist into a blighted future world, where the only line of defence against the soul-sucking Shadowsmen is a raggle-raggle bunch of young fighters – the Wrenchies.
However, there's far more to the book than that, and when Sherwood's part in Hollis's story is unpacked, The Wrenchies becomes a convoluted epic – a Chinese puzzle of a narrative that folds back in on itself through time and space and threatens to get lost up its own meta-references. (For example, a key item in the plot is a comic called The Wrenchies, which is laden with clues and magical significance.)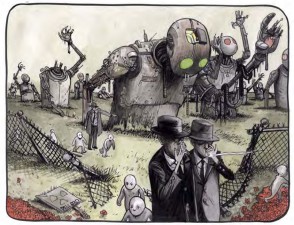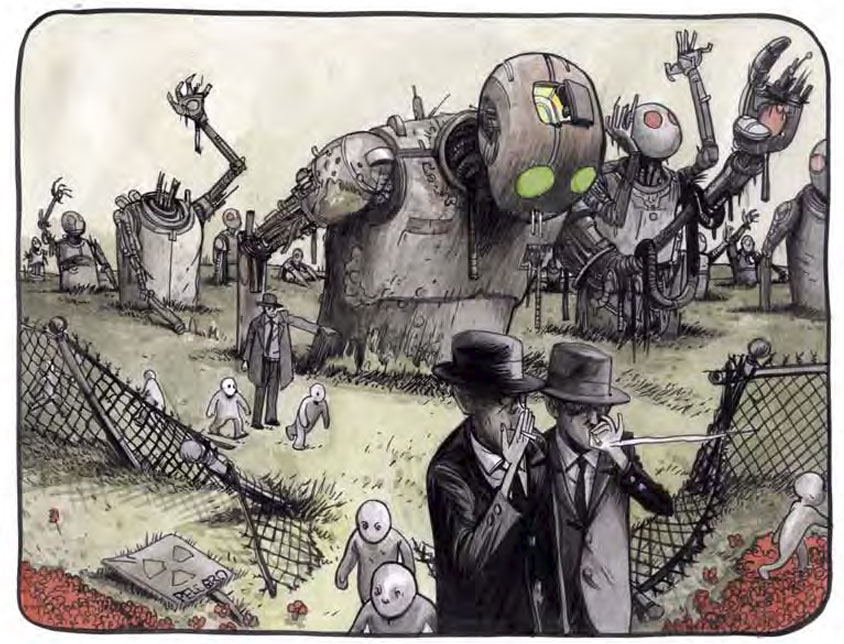 In an interview with Broken Frontier, posted yesterday, Dalrymple said that he originally planned for the story to be "a hundred and something" pages long. However, as he plunged further into the world he'd created – over a five-year period – he couldn't stop himself adding more and more elements.
The result is a sometimes frustrating sprawl of narrative – but one that never fails to reward the reader with startling imagery and meticulously rendered and watercoloured pages.
It's hard to spot a lot of traditional comics influences in Dalrymple's work. Instead, it's laden with dazzling texture, oblique storytelling and imagery that brings to mind 70s sci-fi covers and the English surrealism of Richard Lester's The Bed-Sitting Room, as well as the intricately constructed universes of French film directors Michel Gondry, Jean-Pierre Jeunet and Marc Caro.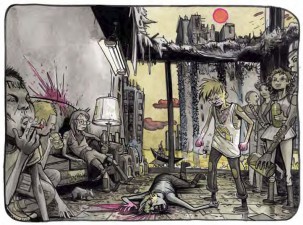 However, the book's rewards come at a price. About 20 miles into a marathon, runners hit 'the wall' – the point at which you've largely depleted your body's resources and exhaustion sets in.
Something similar happens about midway through The Wrenchies, when most of its main players are finally in the same place at the same time and The Scientist outlines at some length how the seemingly diverse elements of the book actually fit together.
For the diligent reader who's been trying to parse out the plot in some sort of logical way, it's like clearing the crest of a steep hill only to see an even taller, even steeper climb looming ahead of you.
Struggling a bit in the middle of The Wrenchies, my mind drifted to another ambitious comic that shares at least some of its DNA and also gave its readers plenty to chew on: Milligan and McCarthy's masterwork Rogan Josh. However, while that reality-melting classic tripped its light fantastic in less than 60 pages, the sheer volume of Dalrymple's similarly structured story makes it much more of a challenge.
However, it's worth ploughing through the dense exposition and the lengthy journey the characters take to the book's climax, as the sort-of-concluding chapter – shedding more light on Sherwood's life story after his disappearance in the cave – is a tour de force of comics storytelling. Shifting through time and layering fantasy and reality, it uses style and form to craft a narrative experience that couldn't exist in any other medium.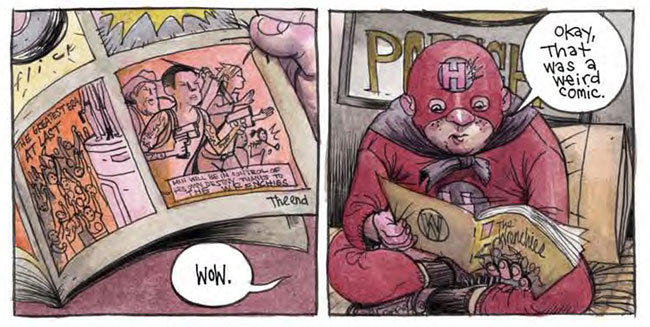 At times puzzling, exhilarating, infuriating and exquisite, The Wrenchies provides an immersive reading experience that requires a degree of heavy lifting from the reader. Like the fictional Wrenchies comic, it's certainly not for everybody. However, if nothing else, it's a treat at times just to shift your brain into neutral and let your eyes wash over the imagination and craft of Dalrymple's stunning illustration.
Farel Dalrymple (W/A) • First Second, $19.99, July 2014