From The End of Summer to I Love this Part through to A City Inside, a rich seam of autobiography runs through Tillie Walden's comics, manifesting itself in everything from imaginative visual metaphor to the use of on-page avatars to embody her own experiences. In her Eisner Award-winning Spinning Walden takes a more direct approach to her autobio practice, detailing her childhood years as a competitive skater in a memoir that explores themes of identity, family, coming out and those first formative steps to adulthood with a subtle but deeply affecting poignancy.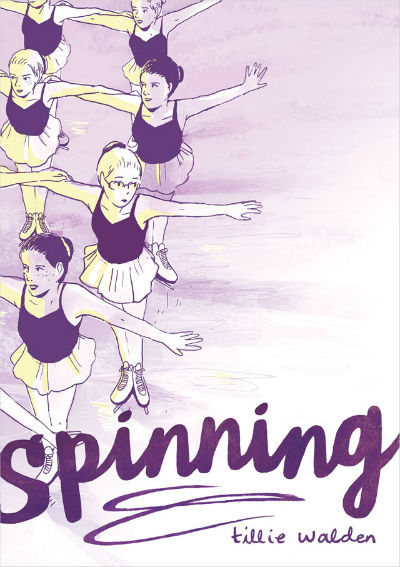 Beginning as a young Tillie and her family are on the brink of a life-changing move to Texas, Spinning creates a sense of displacement from the outset. We watch as Walden settles into a life of new environments, skating techniques and friendships. We follow her story over the years; one that is endlessly punctuated with the punishing schedule of early morning ice skating practice, school, and then more post-school sessions on the rink. It's all-consuming and relentless, memorably underlined in an early segment. It depicts her oft-repeated daily routine by playing with comics' complex relationship with the passage of time. notably in a sequence that includes a 24-panel page carefully bringing us into the almost ritualistic first minutes of Walden's every day.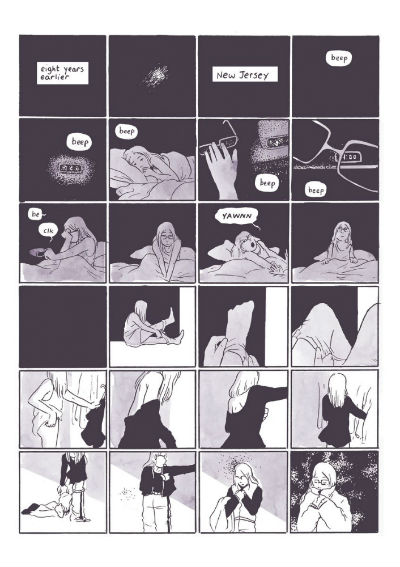 At nearly 400 pages this is a hefty tome but, such is the delicacy and fragility of Walden's narrative, it never feels overstated. While ostensibly a skating memoir it is, of course, about far more recognisable themes. Like many coming-of-age stories Spinning resonates with us not perhaps for the specifics of the young Walden's life but more for the relatable memories it evokes of a period in our lives where encroaching adolescence made a once familiar world suddenly strange and incomprehensible.
On the one hand we witness the sheer dedication, devotion and immersion that competitive skating entails; of how Walden's life revolves around the repetitive daily process to the point of emotionally consuming her. On the other we see how that world is at once both familiar and unwelcoming; how the casual homophobia she encounters and the bullying she endures at school affect and define her interactions. Solitude seems often a burden and an escape in a graphic memoir that is replete with such unlikely dualities.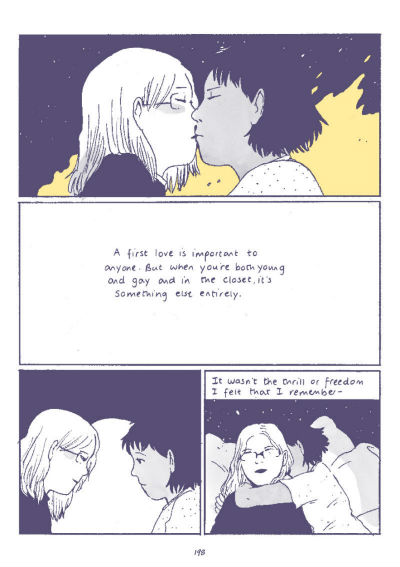 Autobiography comes with its own responsibilities and Walden's story is all the more evocative for its raw and intense honesty. Her sometimes complicated relationships with her family are touched on with openness and transparency, particularly some heartbreaking scenes when she comes out to them. Later, first love and its cruel finale touch the reader with an overwhelming pathos. Crucially, Walden always knows when to show and when to tell; when to directly communicate her recollections to the reader through her engaging narration and when to allow us to read the situation through her expressive visual characterisation.
Unsurprisingly from our 2017 Broken Frontier Best Artist Award winner Spinning is an artistic triumph. In terms of Walden's sequential storytelling the sense of movement in the skating scenes is astonishing, recreating and bringing us into the world of the rink with a quite beautiful sense of fluid motion. Presented in a largely monochromatic purple-tinged hue, Walden adds splashes of yellow to emphasise mood and emotion in key scenes. Her hand lettering also gives the book and extra level of authenticity and intimacy; allowing us as readers to feel even more connected with the page.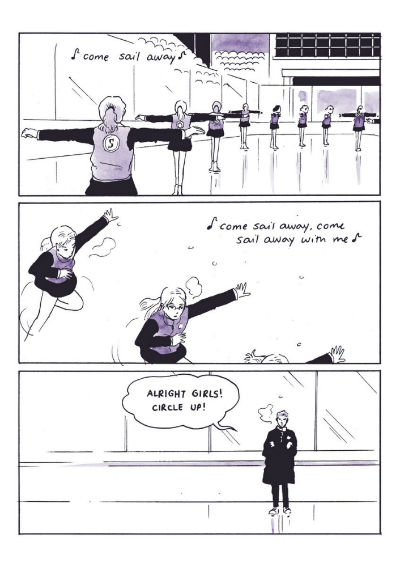 Comics critique concerns itself with analysis of technique and structure but sometimes it's as important to talk more immediately about the emotional responses a work provokes as it is the manner in which it accomplishes that. Heartbreak, loneliness, devastation, trepidation and quiet moments of childhood joy are just some of the feelings that will engulf the reader with an undeniable potency as they journey through Spinning's pages. It's simply a masterpiece of comics narrative and an outstanding graphic memoir.
But with Tillie Walden, of course, we all know that the next masterpiece is only just around the corner…
Tillie Walden (W/A) First Second/SelfMadeHero, $17.99/£14.99
Review by Andy Oliver