Celebrating Pride Month! Sometimes in comics commentary you can be very aware of work that can only be described as a true publishing phenomenon without having directly experienced it yourself. There's only so much even the most committed review outlets can get to at any given time after all. Coming into our Pride Month coverage here at Broken Frontier this year though I wanted to think beyond just relevant LGBTQ+ biographies and also give some space to the growing area of YA queer comics work. What better series then to look at today than Heartstopper, Alice Oseman's "boy meets boy" story that has simultaneously been a hit in both comics and a wider shared universe novel form, and also spawned a successful Netflix series.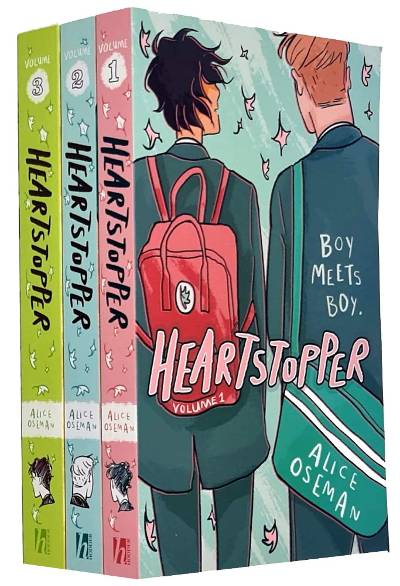 Originally presented as a webcomic, Heartstopper has been collected in four print volumes to date and follows the touching and growing relationship between two schoolboys. Charlie is openly gay and sensitive while Nick is a little older and a central part of the rugby team and its accompanying social clique. When the two are suddenly thrown together at school they form an unexpected friendship, one which slowly blossoms into something deeper.
While the trials that the couple face as their love blossoms are at the forefront of events Heartstopper has an engaging ensemble cast of supporting players whose subplots weave around that main story arc. These include girlfriends Tara and Darcy, "will they won't they?" duo Tao and his trans object of affection Elle, gay teachers Mr. Ajayi and Mr. Farouk, Nick's obnoxious brother David, and Charlie's knowing sister Tori.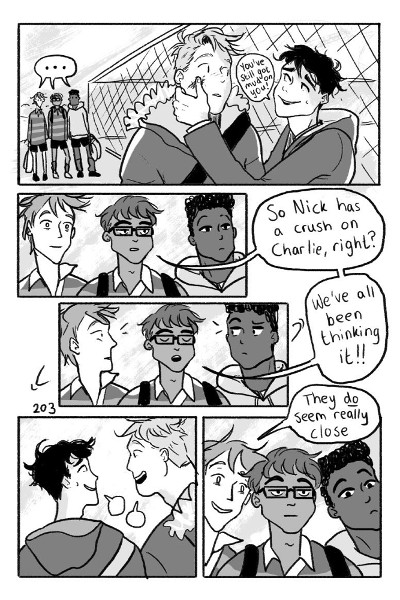 The four volumes compiling the original webcomic comprise well over 1,000 pages so far. Heartstopper is not just a coming out story but also a more universal coming-of-age tale about those formative years as young adults when we look to establish our places in the world. What works so well in Heartstopper is that Oseman does not ignore the prejudice and homophobia that young people in the LGBTQ+ community face but she presents that as just one facet of their lives. The emphasis here is very much in celebrating being young and queer; of the joy of discovering and embracing who you are. To that end Oseman quietly steps away from ideas of "otherness" and instead casts the bigots and the bullies as the outsiders.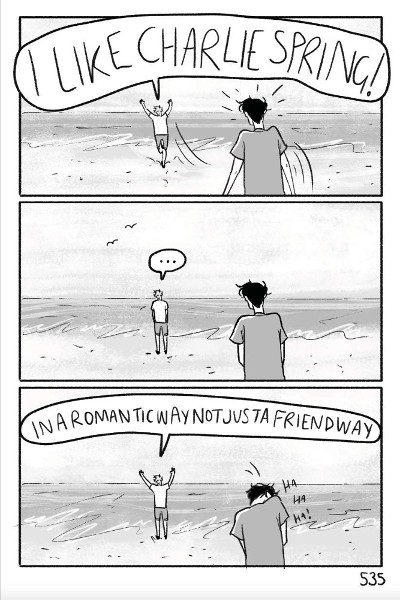 Oseman's art is so effective in communicating her cast's stories and personalities because visually she strips characters back to their expressive cores, ensuring we connect with them on an instinctual, emotional level as much as we do on an interpretive one. From the infectious friendship of the gang's school trip to Paris, to Nick's fears about Charlie's mental health worries, through to the older characters' parental love and unconditional support for their children, Oseman's visual characterisation is a masterclass in how to guarantee immediate reader investment in your protagonists and supporting players. Added to this, irregular and ever shifting page structures that adapt to the tonal qualities of each scene with a fluid quality give Heartstopper an energy and vibrancy of its own.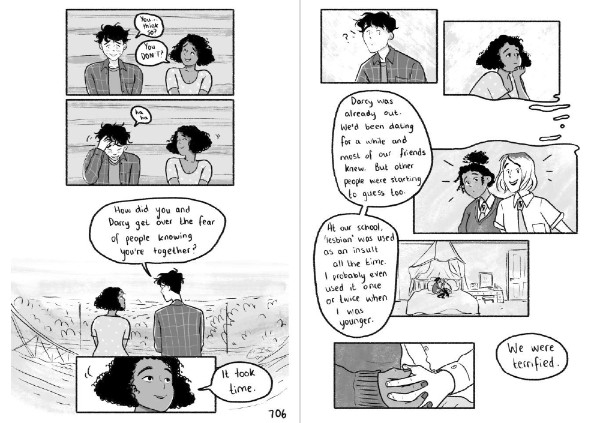 Heartstopper is in turns sweet, poignant, endearing and witty, but its greatest achievement is in how deeply it makes us care about these characters, their struggles, triumphs and relationships. These are comics that don't simply live up to the major hype surrounding them… they surpass it.
Alice Oseman (W/A) • Hodder, £10.99 each
Review by Andy Oliver