With an Ignatz Award win over the weekend in the category of Outstanding Anthology our review subject today is a timely one. Be Gay, Do Comics celebrates the queer experience and is described as a compilation of "deeply personal true stories, insightful memoir, and gut-busting satire." The project was originally conceived by online graphic journalism site The Nib and has now been published in softcover format by IDW Publishing.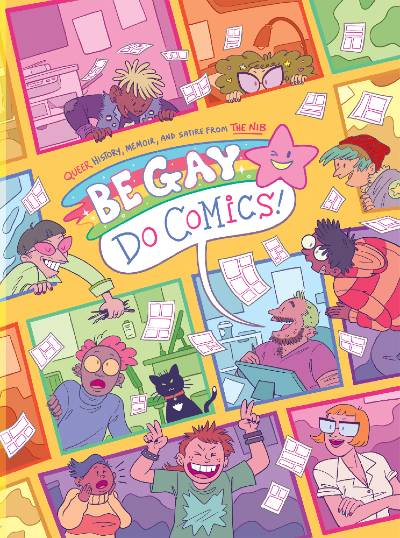 At around 250 pages it's a mammoth collection of LGBTQIA comics including work from a number of creators covered here at Broken Frontier in the past, like Mady G, Maia Kobabe, Hazel Newlevant, Melanie Gillman and Archie Bongiovanni to name a few. The joy of anthologies, though, is not just in visiting the work of old favourites but also in discovering potential new ones. In that regard there are a number of voices in these pages whose comics I sampled for the first time and will certainly be checking out further in the future.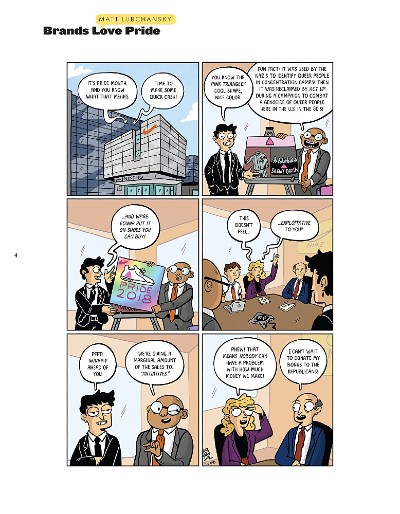 While there are overlaps, the strips herein cover accounts of LGBTQIA history, direct personal experience in slice-of-life graphic memoir, and humorous or satirical material designed to make a point on an immediate emotional level. Of the latter Joey Alison Sayers provides some memorable, often punchline-led cartooning that punctuates the book with an incisive and biting wit. 'The Final Reveal' (below) which skewers the oft-destructive pantomime of gender reveal parties is particularly memorable in that regard.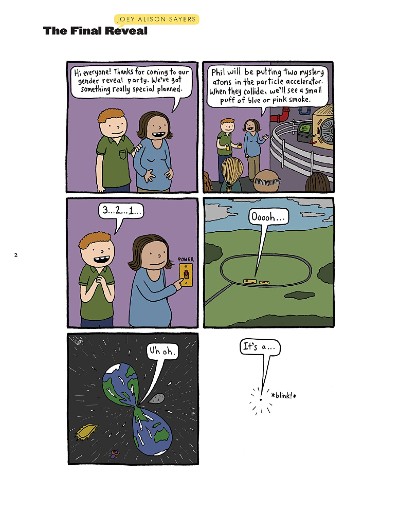 It's this diversity of approach in terms of tone and subject matter that marks out Be Gay, Do Comics as such a thought-provoking and informative collection. The history pieces will perhaps introduce readers to lesser known but vitally important figures, as in Levi Hastings and Dorian Alexander's sepia-toned and inspiring 'The Life of Gad Beck. Gay. Jewish. Nazi Fighter' which underlines that we can never be complacent in the struggle against oppression. While Archie Bongiovanni's 'The Dreams of a Gay Separatist Town' (below), looking at the brief history of the gay town Stonewall Park in the 1980s which was founded by Fred Schoonmaker and Alfred Parkinson, has a poignant relevance that echoes down the decades.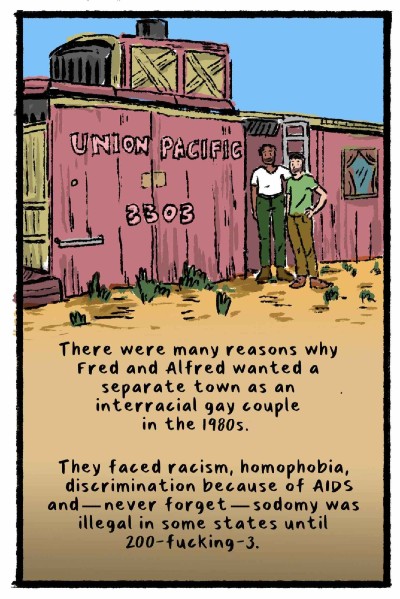 Similarly Hazel Newlevant's 'Queer Uprisings Before Stonewall' (below) is a potent testament to the organisation and bravery of activists who must never be forgotten, and Kazimir Lee and Dorian Alexander's depiction of the Lavender Scare around the 1950s provides a context-setting account of the type of bigoted moral hysteria that continues to resurface in waves of establishment-led insidiousness.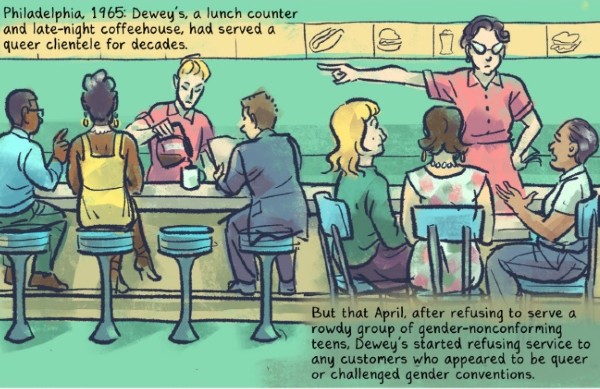 Some offerings combine personal experience, historical exploration and graphic journalism, sharing stories that may have otherwise passed the reader by.  Rosa Colón Guerra's 'Puerto Rico's LGBT Community is Ready to Kick the Doors Down', for example, or the anonymous creator behind the beautifully illustrated symbolism of 'Queerness Has Always Been Part of Life in the Middle East' (below).
It's perhaps those very personal stories that will resonate the most with the audience. Maia Kobabe's beautiful story of breaking down the gender binary within the environment of dance classes at a senior centre (below) stands out here for its eloquent accessibility. Accounts pertaining to themes of identity are also deeply affecting, whether they be about how the artist defines themselves as in Nero O'Reilly's introspective 'Sometimes I Call Myself Queer. Sometimes I Feel Like a Liar.' (bottom image, below) or about how others attempt to define them, as in Elísabet Rún's candid 'I Am More than My Chromosomes'.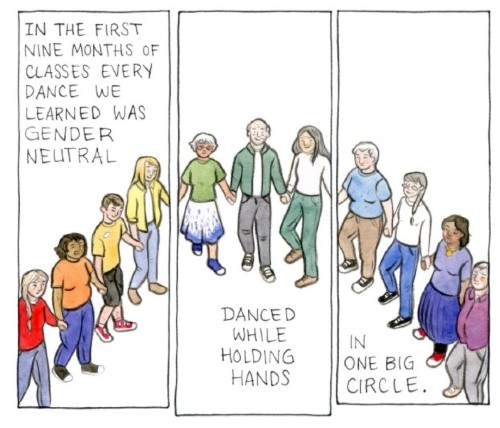 It's the six one-page strips by artists Binglin Hu, Scout Tran, Matt Lubchansky, Sage Coffey, Dylan Edwards and Sfé R. Monster providing different perspectives on transition that have stayed with me the longest after reading though. Succinct windows into each artist's life that embody the wider narratives that surround the page.
It's this mix of the uplifting and the sobering, the triumphant and the devastating, the thoughtful and the cutting, that ensures Be Gay, Do Comics is such a powerful, informative and educative exploration of LGBTQIA experiences. Comics really is such a remarkable means of communicating stories like these. We can only imagine that last weekend's Ignatz recognition is just the beginning for this must-read, remarkable and essential anthology.
Matt Lubchansky, Joey Alison Sayers, Kendra Wells, Sasha Velour, Shelby Criswell, Levi Hastings, Dorian Alexander, Rosa Colón Guerra, Alison Wilgus, Hazel Newlevant, Binglin Hu, Scout Tran, Sage Coffey, Dylan Edwards, Sfé R. Monster, Shing Yin Khor, Breena Nuñez, Taneka Stotts, Ria Martinez, Delta Vasque, Anonymous, Maia Kobabe, Sarah Mirk, Archie Bongiovanni, Mady G, Jason Michaels, Max Dlabick, Alex Graudins, Trinidad Escobar, Bianca Xunise, Dylan Edwards, Sam Wallman, Kazimir Lee, Robyn Jordan, JB Brager, Nero O'Reilly, Mariah Rose-Marie, Elísabet Rún, Alexis Sudgen, Melanie Gillman, Julia Bernhard, Josh Trujillo • The Nib/IDW Publishing, $24.99
Review by Andy Oliver