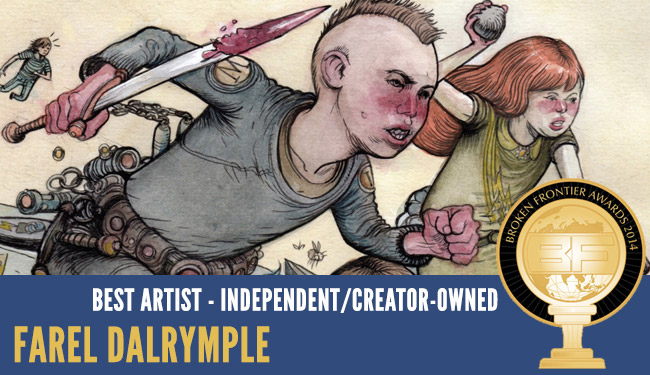 With the release of a 300-page graphic novel, an ongoing webcomic and art contributions towards one of the most acclaimed series from Image Comics, Farel Dalrymple placed his highly original artwork on full display in 2014.
Ever since graduating from the School of Visual arts in 1999, Farel Dalrymple has been producing his own, unique brand of comics. From self-publishing his creator-owned Pop Gun War (with the help of a Xeric grant), to co-founding the Meathaus anthology, to drawing the extraordinarily off-beat Marvel title, Omega the Unknown, readers know when they're seeing something with Farel's fingerprints on it.
It's no wonder than that The Wrenchies was one of the most highly anticipated new graphic novels of 2014. It took Farel five years to complete due to the fact that he painstakingly drew, watercolored and lettered all 304 pages by hand. It was well worth it as this science-fiction, coming of age story appealed to readers of various age groups and interests.
And if graphic novels aren't your thing, how about an Eisner Award-nominated webcomic called It Will All Hurt serialized on the Study Group website for free?! Farel also finished these pages in watercolor and updated the story regularly throughout the year.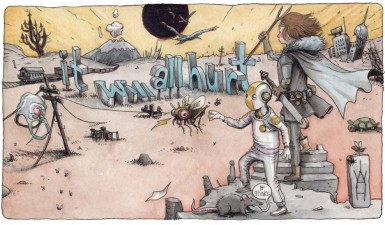 Finally, this past year was a big year for Prophet as the series came to a close. Farel worked with writer Brandon Graham and a few other artist to re-imagine this Rob Liefeld property and the result was one of the more fascinating comic experiences out there.
Since he's already at work on more tales from Pop Gun War as well as a story called The Ear Farmer for Dark Horse Presents, so there's a good chance this won't be the last big year Farel Dalrymple has in comics.
For more on Farel Dalrymple and The Wrenchies, re-read our interview and review on the book.