Whimsical, witty, and absolutely wonderful, this collection of modern interpretations of Little Nemo in Slumberland by today's master creators is the perfect introduction to one of the most innovative storytellers in the history of the medium.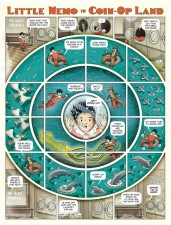 Whether you know it or not, if you've read comics in the past century, you've been touched by the brilliance of Winsor McCay.
There isn't an artist or writer working today who hasn't been influenced directly or indirectly by his innovative layouts and stunning imagery. From Will Eisner to P. Craig Russell to Paul Pope, McCay's visionary Little Nemo in Slumberland has informed and inspired the greatest talents our medium has to offer.
First published in 1905, Little Nemo in Slumberland chronicled a young boy's nightly excursions into the world of dreams, where literally anything could happen.
Featuring complex, stunning layouts that evoked the fickleness of dream logic, while somehow drawing the eye around the massive broadsheet-sized pages with a supple, singular grace, the strip was an instant classic and forever afterwards became known as a high water mark of cartooning and comics.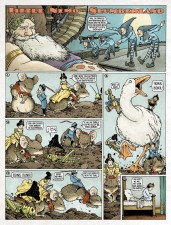 This impressive tome from small press Locust Moon Comics, collecting a veritable cornucopia of Nemo-inspired dreams from a horde of today's master creators, pays fitting tribute to McCay's unique fusion of intellect and imagination.
With over one hundred creators contributing their takes on Little Nemo's adventures in the kingdom of dreams, it's a little tough to do the anthology justice in a review, but there were more than few tales that stood out for me personally.
Kelley Jones's story is a haunting, Lovecraftian interpretation of McCay's boy hero that retains just enough innocence to balance the darkness, while Farel Dalrymple's tale perfectly captures the convoluted and hyper-detailed style McCay used, without sacrificing his own artistic voice. Dean Motter teams Nemo up with another dream warrior in his own Mister X, as the pair visit Somnopolis, the city of dreams (or is that nightmares?)
Other favorites include Dean Haspiel's poignant, silent tale, fusing the aging imagination with just a touch of romance, and Paul Rivoche's playful, timeless adventure, which sees Nemo take to the skies as he journeys to Planeland. These are only a handful of the masterful, heartfelt tributes contained in Dream Another Dream. I really could go on and on and on…
Charming, whimsical, and full of absolutely brilliant storytelling by the best of the best in comics, Locust Moon's Little Nemo: Dream Another Dream might just be the best anthology to come out in years.
One thing is for sure, though: you'll lose yourself within these pages and you won't want to come back.
Various (W), Various (A) • Locust Moon Comics, $124.99, November 2014.