Haspiel and Waid usher in a light-hearted, action-packed new era for The Fox!
Comics are a little more fun this week, thanks to the arrival of Red Circle Comics' The Fox #1. Harkening back to an era when the stakes seemed a little less…infinite and the heroes less grim and dour, this latest incarnation of the often overlooked MLJ character is a breath of fresh air and a more than welcome alternative to the blockbuster crossover events of the summer. Similar to their sleeper hit The New Crusaders, Red Circle's introduction of the Fox to a new generation of readers pares the character down to his core traits, while repositioning him for a modern audience.
That isn't to say this simple no frills approach means Red Circle takes their superheroes lightly. Quite the contrary, in fact. Pulling out all of the stops, they've recruited two of the smartest and most respected creators in the biz to act as creative stewards to the man with the floppy ears. Emmy-winning artist Dean Haspiel runs riot on the superhero archetype, shining a bright light into the shadows threatening to overwhelm our favorite heroes in the past few years. His collaborator and Eisner-winner Mark Waid's role seems to be that of creative filter, tasked with unenviable challenge of focusing Haspiel's raw creative exuberance.
The strange pairing works remarkably well, providing a fast-paced, raucous, light-hearted superhero romp based around a simple yet elegant premise: That as much as Paul Patton Jr. loves being a superhero (no matter how much he may deny it), he loves being a husband, father, and photojournalist more. In fact, the reason he takes up the floppy-eared mantle of the Fox is to make the story come to him. The problem, as the inside cover points out, is that "now the story won't stop." It's a clever, somehow absurdly practical twist on a superhero origin and one that dovetails nicely with the Fox's history.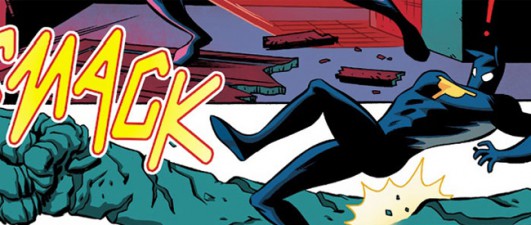 Haspiel's clean visual storytelling and kinetic pages keep the pace moving at a good clip without scrimping on the emotional or physical details. Waid's dialogue is as tight as ever, though he does loosen up a bit, keeping things light yet ever-so-sharp. Overall, this is a book with buoyancy – stripped-down, extremely well-crafted but light on its feet and never, ever taking itself too seriously. Featuring a delightful bonus back-up short by Haspiel, this is a debut that keeps on giving, adding value for the price of admission, a trend that will continue next issue with a Shield back-up story, by J.M. DeMatteis, Mike Cavallaro, and Terry Austin.
Now, take a deep breath. Feel that? Feel refreshed? Of course you do, because that's what comics feel like when their fun. Crazy isn't it? Yeah, crazy like a Fox.
Mark Waid (W), Dean Haspiel (P,A), Allen Passalaqua (C) • Archie/Red Circle Comics, $2.99, October 30, 2013.