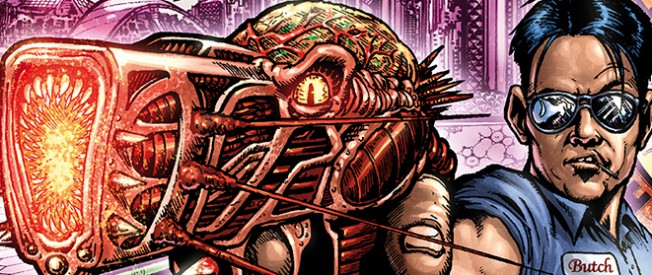 This week's release of Ballistic from writer Adam Egypt Mortimer and artist Darick Robertson (Transmetropolitan, The Boys, Happy!) will surely be explosive. Ballistic chronicles the life of air-conditioner repairman turned devious criminal, Butch, and his genetically engineered, foul tempered sidekick, Gun.
What is it like to live in a future of crime-worship, science beyond our imagination, and a city on the verge of destruction?  Look no further than Adam Egypt Mortimer to find out!
BROKEN FRONTIER: Ballistic artist Darick Robertson and yourself have been friends for quite some time, how long has this book been in progress and is it a collaborative labor of love?
ADAM EGYPT MORTIMER:  It's been several years, and it is absolutely a collaborative labor of love.  It's something we talked about over whiskey now and then over the years — although we were absolutely driven to somehow make it happen.  This world of Ballistic is a place we've always wanted to go together.  It began as a talking gun and a flying batwinged car but over the years we've had the chance to slowly and leisurely add other ideas inspired by technology and the underlying stream of batshit insanity that flows beneath our world.
The world of Ballistic is one hell of an insane adventure. What were your influences as you were developing the series?
 If we're talking influences from entertainment and literature… Die Hard is a big one.  The 5th Element, if only because of the flying cars and the urban density of it.  Lethal Weapon, Ichi the Killer for their approaches to male bonding through crime.  David Cronenberg for a kind of visual sensibility.  The movie Dog Day Afternoon with it's tragi-comic bank heist.
William Gibson, William Burroughs, Jonathan Lethem, Lauren Beukes, Stephen Aylett, Jeff Noon, Haruki Murakami, Pat Cadigan, and other fine purveyors of cities that live somewhere between dangerous futurism and waking dream.
In comics, my greatest influences on this are odd, indy books, like Black Hole or Optic Nerve.  The bits in Ballistic that are all about Butch trying to make a connection to Gennie — this little sidestory outside the crime adventure — that's me doing my riff on what I feel Tomine does with comics.  A little slice of personal intimate life in the midst of the crazy world.  Darick and I both love Love and Rockets as well.    It might sound crazy because of how precise and amazing Darick's art is, but there's an influence on my thinking from comic maniacs like Johnny Ryan, Lisa Hanawalt, and Dash Shaw's Bodyworld.
The techno-deconstruction of Aeon Flux and Grant Morrison's absolutely freedom-inspiring Sea Guy taught me a lot about what you might be able to do in a science fiction comic.  And ultimately, I'm just obsessed with Raymond Chandler and in trying to do something with a crime narrative that has that kind of life and wit.
The other big influences are in the real world stuff.  Janine Benyus' Biomimicry is utterly indispensable.  Visionary artist Paul Laffoley, who really gave me the initial inspiration for this story.
I'm also inspired by the various texture of headache I can get these days from the internet.  They are legion. Very importantly, I'm inspired by Singapore, because my wife is from there.  I'm fascinated by that city and part of Ballistic is about projecting certain aspects of Singapore into a future.
Darick is quite driven by Jean Giraud, and dedicated the first issue to him. We didn't talk too too much about art styles though.  We focussed our discussions on the story, the world, the technology, how things are made.  We did talk a bit about Jim Steranko's story telling techniques — there's a Steranko influence on the covers, though they are also a product of 60-70s Italian crime movie posters and things like that.
I love psychedelic science fiction art, and it inspires the writing, on my side.
The Die Hard series as well as many of Murakami's books are some of my favorite stories. As part of the creative process is it difficult to combine these two seemingly opposite approaches to storytelling?
Mortimer:  In the high-density lens of Ballistic, it turns out that these aren't opposite approaches at all!  The Murakami book that resonates the most for me in this context is Hard-Boiled Wonderland and The End of The World.  And those stories evolved from the same DNA: Raymond Chandler.  Hell, they both have the word "Hard" in their titles!  Roderick Thorp, who wrote the novel from which Die Hard was adapted, was a detective and a writer, and clearly was influenced by the detective fiction of the generation before him.  (Although he maintained that Jim Thompson was superior to Chandler, which is a defendable position).
So those two stories have a common source.  Same with Lethal Weapon.  The writer of Lethal Weapon – Shane Black – is obsessed with Chandler.  Kiss Kiss Bang Bang is clearly his most specific attempt to spin Chandler, without sounding like Chandler.  When you line these things all up — Burroughs and Gibson as well — you see all these different tones and worlds that all evolve from the DNA of Chandler specifically and American Crime Fiction in general.
Look at Zoo City by Lauren Beukes, Gun With Occasional Music by Lethem, and even Videodrome — these are all crazy worlds (all featuring new forms of sentient non-human life forms) which are wildly different from one another — but which feel like they are in a similar genetic family.
There's pugs and there's pit bulls, but they all come from wolves.  Ballistic is our own evolutionary branch on the Raymond Chandler tree.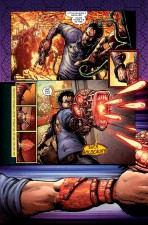 It seems that the book channels some of the greatest "buddy adventures" from the past. What can you tell us about Butch and his vulgar best-friend?
It's true, it really is a buddy story — a twisted next level buddy story.  Shane Black really turned out to be a huge influence in that regard.  It's hard to tell which one of these characters – Butch or Gun – is the one who is the driver of catastrophe.  They're very well matched in the department of enacting terrible ideas.  Who commits a bank heist on a syphilis hangover?
Gun is addicted to Butch's adrenalin, and so provides lots of bad advice.  They've already been together for a while at the start of this story, and so they are used to each others' horrific weirdness.   But this adventure propels them into greater levels of absolute hellish personal space conflicts.  They fight over love interests, they fight over who is responsible for their lower station in life… they really go at it.
One way I like to think about these characters is that Gun is like Butch's id — imagine if your nervous breakdown took the form of a screaming firearm?  There's this relationship in a nutshell.
Ballistic will focus on Butch's growth from "air-conditioner repairman to master criminal," which is definitely a standout character arc.  Did you have an archetype in mind when you were plotting Butch's adventure, and what kind of events do you plan to confront him with?
The archetype is of a person who has dreamt big and gotten nowhere.  Butch has been wanting for years to be a "master criminal" but he just somehow gets in his own way.  Too lazy, too anxious, too busy doing something less ideal, too drunk, too slow — I think we all feel like this sometimes, even the most productive of us.  That's how I image we can all relate to him.  Air Conditioning repairman is a perfectly viable job — and a necessary one in the ridiculous climate of Repo City State — but it's not the best job for a dreamer who wants to have his name sung in hyperballadic narcocorridas of the future.
It puts us at an interesting beginning to have a character who is in such a anti-glamorous station at the beginning of a story.  He's not even a lowly 2-bit PI or an alcoholic cop on holiday.  Although that does remind me that John McClane is a key archetype for Butch.  That ultimate American man with a gun, taking on the ultimate threat.
As far as the events that with confront Butch — he's going to have to decide if he can save the city entire city from a psychotic technological breakdown, as well as a ganglord war, the confusing identity transformations of those closest to him, and actual graphic loss of limb!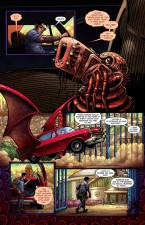 Moving from Butch to the world he calls home, it's pretty clear that Ballistic is heavily influenced by hard sci-fi, especially considering that Butch's best friend is "a drug-addicted, genetically-modified, foul-mouthed firearm."  How does science fiction influence Butch and the humans he lives with?
That's a good question.  Do you know the novels of Greg Egan? He'll like project the discipline of physics forward by 10,000 years, and then he'll create a paradigm shift WITHIN THAT.  It's just jaw dropping.  It's science fiction where the science seems utterly real.
There's that approach, and then there's William Gibson, who hadn't even touched a computer when he invented the Matrix, but he brought an emotional truth and an aesthetic revolution and really a brand new tone to the writing of science fiction.  And then there's Banks, RIP, who could go ahead and create a living world as vast as the universe and populate every intergalactic streets with living characters in a Joycean sort of biosphere.  Perhaps I'm trying to dance about through those sorts of understandings of what science fiction is.
Ballistic is a kind of imagination machine, in which we put in the raw meat of cutting edge science news stories, stoner-extrapolation info-bits, dreamlike free association, and the bitter herbs of human irrationality, and then out comes the delectable sausage of Repo City State.
Will Ballistic have a similar focus on the relationship between technology and humanity?
I tend to think of it less about humanity and more about "life".  What is the relationship between different kinds of life to one another, or a life-form to itself.  When you look at how Darick draws Repo City State, you see a hyper dense urban environment that looks like one big organism.  Our story has a lot to do with looking at DNA — both literally and as a metaphor.
What is the DNA of the world that makes it become so dangerous?  What is the DNA of Butch or Gun that makes them the way they are?  What is the relationship between crime and life?  This last one fascinates me, as this is in essence a crime book.  Is there a connection between being alive and being a criminal?  Do genes commit crimes on their way to ensuring personal survival?  Is it possible for a collection of genes to actively work against it's own self interest?  Why the hell is that what happens??
Once you get technology that's alive, you're in a world where EVERYTHING can be crazy — literally, psychologically unhinged.
Is Butch's home just as wild as he is?
Way more wild.  He's just a guy trying to get a date and rob a bank.  Repo City State is a place whose national  pastime is crime, whose population is obsessed with competitive genetic engineering, and whose technology is prone to nervous breakdowns!
One of the coolest aspects of Darick's work in Transmetropolitan was his ability to make the city feel alive through his art.

Darick does a lot of amazing things, but my two favorite things he does is depicting cities, and bringing characters to life through their faces.  Bringing them to life.  So now he's got a chance to show us all these insane characters and show them reacting to the most amazing or horrific things — and he does it all inside the most insane city that's ever been drawn.  He is LITERALLY bringing the city to life through his art. I'm not hoping for anything — I'm counting on genius and I'm watching inspired madness unfold, line by line, panel by panel, page by page — even better than I'd ever hoped.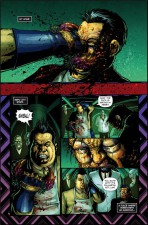 Ballistic is projected as a five-issue mini-series, but the world and the direction of the book seem chock full of stories waiting to be told, is there more of Butch's life waiting to be told?
Yes, we have many more stories we'd like to do with Butch and Gun, and with this world.  We have actually a loose outline of Butch's entire life, both before this story starts and well after.  We talked about taking a Conan approach, planning out a rough idea for what Butch's entire life could look like, so that we could dip in and tell stories from any time.
We've got a story we'd like to tell in which he visits the Wastelands of America; and one in which he goes to the moon.  And there's so much going on in Repo City State.  If readers like our book and show support, we'll come back as much as you can stand it.
 Ballistic hits stores July 10, 2013 and can be purchased in print and digitally here.